Keys to Unlocking More RMR in SMB & Residential Access Control
Today's Cloud-based platforms, unified systems and mobile apps enable security pros to deliver large-scale benefits and controls to smaller commercial clients and smart home dwellers.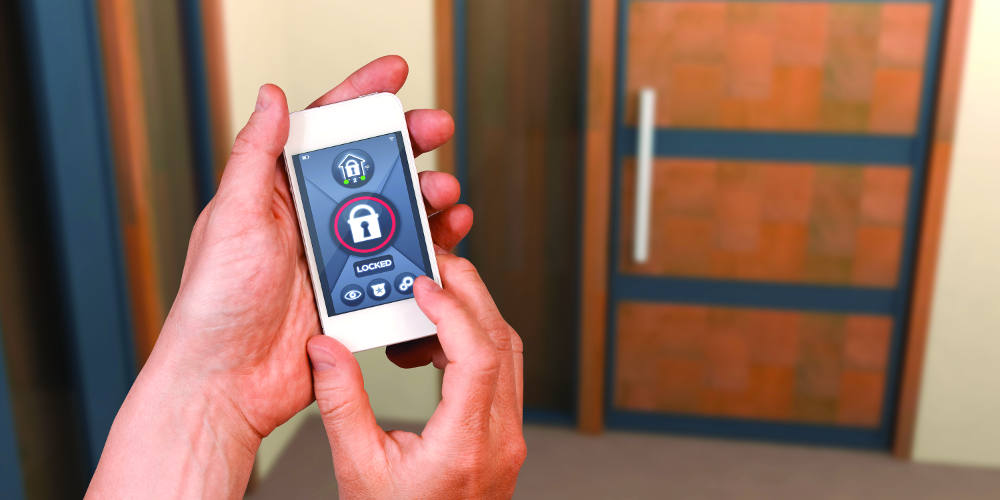 Access control is a rapidly growing subset within the physical security market. The worldwide electronic access control market is valued at $4.7 billion with annual growth estimated at 9.3% into 2024, per a recent study published by Research and Markets.
Of particular interest are the electromechanical and electronic locks commonly installed in small to midsize businesses (SMBs) as well as mid- to high-end homes.
And global sales and installation of smart locks — keyless devices that enable access remotely, integrate with IoT and other connected technologies, and deliver real-time data — was estimated at $423 million in 2017, according to a recent report by Energias Market Research.
At the same time, access control systems and locking devices are being augmented by new and exciting third-party Cloud services offered by providers such as Alarm.com, Digital Monitoring Products (DMP), NAPCO, Brivo and S2 Security (see next page), to name a handful serving commercial and residential security client bases.
Many of these offerings empower SMB owners and managers as well as homeowners by allowing them to program their access control system in a similar manner as they would an enterprise-level system and to do it remotely through a mobile device if needed.
DMP, for example, offers its Virtual Keypad access platform with Bluetooth support, which enables users to use smartphones as credentials.
"What we found is that both commercial and residential users like the ability to control and manage their system on a mobile device," says Adam Kinder, access control product manager for DMP. "Our virtual access platform is Cloud-based. Users can manage their account via our web portal or our app. This allows them to manage their building management, security, access, and even fire. We integrate with home and business automation with Z-Wave so the user can control his/her locks, lights, thermostats, and security."
Such platforms provide SMBs and homeowners features and benefits previously associated with larger-scale enterprise systems at a manageable monthly cost.
For small to midsize security dealers, today's Cloud-based, more unified access control solutions can open more doors to success targeting these end-user markets and their increasingly overlapping connected technology needs. Let's look at more factors and solutions accentuating this access control trend.
Evolution of SMB Access
Although multiple-door networking has been available for quite some time, programming features have been somewhat limited. This includes early programming methods in which handheld programmers and printers, in conjunction with PC-based software allow dealers to organize day-to-day user data.
Networking using existing technologies with electromechanical and electronic locks is traditionally cumbersome and limited in overall scope, but it's often done.
Many of these early multidoor systems used a handheld programmer that, through an IR comm link, enabled the owner to program and enter a limited amount of data. Hardwired systems commonly use data protocols such as RS422, RS485 and RS232.
In network environments Category-5e and -6 cabling is often used; the problem is the size of system where these wire types are deployed is usually large and costly for SMB or residential use.
Recently, however, the security industry has enjoyed advances in Cloud-based networked access control technology where large-scale system programming and features have trickled down to smaller SMB/residential-size access control systems — also making them more affordable.
Not only that, but whether communications are wired or wireless does not affect systems as much in today's connected ecosystem; as long as the data gets where it needs to go.
Applications Befitting Bigger Systems
The Cloud-based managed services industry is alive and well, not to mention busy. Manufacturers such as those mentioned earlier are working to unify all or most aspects of electronic security into a single cohesive, online, software-management solution.
Providers are helping security dealers take integration to the next level, now becoming known more as "unification" by manufacturers and other industry pundits.
These security as a service (SaaS) platforms are capable of performing and/or managing all or most of the following home and commercial building subsystems using a single app: access control, intrusion detection, video, bidirectional intercom (with or without video doorbell), fire alarm, home/building automation and more.
Judy Jones-Shand, vice president of marketing, NAPCO, cites the company's iBridge Connected Home and Smart Business with iBridge Messenger app as example of IoT security subsystems that "offers more affordable smart device control of security, video, temperature, lighting and locking via WiFi and Z-Wave, with iBridge Messenger app providing accounts SMS text or MMS video alert notifications."
Importantly, the company's StarLink Connect tech will accommodate any alarm panel and it adds "smart interactive services" to any alarm system. Until recently traditional Cloud-based services included specific and largely separate disciplines, like access control as a service (ACaaS), building automaton as a service (BAaaS) and video surveillance as a service (VSaaS).
For example, alarm dealers that install video commonly plug clients into a VSaaS third-party service and where their clients deal with access control, they have to plug them into a Cloud-based ACaaS platform. This methodology is still widely used, but that will quickly change.
End User More Empowered
Although data retention is important and certainly necessary in many cases, there's another flavor of Cloud-based, third-party management services designed to enhance and complement them.
What makes them easy to sell in both residential and SMB spaces is the fact that it's the end user that's the primary benefactor of this new type of management tool.
For example, for many years through its network of security dealer partners Alarm.com has provided homeowners with the benefit of accessing their home intrusion detection and home automation system using a desktop or laptop computer. Not only did Alarm.com expand this to include mobile devices, but now the same command and control tools are available to commercial SMBs.
"Engineered to seamlessly integrate with our Alarm.com for Business offering, Smarter Access Control is a commercial-grade access solution that simplifies installation, operation and support," says Dan Kerzner, chief product officer, Alarm.com. "We've tailored the solution to the needs of end users, making access control easy at any scale, from a single front door to an entire office. Customers can remotely lock or unlock doors, and even handle complex functions like managing employee access plans and schedules. Smarter Access Control helps our service provider partners offer a differentiated customer experience, and provides new bundling and upsell opportunities."
The best part is the big system programming features that SMBs and residential wouldn't buy are now available through a Cloud platform from Alarm.com, Brivo, DMP, NAPCO, and others for an affordable monthly fee.
In addition, SMBs pay less upfront because the primary costs associated with purchasing large capacity access control systems is assumed by the Cloud provider, as is the cost of ongoing maintenance.
Go Back to Your Customers
Imagine controlling your lights, HVAC, yard sprinkler system, window shades, entertainment center, video surveillance cameras, intrusion alarm and access control system from a single Cloud-based platform for one monthly fee.
This is exactly what today's service providers are making a reality, arming security dealers with a robust system proposition that can be based around electronic access control to make RMR even easier to build.
Having the ability to control all of these things from a single mobile device at a single monthly price puts this technology front and center. It's a trend that can make many installing security firms a boatload of money not only with new customers, but by reconnecting with existing customers whether you installed their system five years ago or five months ago.
Check out the aforementioned unified Cloud platforms on the next page…
If you enjoyed this article and want to receive more valuable industry content like this, click here to sign up for our FREE digital newsletters!
Security Is Our Business, Too
For professionals who recommend, buy and install all types of electronic security equipment, a free subscription to Security Sales & Integration is like having a consultant on call. You'll find an ideal balance of technology and business coverage, with installation tips and techniques for products and updates on how to add sales to your bottom line.
A free subscription to the #1 resource for the residential and commercial security industry will prove to be invaluable. Subscribe today!