Homebuilders Dish on Smart Homes at Schneider Electric Innovation Summit
Key topics discussed by KB Home and DR Horton execs can inform security dealers about their own strategic efforts to succeed in the connected home market.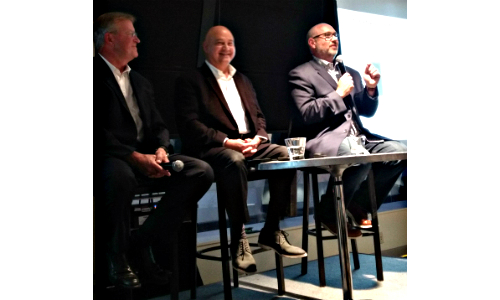 Wrapping one's mind around the digital transformation of energy management and automation that's unfolding across the globe can all seem a bit overwhelming. That realization hit me recently at Schneider Electric's Innovation Summit North America in Atlanta.
Held Nov. 13-14, the event explored the value of digital transformation on critical applications and infrastructure, with more than 45 expert learning sessions, strategy talks and panel discussions.
Schneider Electric is a leader in this realm, and that was plain to see at the event's 19,000 square-foot Innovation Hub. Here, the company demonstrated how EcoStruxure, an IoT-enabled system architecture, delivers enhanced value around safety, reliability, operational efficiency, sustainability and connectivity — across a multitude of vertical markets.
The digital revolution isn't just for vast automation systems, and Schneider Electric was keen to share its work and advances in the small business and home-building markets as well. I want to share details of a particular session I attended that had significant relevance for those installing security contractors who strive to be informed about the evolving smart home space.
The session, "Building the Connected Home Today," was moderated by Rich Korthauer, vice president of Schneider Electric's Final Distribution Business. He was joined on stage by Brad Conlon, vice president, director of national accounts for DR Horton, and Jacob Atalla, vice president, sustainability initiatives for KB Home.
An overriding takeaway: the panelists, despite recent headwinds, remain largely bullish on the residential market as they forecast the coming year. The continued adoption of lifestyle-enhancing smart devices plays significantly in their optimism.
Korthauer led off the session by citing research statistics that project an installed base of some 40 million smart thermostats in North American homes by 2020, with more than 4.5 million smart meters shipped in that same time frame. "This isn't a matter of wait and see. Homes are being connected," he said.
The builders describe a strong construction backlog, with the pool of homebuyers now including lots of Millennials — and single females among them — who seek residences in suburbs with easy access to urban centers. And while most homebuyers today may not understand much about the underlying technology behind smart devices, they most certainly expect to see it deployed in new residences.
"What has changed today is really the onslaught of the iPhone and Android in the consumer's hand and the ability to easily open a box and things intuitively work for people," explained Conlon. "That is what is starting to happen, and as these devices are beginning to talk to one another and things begin to automate, we can really start to take advantage of some of these things."
Atalla notes the introduction of the Nest thermostat as a significant home automation tipping point, as well as voice assistants, such as the Amazon Alexa. Voice assistants, he said, are proving to be a great enabler of home automation functionality without having to utilize apps. The devices are fueling expectations from the customer who desires more system compatibility with their voice assistant.
On average a KB Home-built, single-family residence has between 10 to 12 IoT type devices connected to a WiFi network, Atalla said, including thermostats, door locks, etc. "It is a journey, but it is important to always ask the customer: 'What do you want from us?' The expectation is, 'Don't give me a home that is outdated. Give me a home that is future-proofed.'"
Attala emphasized — and this surely applies to a security dealer's connected home business model as well — among a builder's foremost responsibilities is to make sure the home has a foundation for technology going forward. "You cannot sit out this journey. You can't say there is something better coming out tomorrow. You have to be engaged and in it today."
Similar to KB Home, DR Horton has recently moved headlong into promoting the connected home as a mainstay of its sales and marketing program. Each of the 62,000 homes the company built this year — from $147,000 entry level residences to multimillion dollar estates — included a base package containing a suite of smart home products: Qolsys IQ2 panel, Alarm.com platform, Honeywell T6 Pro Z-Wave thermostat, Amazon Echo and Echo Dot, Kwikset SmartCode 888 door lock, Eaton Z-Wave lighting control switch and Skybell smart video doorbell.
Conlon said the firm examined the idea of devising an all voice assistant-controlled offering, but that idea was eschewed due to potential privacy concerns by some consumers. "We did not want to waste money on something that isn't going to have them feel good about their home-buying experience. And so what we needed first and foremost was a software platform that was going to control everything," he said. "[W]e absolutely wanted to ensure that it was going to take place on one screen, on one app, everything could talk to each other without having to have any additional communicators or translators put into the home."
Today the entire basic package investment is about $1,000, Conlon said, compared to a few years ago a similar offering would have been 3x to 4x that amount. Most important is the homeowner can continue to expand [the base package] very easily, either with the help of an electrician or an integrator or [DIY], he said.
For KB Home, design centers are the foundation of the home-buying process, and technology is now a pillar among optional upgrades to purchase. This affords the company insights into what devices and technologies work and don't work from an installation perspective, as well as knowledge about what customers like and don't like. One of the options available at the design centers is Schneider Electric whole-house surge protection. 
"That is a good product and if you are a contractor you should consider selling it," Atalla advised. 
Prioritize White Glove Service
In recent years KB Home has experimented with offering base packages of connected home devices and related technologies, and in the process learned a very important lesson: Don't expect to applaud the consumer on their purchase and be done with the sale — not if ensuring their ultimate satisfaction is a tenet your company aspires to.
"We learned if we go to the customer and say, 'Here is your package, congratulations on the house, good luck with it,' that's not going to work. What we needed was a white glove service that comes to the home after they have Internet connected," Atalla explained.
Leaving the consumer to fend for themselves to connect and integrate the devices is a recipe for much frustration. Providing a follow-up service to assist consumers "creates an uplift in terms of people's engagement with their system," Atalla said. "We feel that kind of third-party integration after moving in is very important."
Conlon also stressed the same point, stating connected devices are not necessarily intuitive for most consumers. You can expect they will need assistance in not just connecting the devices but also helping them become familiar with the various automation functionalities. Low-voltage integrators and electricians would be wise to stay clear of participating in a home automation program that does not include personized, follow-up servicing, Conlon said.
"There is no smart home program that is going to succeed without a white glove service. Period. End of discussion," he said, adamantly. "Don't do it via video. Don't expect them to find it on YouTube. You have got to have somebody in their home with their devices showing them how to do it."
(To view exclusive sessions and highlights from the Innovation Summit, go here. This includes an enlightening keynote address by Schneider Electric CEO Jean-Pascal Tricoire expressing his views on the state of the digital economy and its influences on business. Registration is required.)
If you enjoyed this article and want to receive more valuable industry content like this, click here to sign up for our FREE digital newsletters!
Security Is Our Business, Too
For professionals who recommend, buy and install all types of electronic security equipment, a free subscription to Security Sales & Integration is like having a consultant on call. You'll find an ideal balance of technology and business coverage, with installation tips and techniques for products and updates on how to add sales to your bottom line.
A free subscription to the #1 resource for the residential and commercial security industry will prove to be invaluable. Subscribe today!
One response to "Homebuilders Dish on Smart Homes at Schneider Electric Innovation Summit"