Ring Reaches Settlement With ADT in Zonoff Lawsuit, Plus Other Developments
Ring reportedly settles with ADT in Zonoff lawsuit for $25 million, plans to launch super-cheap "Ring Alarm" security system soon, adds Z-Wave sensors, acquires Mr. Beams.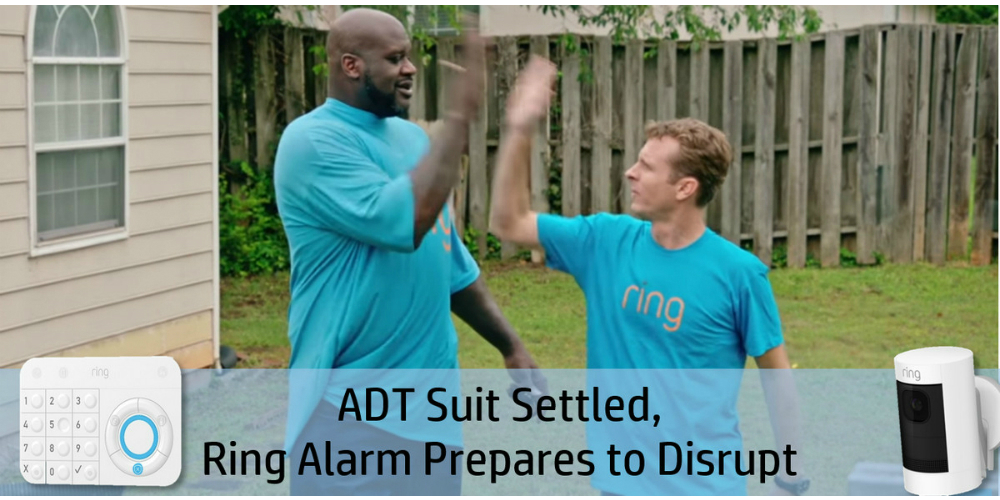 Last year, Alarm.com inherited some patents from erstwhile competitor Icontrol, which it acquired last year (Comcast bought part of Icontrol, as well). At the time, Icontrol was in the process of suing Zonoff for patent infringement.
With Ring's very threatening business model, it seems Alarm.com would absolutely continue the lawsuit it inherited … if the company believes there's infringement (in general, merging professional security monitoring with interactive home automation via the cloud).
UNLESS …
It's possible Alarm.com quietly "settled" with Ring when ADT settled with the doorbell giant, earning some kind of licensing agreement in exchange for kiboshing a patent suit.
ADT is Alarm.com's customer for at least five years, thanks to a deal negotiated during the Icontrol acquisition. ADT had been Icontrol's flagship customer since basically day one.
That could be one reason that Alarm.com isn't suing ADT and Samsung SmartThings for their latest offering – a DIY security and home automation system powered by Nortek's 2Gig.
Alarm.com still has lawsuits pending against competitors SecureNet and ipDatatel.
It would be really surprising if Alarm.com were to allow Ring to go forward unimpeded. Ring will be a real threat to Alarm.com's business model, even though Ring targets DIYs and Alarm.com goes to market through professional installers.
More Developments at Ring
In addition to the Alarm-specific news, Ring introduced some other goodies at CES, including a relationship with pitchman Shaquille O'Neal ("Defend Your Home Court Like Shaq!), a real-life sheriff who made an appearance at the show.
In case you're wondering, Ring's products are "Approved by Sheriff Shaq," who is "more than just a big person with a big personality."
Also at CES, Ring introduced a "revamped" Stick Up Cam, the company's "first-ever" indoor/outdoor camera.
More interestingly, Ring is improving its app and back-end services. Users will be able to group cameras by location and view multiple cameras from a single screen. Also, new "preview tiles" will give users a "sneak peek" of every camera in an ecosystem, and a new event timeline will provide a "scrubbed" view of video to present the most important events of the day.
Finally, Ring acquired a lighting company called Wireless Environment, LLC, dba Mr. Beams. Stay tuned for more details on that company and its patent portfolio.
Security Is Our Business, Too
For professionals who recommend, buy and install all types of electronic security equipment, a free subscription to Security Sales & Integration is like having a consultant on call. You'll find an ideal balance of technology and business coverage, with installation tips and techniques for products and updates on how to add sales to your bottom line.
A free subscription to the #1 resource for the residential and commercial security industry will prove to be invaluable. Subscribe today!