2023 SSI Industry Hall of Fame Ceremonies
New HoF honorees as well as a Ring of Honor inductee took the stage at ISC West to be recognized and address the security industry.
Photos and Videos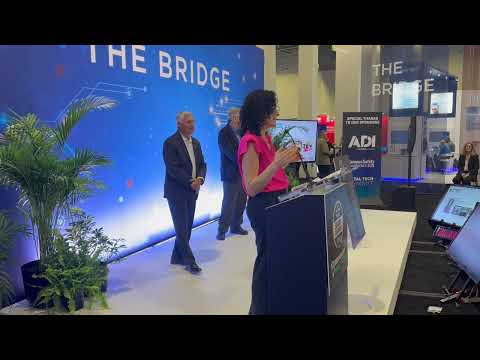 View Slideshow
At ISC West 2023 in Las Vegas, Security Sales & Integration inducted six new honorees into the SSI Industry Hall of Fame as well as one honoree into the SSI Industry Hall of Fame Ring of Honor. The Hall of Fame Inductee Ceremony took place on the second day of the show, on the Bridge Stage, near the center of the expo floor.
If you were unable to attend ISC West this year and see the ceremonies first-hand, you're in luck: The SSI team had cameras at the ready to capture the memorable introductions, presentations and honorees' speeches.
We list each of the 2023 Hall of Fame recognition recipients, as well as our Industry Hall of Fame Ring of Honor recipient below, along with a quote from each (from our initial HoF announcements). Click on the slideshow above to view a video of each acceptance speech, which took place during ISC West:
Maria Cambria, vice president, sales enablement – solutions, Teledyne FLIR: "My approach is to always put my customer at the center of what we do. When you do that, you realize we have an impact on people's lives and can make a difference. Colleagues and I used to joke that we save lives, but that is the reality. Once you realize it, you also realize it is an honor and privilege to serve your customer and one to not take lightly."
Ray Coulombe, managing director, Security Specifiers: "My greatest challenges have all surrounded the launching of new, innovative ventures from the ground up, all of which have arguably been successful. Specifically, these were National Guardian, IFS and SyPixx establishing new technologies and getting enough of the 'right' people to believe in those enough to give them a chance to prove out. That required determination and a willingness to listen to advice from within and outside the industry, a lot of luck, and a fair amount of prayer."
Don Erickson, CEO, Security Industry Association (SIA): "I love the opportunity to represent a broad community of competitors and partners who share such an inspiring mission of protecting people, property and assets. This is an industry that is very relevant and makes an impact every day. I am motivated by the prospect of delivering positive experiences and transactions for an individual or team in terms of SIA members being recognized for their expertise, gaining visibility for their company, assuming a leadership role or making new connections that can influence sales opportunities."
Jamie Haenggi, president, ADT Solar: "The customer and how we best serve them is what motivates me. Technology is moving quickly and our ability to integrate and redefine what life safety means is exciting. The smart home comes to mind when considering embracing new technology and solutions — and helps redefine 'peace of mind.' But peace of mind now means knowing more about what's happening in your home than simply if my system is armed and if there is an alarm."
Morgan Hertel, vice president of technology and innovation, Rapid Response Monitoring: "During the past 40 years, we have moved from a prescriptive model of how security was done to more of a performance-based approach predicated on the needs and lifestyle of the individual. I call it 'security as a lifestyle.' This means security needs to be designed and implemented based on many different scenarios. There is also a need to be incredibly flexible and use a lot of different technologies in the monitoring center to address consumer needs."
Jim Wooster, president (semi-retired), Alarm Financial Services: "The introduction of digital dialers was huge. The evolution of RMR as a primary driver for success has been another key development. We have also witnessed maturity of funding and financial management through the years, with the availability of capital through industry lenders like AFS and industry-focused banks. Probably the most influential change has been the large investments from outside the industry, with a consequence being consolidation. Ahead I see new challenges surrounding breakthrough technologies like artificial intelligence."
In addition, Stan Martin entered into the SSI Industry Hall of Fame Ring of Honor, bestowed upon previously enshrined Hall of Famers who have continued to excel at least 10 years post-induction. Among those in the second SSI HoF class, Stan remains active as the profession's foremost false alarm issues arbiter and liaison to law enforcement. As SSI Editor-in-Chief Scott Goldfine noted in announcing Stan's enshrinement, "…Stan has continued to be one of the industry's most highly respected liaisons between the alarm industry and law enforcement in the partnership of managing false alarms and ensuring ongoing timely response to alarm incidents."
Want to know more about each of our 2023 inductees? Click here to read in-depth profiles of each honoree as well as view a slideshow of more honoree pics.
If you enjoyed this article and want to receive more valuable industry content like this, click here to sign up for our FREE digital newsletters!
Security Is Our Business, Too
For professionals who recommend, buy and install all types of electronic security equipment, a free subscription to Security Sales & Integration is like having a consultant on call. You'll find an ideal balance of technology and business coverage, with installation tips and techniques for products and updates on how to add sales to your bottom line.
A free subscription to the #1 resource for the residential and commercial security industry will prove to be invaluable. Subscribe today!