5 Trends That Defined Each Year in the 2010s Decade
Here are select trends pulled from every year of the 2010s that were featured in the Gold Book's "How the Experts See It" lists.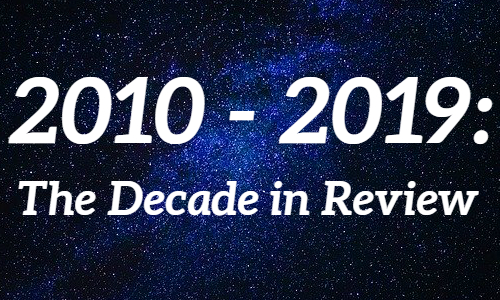 FRAMINGHAM, Mass. — As the curtain draws on the 2010s decade, you may have an impulse to glance ahead and ponder what the future holds for the security industry. Still, it's also worth looking back to consider how much things have changed over the course of the past 10 years. The expanse of time from 2010 to 2019 bore witness to major disruption throughout the ecosystem, fueling a multitude of trends and challenges that defined the outgoing era.
To help grasp what all has transpired in the past decade, I've compiled five select trends pulled from every year of the 2010s that were featured in the Gold Book's "How the Experts See It" lists. Read on to review and reminisce — and maybe draw lessons from — the journey of the 2010s.
2010
SANDY JONES, Sandra Jones and Co.
Installers who invested in IT selling and installation skills grew profits, kept customers.
Video alarms delivered prioritized alarm response, improved law enforcement/industry partnerships.
Organic growth did not move the needle, continued to fuel appetite for strategic acquisitions.
Premium services helped central station companies reduce attrition, increase RMR.
The digital dialer and platform on which RMR was built is in its twilight and being replaced by Internet-based solutions. 
2011
DON ERICKSON, Security Industry Association (SIA)
Continued movement toward Cloud-based software-as-a-service (SaaS) and managed security services.
IP video increasingly used as an alarm verification tool and end user value-add for sales (i.e. virtual guard tours).
Increased end-user adoption of the hand-held device as a control and reception device for event notification and streaming video from a system.
Increased industry partnering/acquisitions that allow organizations with disparate strengths and special knowledge to offer more complete security solutions. 
2012
JOHN KNOX, Electronic Security Association (ESA)
Inevitability that POTS lines are going away sank in once and for all, but we will have to learn to live without them.
AT&T reentered the industry, trying to change the licensing laws and play by separate set of rules.
Adoption of 3G and 4G networks reminded us there will never be a 20-year technology cycle similar to the POTS days. Nowadays we are looking at 3-year cycles.
Smarthphone technology finally took hold in the security space, but the industry needs to get better at utilizing apps and other mobile features.
Increasing number of traditional dealers migrated toward integrating more technologies into their portfolios to build their arsenals. 
2013
PETER GIACALONE, Giacalone Associates
Dealers, both traditional and mass marketers, continued to adopt and provide more automation and control systems resulting in increased sales and increased average RMR.
The expansion of services and convergence of technologies attracted new capital to the industry.
Energy management and controls started to become more prevalent and show significant potential as a standard within the channel.
Traditional dealers began to adopt and emulate the structure, marketing and sales approach of the door-knocking summer program giants.
The telecos and cablecoms stepped up their marketing of their security and home controls propositions. 
2014
JOHN BRADY, TRG Associates
PERS continued to experience exponential growth as a segment of the industry as more dealers adopted the technology and became more comfortable with marketing to this unique market segment.
Attrition levels for the residential and commercial segments of the industry continued to come in at or lower than 2013 levels for the midsized and smaller dealers.
Video verification continued to take hold as an integral portion of the intrusion protection system.
Security apps continued to abound as peripherals to existing offerings and standalone applications, but did not take hold as extensions of RMR.
Local legislation continued to call for/require increased utilization of life safety and access systems to be in compliance. 
2015
JAY HAUHN, The Monitoring Association (formerly CSAA)
Rising deployment of ASAP-to-PSAP, the electronic communications service be-tween 911 centers and monitoring centers.
Existing subscription-based financial model of monitoring business continued to attract entrepreneurial startups, many implementing consumer DIY models.
Competition to "own the home" grew as security providers, consumer electronics firms, energy concerns, media businesses and Silicon Valley firms deployed services converging each other's core offerings.
Deploying consumer "trusted identity" technology further embedded in everyday life. This will drive implementing congruent technologies for physical security.
Physical security companies expanded their strategies and offerings, reducing the threat to their legacy business models. 
2016
BLAKE KOZAK, IHS
Due to the proliferation of Cloud storage and services in the consumer video industry, the adoption rate from homeowners skyrocketed during the past two years as IP camera providers such as Nest and Arlo continue to grow their market share.
Self-install smart home security systems began to offer ad hoc professional remote monitoring services, which is a source of recurring monthly revenue (RMR) for dealers.
Voice, the new user interface (VUI), changed the way consumers interact with the smart home.
Mobile credentials used in access control is gained traction, with about 4.5 million added to the global market in 2016.
The professional video surveillance market continued to experience aggressive price competition. The average global price of a network video surveillance camera has gradually fallen from almost $500 in 2010 to less than $110 in 2016. 
2017
GEORGE DE MARCO, Deco Ventures
Forward-thinking dealers monetized connected security and lifestyle devices via Cloud-based services, whether in a monitoring-it-yourself (MIY) or professional monitoring model. From this, a hybrid model is developing, taking consumer product choices and the expertise of the pro dealer channel to deliver best-of-breed technology and services.
The accelerating adoption of video cameras continued to drive video RMR models, whether from Cloud storage or from MIY or profession-al monitoring, such as video alarm verification and virtual guard tours.
Security companies continued to make the strategic decision to close their internal monitoring stations and outsource their monitoring services to wholesale providers, allowing them to focus on core strengths while also mitigating their financial and technology risks.
The industry remained attractive to strategic acquirers of RMR, integrators, manufacturers and service providers, with little abatement in the near future.
Consumers' buying decisions were being driven by connected lifestyle devices and the delivery of interactive services from the pocket, rather than just choosing a traditional security system with standard monitoring service. 
2018
BILL BOZEMAN, PSA Security Network
The integrator business model continued to transition to the managed services program [MSP] model due to demand from the end user.
Continued consolidation of quality security integrators and security manufacturers continued to change the dynamics of the security industry.
An increased focus on cybersecurity deliverables opened the door for conversations among physical security integrators, manufacturers and end users.
The physical security workplace is becoming more diversified. A new generation of physical security and business professionals entered the employment pool with a variety of educational back-grounds and specialties that provide dynamic collaboration and innovative systems.
The integration of pro-A/V, cybersecurity, IT and physical security continued to change the dynamics of the "stand alone" mentality. 
2019
DON YOUNG, The Monitoring Association
Consumer recognition of the importance of professional monitoring. There is increasing awareness that professional monitoring companies have strong partnerships with insurers and public safety and that the safe-guards provided by these tenured partner-ships provide consumers an extra level of comfort and 24/7 coverage. However, professional monitoring is also adapting to more flexible services that offer monitoring-on-demand and advanced mobile and app-based services.
Integration with public safety ecosystems has gained traction. Whether through ASAP-to-PSAP or other new entrants, the security industry must provide better (verified and contextual) information, more efficiently to law enforcement, fire and EMS. The information provided to first responders helps determine the severity of an incident and to dynamically decide what level of resources to dispatch.
Increased focus on ANSI standards. End users want a single, easy-to-use application to interact with the services provided. Standards-driven connectivity and interoperability are proving crucial to creating and maintaining a quality end-user experience. Public safety and other partners also have no interest in integrating to dozens of different platforms.
Consumers are increasingly looking to protect everything that is important to them, regardless of where they are or what they are doing. This means extending protection for their families beyond just their home. Ever-advancing technological innovation is making this a reality.
Legislative activity that impacts our industry is increasing. TMA's Government Relations committee reviewed over 900 pieces of legislation in 2019. These include legislation related to wages, apprenticeship programs, vocational education, alarm ordinances, licensing, robocalling and net neutrality.
Security Is Our Business, Too
For professionals who recommend, buy and install all types of electronic security equipment, a free subscription to Security Sales & Integration is like having a consultant on call. You'll find an ideal balance of technology and business coverage, with installation tips and techniques for products and updates on how to add sales to your bottom line.
A free subscription to the #1 resource for the residential and commercial security industry will prove to be invaluable. Subscribe today!