Commitment to Improving and Saving Lives Makes Acadian an SSI Installer of the Year
With all the precision and pinpoint accuracy of a Drew Brees pass, Acadian Total Security is hitting the bullseye as SSI's 2019 Midsize Installer of the Year.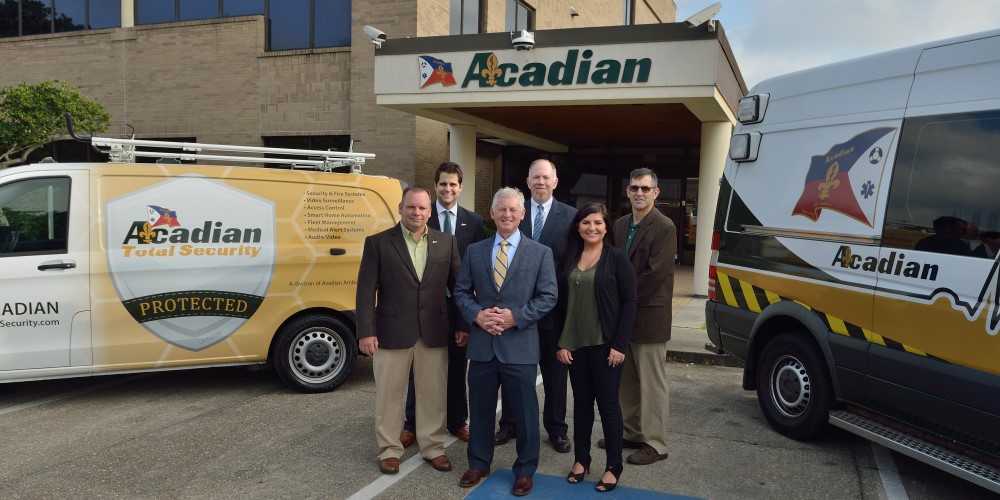 Photos and Videos
View Slideshow
Coming from a position of strength certainly has its advantages. Consider Acadian Total Security (ATS), which upon its 1991 launch hit the ground running thanks to its foundational business as the nation's largest privately owned ambulance company.
The firm has parlayed that into establishing itself as one of Louisiana's leading security systems and monitored services providers — and SSI's 2019 Midsize Installer of the Year Award.
A division of Acadian Ambulance Service, which was founded in 1971 by CEO/Owner Richard Zuschlag, Lafayette-headquartered ATS was built on providing medical alert systems and wholesale security alarm monitoring.
The growth of those services eventually led to the creation of separate specialized security monitoring centers. Today, ATS operates a network of three sophisticated, bi-directionally redundant call centers.
The TMA Five Diamond certified and UL-Listed facilities serve more than 33,000 residential and commercial security customers. In 2014, ATS expanded its portfolio to include retail equipment sales and installations, and its staff has grown to approximately 200 associates strong.
To find out what makes the ATS operation tick, SSI spoke with President Blane Comeaux, Director of Operations Brandon Niles, Sales Manager Jason Brown, Security Ops Manager Al Lanclos, Billing Manager Angie Lagrange and Marketing Coordinator Michelle Trahan.
Culture of Saving Lives
BLANE COMEAUX: Acadian prides itself on being 93% on time for our 30-minute window scheduled appointments. We do not believe in the typical 8 a.m.-noon morning appointment window, or the 1 p.m.-5 p.m. afternoon appointment window. We believe our customers deserve better service by assigning tighter window appointment times. Our customers really appreciate that we respect their time. This shows up in our customer surveys and in customer referrals.
MICHELLE TRAHAN: We also have an inside sales and customer retention team who actively contact current customers offering new products and services as well as additional help with any issues they may be experiencing. At ATS, we prefer a proactive approach to keeping our clients happy.
AL LANCLOS: We also utilize GPS fleet tracking software to make sure our employees are working efficiently and they are taking the best routes to each service location.
JASON BROWN: Our three monitoring centers are UL Listed, TMA Five Diamond Certified and bi-directionally redundant providing cutting-edge technology and superior service. Our operators are staffed with highly trained and certified response team members ensuring the fastest response to calls 24 hours a day, 365 days a year.
BRANDON NILES: Our company was formed in the mold of its parent company Acadian Ambulance Service Inc., where every element of its personnel — whether it's billing staff , medical staff or human resources reps — is in the business of saving lives. As a result, we have a culture where every employee of our company is involved with delivering an exceptional customer experience while also protecting the lives and property of its customers. It is this culture that drives our employees to be the best, because anything less would just not be in tune with the Acadian experience that our patients and customers have come to expect from us.
To deliver an exceptional customer experience we are constantly reviewing and monitoring a series of key metrics to evaluate the amount of time specific types of jobs take to install. While each job is different and presents their own unique challenges, we have found that by analyzing data on a regular basis on job types and our technicians, we can closely estimate exactly how much time a job will take to complete. This allows us to sell jobs with an appropriate amount of time designated and to schedule our jobs with enough flexibility to make sure we meet our on-time goals and ensure customer satisfaction in this area.
TRAHAN: We measure customer satisfaction on a daily basis with voice of customer surveys. Surveys are left with each customer to acquire constructive feedback and our sales and retention staff follow up personally with each customer after the install to ensure all of their needs were met. Upper management reviews the surveys monthly to update policies and procedures to resolve any outstanding issues.
NILES: From a high-level view, we evaluate our customer service with the friends and family test. Simply put, would you recommend and trust your service to protect and serve your friends and family? From there, we look at our voice of customer surveys and determine how we can improve in that area and make the customer experience better. In the case of a bad voice of customer survey, someone from upper management will reach out to the customer to explain the situation and how we plan on improving it for all of our customers moving forward. We have found that open communication with our customers and taking ownership of mistakes builds trust and helps foster the type of culture we're trying to instill in all levels of our customer service team.
Methods Minify Madness
TRAHAN: Each year upper management meets for several days for strategic planning offsite to establish our objectives, goals, strategies and measures for the following year. We take aggregated data and information from our annual employee surveys to help determine our goals. This gives our team a clear and concise plan of action and defined targets.
Our strategic plan is conveyed across the board to all employees by their immediate supervisors and managers. Monthly staff meetings are held to assure everyone is familiar with the desired end result and any problems or concerns encountered can be addressed. We have found that consistent communication not only helps increase employee satisfaction, but also leads to healthy conversations with our team that enable us to create revenue producing ideas and cost saving measures.
The best way to grow our business is to keep our customers satisfied. We are continually expanding our product and service offerings. Smart home automation, wellness solutions and A/V are areas of growth for us and ways to attract new segments of the market. We partner with many vendors to test and develop new technology we feel will be beneficial to our customers.
NILES: Typically, business initiatives are created toward the end of Q3 after detailed discussion to determine if these initiatives meet the overall strategy of our business plan. At that point, if we decide to move forward on them, these initiatives are budgeted for and planned out based on a number of factors including customer desirability, profitability and resources needed to implement. Generally speaking, the strategies of our business plan are reviewed on a quarterly basis and tweaks are made as necessary based on factors such as competition, market shifts and financial analysis. Any large overhauls or major changes to the overall strategy of our business plan require a special executive meeting and corporate review prior to starting.
Keep reading to learn how Acadian measures success, evaluates employees and more…
If you enjoyed this article and want to receive more valuable industry content like this, click here to sign up for our FREE digital newsletters!
Security Is Our Business, Too
For professionals who recommend, buy and install all types of electronic security equipment, a free subscription to Security Sales & Integration is like having a consultant on call. You'll find an ideal balance of technology and business coverage, with installation tips and techniques for products and updates on how to add sales to your bottom line.
A free subscription to the #1 resource for the residential and commercial security industry will prove to be invaluable. Subscribe today!