Commitment to Improving and Saving Lives Makes Acadian an SSI Installer of the Year
With all the precision and pinpoint accuracy of a Drew Brees pass, Acadian Total Security is hitting the bullseye as SSI's 2019 Midsize Installer of the Year.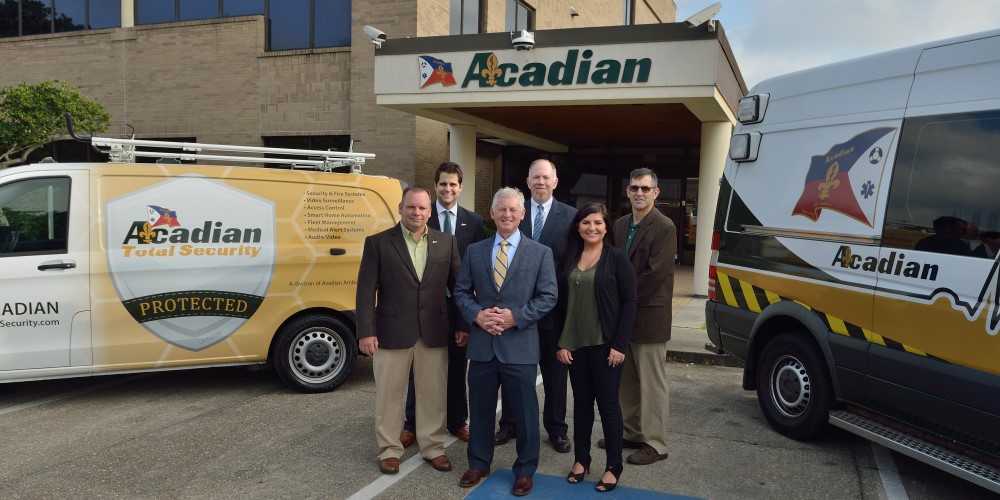 Photos and Videos
View Slideshow
Measuring for Success
TRAHAN: ATS uses the services of our in-house PR department in conjunction with our division coordinator to implement a broad spectrum of marketing techniques. We use all forms of media at various times throughout the year to promote our brand. Acadian Total Security ensures we stick to a strict layout with similar fonts, images and backgrounds so that all marketing collateral is uniform. Acadian uses dedicated phone numbers, promo codes and lead tracking software to ascertain results. These outcomes are monitored by our marketing department and are escalated or revamped as needed.
NILES: Prior to implementing any new sales or marketing initiatives, we create a timeline for success with key markers. We use these key markers to indicate when it's time to move on from an initiative or invest further into it because of its success. By creating these key markers at the beginning, it allows us to have a very rational conversation about the campaign and prevents us from investing too much time and money into an initiative where our time would have been better spent elsewhere.
Assessing Associates
ANGIE LAGRANGE: ATS utilizes our corporate HR department to aid in evaluating and recruiting employees. With a team of over 5,000 employees, our HR team is well versed in recruiting qualified candidates. Jobs are posted internally on our intranet, as well as through career websites such as Monster and Career Builder. We also attend local job fairs and rely on social media posts on LinkedIn and Facebook to spread the word about a job opening. We search for candidates who are looking for more than a job, those who want a career with a company where they become an employee owner and have a stake in the company. Compassion and attention to detail are important qualities in our ATS new hires.
NILES: The best way for us to find talented employees is to rely on our current staff to help. On a number of occasions we have provided a financial incentive for a current employee to recommend someone for employment. It is very helpful that we're an ESOP [Employee Stock Ownership Plan] company and as a result, our team members being employee owners of our company, already have a powerful reason to help us find talented workers.
TRAHAN: Each employee must attend a full day of corporate training as well as a half day of training specifically geared toward ATS employees. In addition, depending on the position, training in that specific skill set can last anywhere from two weeks to two months. Some of our careers require specialized licenses and/or classes that must be taken to fulfill the needs of the job. We also have quarterly and yearly performance appraisals which must be completed on each employee by their immediate supervisor.
JASON BROWN: ATS' employee appreciation committee plans different events and functions throughout the year for our team such as bowling nights, barbeques, ice cream socials and crawfish boils. We also have an annual Family Fun Day Picnic, a Christmas party and our Medic of the Year Luncheon and ESOP Social. At the latter, all participating ESOP employees receive an entry to win a new car! We also hold contests for best Halloween costume, best decorated holiday door/cubicle and various other health and wellness challenges. We distribute "You got caught" cards when an employee "gets caught" doing something extraordinary. These cards can be used on our e-store to purchase company logoed items. Each month we also choose an Employee of the Month who goes over and above in their job duties. At the end of the year, we choose an Employee of the Year from those finalists.
Lots of Helping Hands
TRAHAN: Acadian Total Security is a member of many of the local chamber of commerce and business development organizations and our employees volunteer many hours of service to make Acadiana a better place to live and work. We are members of various other organizations in our community such as the Southeastern Louisiana Home Builders Association, Women's Business Alliance, Lafayette Kiwanis Chapter and Louisiana Life Safety & Security Association.
Our security division also does several sponsorships throughout the year, including associations with the Acadian Homebuilders Association, Terrebonne High School, Southside High School, Bayou Black Elementary, Cypress Saw Mill Festival, Movies in the Field, Youngsville Sports Complex, Zoo of Acadiana, Oil Center Association, Dufrene Fishing Rodeo, Give A Wish Golf Tournament, Westlake Police Golf Tournament, New Iberia Optimist Club and many more.
We have a cooking trailer and cook free of charge for many events including, Golf for Kids Sake, Realtor Association Gumbo Cook Off, SWLA Economic Alliance Golf Tournament, Billy Nungesser Golf Tournament, SLHBA Golf Tournament, Shark Golf Scramble, Hot & Spicy Classic and the Teurlings High School Rebel Open. ATS also participates in the Annual Alzheimer's Walk and received second place in monies raised for the last two years. One of the largest ways we respond to our community's needs is through the United Way of Acadiana campaign. We encourage our employees to give an hour of their pay each month to this cause and those who do are entered into a drawing to win prizes. We strive to give more each year and our goal is to get more than 50% of our employees to donate to this campaign.
NILES: Acadian has also been instrumental in helping its communities in times of need. In situations where there is a natural disaster, like a hurricane or severe flooding, we will provide some of our employees to Acadian Ambulance Service Inc. to assist them until the situation has improved. Additionally, on a number of occasions we have been involved with the cleanup efforts and helping people begin the recovery process after a natural disaster.
As far as security industry involvement, last year I was voted to serve on the board of The Monitoring Association. Our president, Blane Comeaux, co-founded the Medical Alert Monitoring Association and served as vice president and secretary in past years. He has also teamed on several security industry boards, including the NBFAA/ESA Government Relations Committee, as well as local Louisiana chapters.
Since Acadian's parent company, Acadian Ambulance Service, is the primary AHJ for a number of areas in Louisiana we have seen firsthand the financial ramifications that result from false alarms. As a result, Acadian works closely with all the AHJs in its service area to ensure that best practices for false alarm reduction, as established by TMA and ESA, are being followed.
Check out this slideshow for more pics of the 2019 Midsize Installer of the Year.
If you enjoyed this article and want to receive more valuable industry content like this, click here to sign up for our FREE digital newsletters!
Security Is Our Business, Too
For professionals who recommend, buy and install all types of electronic security equipment, a free subscription to Security Sales & Integration is like having a consultant on call. You'll find an ideal balance of technology and business coverage, with installation tips and techniques for products and updates on how to add sales to your bottom line.
A free subscription to the #1 resource for the residential and commercial security industry will prove to be invaluable. Subscribe today!