ADT CEO Responds to 'Pundits' Questioning IPO Decision After Lackluster Debut
CNBC challenged ADT CEO Tim Whall to explain the security and home automation giant's lackluster IPO. Here's what went down.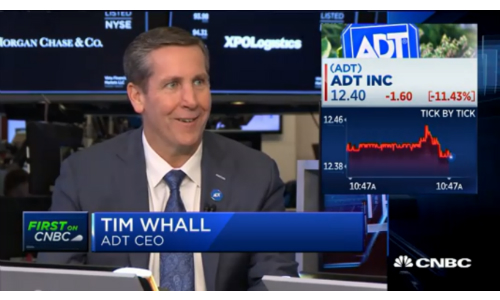 Last month, ADT announced it would go public, planning to to raise $2 billion by offering 111.1 million shares at a price range of $17 to $19.
However, the company didn't fare so well on its first day of trading on the NYSE. Heck, it didn't do so well in the few days prior to the Jan. 19, 2018, IPO. The security and home automation giant ended up offering 105 million at $14 apiece.
The shares actually opened at $12.65, hit a low of $12 and ultimately closed the day at $12.39, down 11.5% from the offering price. The stock price continues to slide in after-hours trading.
Did ADT jump the gun on an IPO? The previously public company was acquired by the private equity group Apollo Global Management just two years ago for $6.9 billion. In an interview with ADT CEO and SSI Hall of Famer Tim Whall on IPO day, CNBC asked: Why the rush? Two years is an awfully short "gestation period," as the host says …
Whall responded, in essence, that ADT just worked really fast, meeting "most of the five-year targets inside of two years."
He added that "great progress" from employees led to "much better customer satisfaction, resulting in greatly improved cash flow to the business."
Death Knell for Full-Service Security & IoT Companies?
Does ADT's lackluster IPO spell doom for full-service security and home automation providers? Industry "experts" seem to think so.
The CNBC host suggested the proliferation of Internet-enabled products "would seem to lower the barriers to entry to those who would compete against the market leader ADT."
Mentioning the contentment with his own smart thermostat, he wondered aloud why he wouldn't just use Nest as his "security" system.
It's the same old question the "pundits" have been asking for at least 25 years. Whall acquitted himself nicely:
That last five feet of the home is important. It's a place where we shine 24/7, you know, having the technicians that are out there. The homes get more complicated all the time — getting something to work. I happen to have adult daughters who can get things fixed in my house but when they're off, it's a little harder for me so who's gonna come in there and keep things working for ya? Who's gonna help you understand … the Internet of Things devices in the home, making sure it stays working for you?

Again, at the ADT side, service is what we do. We take care of our customers 24/7/365 days of the year.
At this point, another CNBC host chimed in with a feeble and familiar challenge: Well what about Amazon? They have a lot of patents in the home security area.
It's doubtful that either CNBC host really blames ADT's poor IPO performance on the demise of the full-service security/automation business. After all, Apollo still owns some 85% of ADT even after the IPO.
The CNBC interviewer actually answers his own question about the IPO when he says investors wouldn't be too excited that proceeds were mostly going to pay down leverage: "Those things don't always go over too well with investors …."
There you have it.
Is there a genuine threat to the status quo in security and home automation? Most definitely. Is this reality the reason for ADT's weak IPO? Nope.
And besides, ADT is embracing the hybrid DIY/Help-Me market with multiple new offerings including a new solution with Samsung SmartThings. The company isn't stupid.
---
Editor's Note: This article first ran in Security Sales & Integration's sister publication CE Pro.
If you enjoyed this article and want to receive more valuable industry content like this, click here to sign up for our FREE digital newsletters!
Security Is Our Business, Too
For professionals who recommend, buy and install all types of electronic security equipment, a free subscription to Security Sales & Integration is like having a consultant on call. You'll find an ideal balance of technology and business coverage, with installation tips and techniques for products and updates on how to add sales to your bottom line.
A free subscription to the #1 resource for the residential and commercial security industry will prove to be invaluable. Subscribe today!
One response to "ADT CEO Responds to 'Pundits' Questioning IPO Decision After Lackluster Debut"