ASIS NYC Chapter Partners With Reed Exhibitions, SIA to Present ISC East 2020
The ASIS NYC Chapter will play a key role in staging education and networking activities at the 2020 event, Nov. 18-19 at the Javits Center in New York.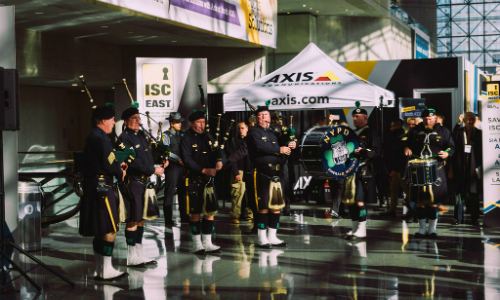 NORWALK, Conn. — Reed Exhibitions, the Security Industry Association (SIA) and the ASIS Int'l NYC Chapter have formed a partnership to work collaboratively on educational programs, networking events and market engagement activities at ISC East 2020.
Rather than producing a standalone ASIS Int'l New York City Security Conference & Expo in 2020 — formerly a long-running event held annually in the spring — the ASIS NYC Chapter will play a key role in staging activities at ISC East 2020. The event will be held Nov. 18-19, 2020, at the Javits Center in New York City.
"One of the core characteristics of our robust ASIS NYC Chapter is strong collaboration, partnering and mutual commitment to excellence in security and public safety for the Tri-State area," says Raymond Dean of the ASIS NYC Chapter. "As part of ISC East, our ASIS NYC Chapter will be part of the largest annual comprehensive security show in the Northeast and bring our members together with more physical and converged security integrators, practitioners, manufacturers and innovative solution providers than ever before."
As a notable feature on day one of ISC East 2020, the ASIS NYC Person of the Year Award and Gala Luncheon will be held. The ASIS NYC Chapter will also collaborate with SIA on speakers and sessions for the ISC East Educational program known as SIA Education@ISC.
"ISC East continues to be a major platform for partnerships that spur industry growth. The expertise brought by members of the ASIS NYC Chapter into ISC East will make the SIA Education@ISC education content even more compelling and relevant to suppliers and security practitioners. The Chapter's involvement in ISC East will drive collaboration with SIA and together we will also provide additional value to our respective young professional and women in security communities," says Don Erickson, CEO, SIA.
The 2019 installment of ISC East will be held Nov. 20-21 at the Javits Center in New York City, and is co-located with the Infosecurity ISACA North America event. More than 7,500 attendees and 300+ exhibitors and brands are expected to convene at the show. The exhibition will feature new security products and solutions covering access control, biometrics, artificial intelligence (AI) and machine learning, video surveillance, IoT-enabled devices, cybersecurity, public safety products, drones and robotics/counter drone solutions and more.
The 2019 expo floor will include an ASIS NYC Chapter booth to provide information and resources to the community.
"We are all very excited about this partnership. The collaboration between ISC, SIA and the ASIS NYC Chapter will enable us to better serve the Northeast security and public safety market, and we are looking forward to moving the industry forward together," says Mary Beth Shaughnessy, ISC Event Director.
For more information and to register, visit isceast.com.
Security Is Our Business, Too
For professionals who recommend, buy and install all types of electronic security equipment, a free subscription to Security Sales & Integration is like having a consultant on call. You'll find an ideal balance of technology and business coverage, with installation tips and techniques for products and updates on how to add sales to your bottom line.
A free subscription to the #1 resource for the residential and commercial security industry will prove to be invaluable. Subscribe today!