Introducing the SSI Industry Hall of Fame Class of 2022
SSI's Industry Hall of Fame hails those who have contributed most significantly to the security industry. Cheers to 2022's inductees!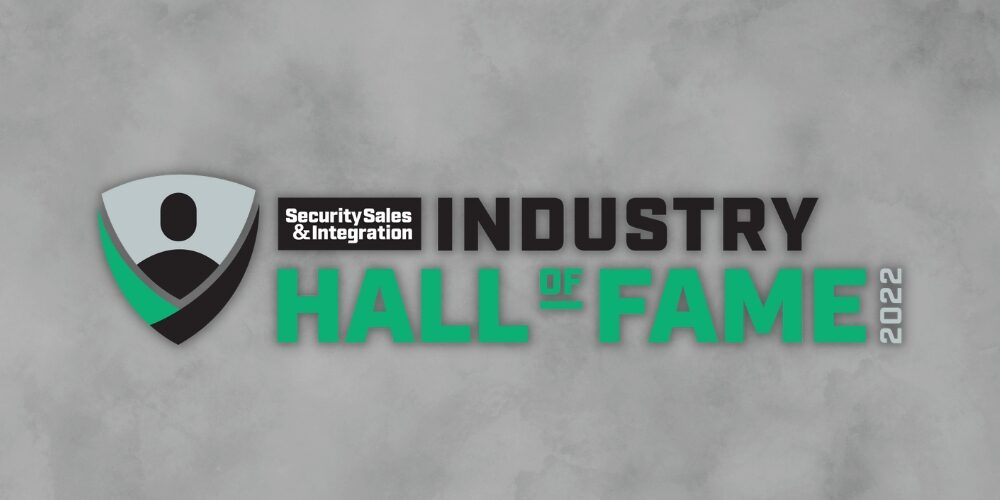 Photos and Videos
View Slideshow
Lynn de Seve | Founder and President, GSA Schedules
Bio
Born in 1951 in Pittsburgh
One of two daughters, father was a credit manager for GM and mother was an "extraordinary" homemaker
Divorced with three daughters (all who work in her company) and one son, and nine grandchildren
Undergraduate studies in business, speech and communications at University of Maryland, and continued studies/classes related to federal contract management
Other industry honors include SIA Statesman Award (2006), SIA Chairman's Award (2016 & 2019), and SIA George R. Lippert Award (2021)
Performs as officiant at wedding ceremonies for friends and family; collects "all things frogs"
Other interests include vegetable and flower gardening, antiquing and concertgoing
Why She's on the List
A successful entrepreneur, has spent 40+ years as one of industry's leading, most respected authorities on GSA schedule contracting, procurement and doing business with state and federal government
Expert on advising, educating and advocating for clients in their effort to sell to the government —preparing documentation, submitting and negotiating, training, conducting compliance reviews, supporting client staff and more
In 1978, began working for a manufacturer of printed circuit board repair stations as part of its government marketing program, learning about federal policies and contracting that led to a new career opportunity
Founded GSA Schedules consultancy in 1984, while increasingly serving in numerous capacities as a top liaison among security solutions providers and the government — with the business growing quickly after 9/11
In 1990s, worked with GSA to introduce first total solutions for security, adding installation, professional services, guard services and ESPC (energy savings performance contracts)
Worked with SIA to gain support and advocate for the Cooperative Purchasing Program using the GSA schedule contract for state and local government under Schedule 84
Keys to Success
"As a woman in a male-dominated industry, I am most grateful to my male counterparts who championed me. Not every co-worker was as supportive, but my experience was a good one. I demonstrated my determination with a positive attitude and dependability starting back in the days of the phone room. I was a single mother working hard to support my family and find the balance between work and home. That is why forming of the SIA Women in Security Forum and its growth and success has been important to me. I wanted to be part of a group that provides support, encouragement, education and advocacy for opportunities to advance. There are many supporters along the way to whom I owe a great deal of thanks. That is one of the many bright spots of the security industry; it really is a community of very special people."
Dealing Out Debts of Gratitude
"First off, I must credit Sheila Brannan, GSA contracting officer, and Alan Searsy, GSA director, for their professional guidance over the years. I am forever grateful to Brian Dolan and his partner Pete Peek of 1 Volt Associates for helping me start my business bringing me my first clients. Jack Crouse of Midwest CATV for financial support and encouragement at the beginning. Mike Ruddo, Jeff Penny, Ken Cordrey, Dan Connole, M.G. Karch and Kevin Carpenter for so many referrals and years of friendship. Don Erickson for his leadership, always challenging me and offering inclusive opportunities as a SIA member. John Stroia, Denis Hebert, Scott Schaefer, Pierre Trapanese, Scott Dunn, Richard Brent, Sandy Jones and the entire SIA staff for their mentoring and helping me understand we can make a difference and create change for our industry."
Challenge of Balancing Physical & IT Security
"The technological advancements of electronic security over the years have changed the types of products and services offered for security through the GSA program. There is a great deal of overlap between IT and physical security that had caused procurement conflict as the IT and security programs fought over who was taking the lead. The implementation of HSPD-12 and technical certification are required for products and labor. More technical regulations are being implemented by DoD and soon GSA for cybersecurity. Disruption of systems and service impacts more than just the government, it also affects the more universal issues of the power grid and supply chain."
Security Is Our Business, Too
For professionals who recommend, buy and install all types of electronic security equipment, a free subscription to Security Sales & Integration is like having a consultant on call. You'll find an ideal balance of technology and business coverage, with installation tips and techniques for products and updates on how to add sales to your bottom line.
A free subscription to the #1 resource for the residential and commercial security industry will prove to be invaluable. Subscribe today!