Swann Releases Wired and Wireless DIY 'Security Digital Ecosystem'
The release includes three new wired security systems, including DVRs with sensor warning light cameras and 4K Ultra HD NVRs.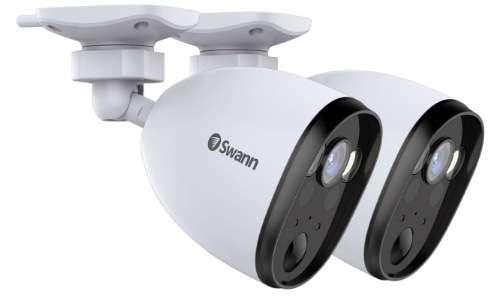 SANTA FE SPRINGS, Calif. — Swann, a provider of do-it-yourself (DIY) security products, has released a fully integrated ecosystem said to encompass wired and wireless security solutions that can be controlled by a single app.
As part of the launch the company is releasing its Wi-Fi Alert indoor camera and Wi-Fi Spotlight outdoor camera, along with announcing the release of three new wired security systems. These include DVRs with sensor warning light cameras (available in both 1080p and 4K Ultra HD) and 4K Ultra HD NVRs with spotlight cameras featuring crime deterring sirens.
"At Swann, we are committed to simplifying home security for daily life," states Jeremy Stewart, vice president of marketing at Swann. "Consumers want smart security solutions that prevent crime, interconnect with one another, and offer value with no recurring fees, and this is what we are delivering with the new Swann Security products," continued Stewart.
Both of the Swann Wi-Fi cameras connect to power and can be set up on a smartphone via WiFi within minutes, according to the company. 1080p HD videos record via free access to the Cloud. The WiFi Alert indoor security camera offers two-way audio, allowing users to talk to guests or warn off intruders with a siren. The Wi-Fi Spotlight outdoor camera is outfitted with a siren and two-way audio.
Swann's new Day/Night 4K Spotlight NVR camera connects to NVRs to provide 4K ultra HD video. This new model comes with motion-sensing ultra-bright 300 Lumen spotlights, a siren and two-way audio functionality, as well as mobile alerts. It is said to be capable of night vision of up to 45m in total darkness (60m with ambient lights), as well as the ability to see color at night.
The Swann Day/Night 4K sensor warning light camera with siren connects to a wired DVR recorder. It offers 4K Ultra HD video with a powerful digital zoom. The extended night vision, up to 130ft/40m, 1080p version of the day/night warning light camera is available and offers full HD video with night viewing in color up to 32ft/10m when the lights are activated, while its infrared night vision can capture essential evidence in black and white for up to 100ft/30m.
The new Swann Security app allows users to control multiple wired systems, and Wi-Fi cameras from multiple sites, stream live video and receive notifications. Swann claims to be the only DIY vendor that offers a complete line up of wired and wireless security solutions that is completely integrated with Google Assistant and Amazon Alexa.
The new Swann Security ecosystem is said to feature sets such as: video analytics (line crossing, intrusion, static object detection and target unwanted activity); smart alerts (heat and movement from people and cars trigger accurate mobile alerts); and optional additional alerts including face recognition, pet, vehicle, parcel and camera tampering detection will be available for the WiFi cameras via an subscription service.
Security Is Our Business, Too
For professionals who recommend, buy and install all types of electronic security equipment, a free subscription to Security Sales & Integration is like having a consultant on call. You'll find an ideal balance of technology and business coverage, with installation tips and techniques for products and updates on how to add sales to your bottom line.
A free subscription to the #1 resource for the residential and commercial security industry will prove to be invaluable. Subscribe today!