John Mabry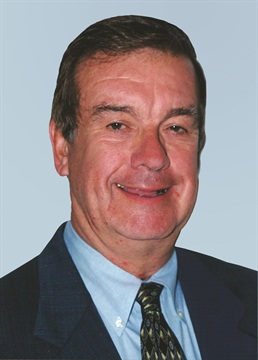 Current Status
Deceased (car accident, Nov. 18, 2011 at age 74)
Keys to Success
Colleagues, friends and family remember him as an American patriot, loving and devoted family man, inspirational leader, astute businessman, and industry visionary. Qualities he exuded included unshakable integrity, intense focus, hard work ethic and conscientious practice of high ideals. Known as a "loveable curmudgeon," his children and staff members often recite what they call "Mabryisms," such as "The slow buffalo drinks dirty water" or "It's like spitballs against a battleship!"
Industry Accolades and Awards
He often espoused the importance of rewarding and recognizing others stating, "… people go to war for the money, but die for the medals." However, he never sought recognition, preferring instead to focus on established priorities. Recognizing his many contributions to NBFAA and the alarm industry, he received the Morris F. Weinstock Person of the Year Award in 1983. He received further recognition in 2004 when he was presented the Stanley C. Lott Award, CSAA's most prestigious recognition of leadership and support.
Being Active in Trade Associations
He perceived that the industry lacked a consistent image of quality and integrity. So he sought to bring cohesion and professionalism to the security alarm industry through involvement in trade associations. He founded NBFAA's National Training School (NTS) in 1985, which remains the leading training program in the U.S. for alarm professionals. More than 40,000 security professionals have earned NTS certifications or completed courses since 1985 — by far, the most trained by any industry organization in the past 25 years.
Most Memorable Moment
In 1968, on his first business trip as American Alarm president to meet with the V.P. of security for Kroger's supermarkets in New York, his plane crashed on initial touchdown at LaGuardia and was forced to pull up and land at JFK Airport. His life flashed before his eyes after seeing the ground below through the plane's fuselage. During the confusion, he was able to save the life of the passenger next to him. Tattered and covered in blood from the other passenger, he was denied a room at a nearby hotel because President Lyndon B. Johnson was staying there. However, after sharing his ordeal with a Secret Service agent, he was granted a room. Later, after a bellman got no answer knocking on the door of his room in an attempt to deliver a new set of clothes, security was summoned. It turned out he had just been in the shower, so they found him alive and clean.
Something People Might Not Know
He was of strong faith, sentimental and caring, having paid college tuition for a less fortunate individual and always responding to employees in need. From his own pocket, he would loan money that while typically paid back was done so without expectation of repayment. These actions resulted in him creating deeper bonds and earning more respect of those around him. Ultimately, he was repaid in hard work and the ethical practice of his high ideals. He often stated, "Your people are a reflection of yourself."
Why He's on the List
42 years of elevating the professionalism of electronic security through alarm companies, suppliers and trade associations
In 1969, founded American Alarm Co., selling it to Honeywell in 1983
In 1972, appointed to Central Station Alarm Association (CSAA) Board, later elected CSAA president (1981-83)
From 1983-1993, served as V.P. of Honeywell's Protection Services Division, later V.P. of sales and business development within Honeywell's Home & Building Control business unit
Served on National Burglar and Fire Alarm Association (NBFAA; now ESA) Board, and was NBFAA president from 1984-86
Served as president of Security Network of America (SNA) from 1993-2000
In 2003, joined the board of Integrated Alarm Services Group (IASG) before being elected chairman in 2006 and presiding over $140 million sale to Protection One in 2007
Served on alarm company boards including ADS Security, American Alarm and Communications and Protectron
The Mabry File
Born Oct. 5, 1937, in Kansas City, Mo.
One of two children, his father worked in the grocery and liquor industry; mother was a homemaker
Married to Sue for 48 years, with three daughters and one son, and 14 grandchildren
Daughter Michele recently launched Trax24, a portable personal security device
Earned bachelor's degree from Benedictine College in Atchison, Kan., later graduated from Harvard University's Advanced Management Program
Served in U.S. Navy and was executive officer in charge of communications aboard the USS Ranger, CV-61
Other interests included golf, skiing, basketball and deep sea fishing
If you enjoyed this article and want to receive more valuable industry content like this, click here to sign up for our FREE digital newsletters!
Security Is Our Business, Too
For professionals who recommend, buy and install all types of electronic security equipment, a free subscription to Security Sales & Integration is like having a consultant on call. You'll find an ideal balance of technology and business coverage, with installation tips and techniques for products and updates on how to add sales to your bottom line.
A free subscription to the #1 resource for the residential and commercial security industry will prove to be invaluable. Subscribe today!