Les Gold Named Second-Ever SSI HoF Ring of Honor Inductee
The SSI Industry Hall of Fame Ring of Honor is annually bestowed upon an existing Hall of Famer (minimum 10 years after induction) who has continued to distinguish themselves with exemplary achievement or contributions.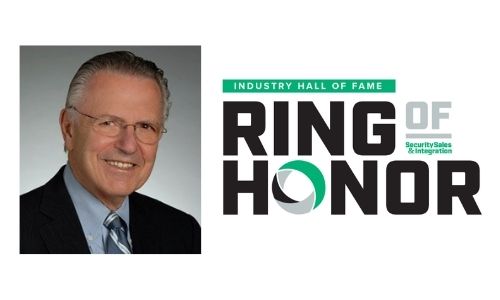 In 2004 to celebrate the 25th anniversary of Security Sales & Integration, the publication designated the 25 most dynamic people who had shaped the electronic security industry since the trade journal's 1979 inception.
It was indeed an impressive list, among it was Les Gold who throughout the subsequent 18 years has continued to be one of the industry's most highly respected and regarded legal experts and leaders.
His original published induction included the following…
Career Highlights
Began 45-year-plus association with alarm industry through Southern California Burglar Alarm Association in 1958
Represented NBFAA for 25 years
Represented industry in its dealings with local, state and federal government agencies, and labor unions
Why He's on the List
Involved in Signature Security's acquisition of Ameritech
Participated in formation of Protection One
Helped CAA prevail over Public Utilities Com-mission for lower telephone rates
Got Senate to pass legislation limiting tele-phone companies' entry
Authored first state law regulating alarm companies
Gold Comment: "I am very honored and gratified. I would like to be remembered as a person who was instrumental in helping the industry gain recognition, credibility and respect, while being respected by his peers."
Despite having already achieved a lifetime's worth of accomplishments and accolades by that point, there was no drop-off for Gold. In fact, he might have picked up even more momentum! His subsequent highlights include being one of the industry's preeminent M&A dealmakers, serving as a trade publication columnist, countless speaking engagements, representation of nonprofit associations, representation before regulatory agencies, contractual negotiations and co-chairing MSK's China Practice that primarily guides Chinese companies in doing business in the United States.
When it came time to select the second member of the new SSI Industry Hall of Fame Ring of Honor, to be annually bestowed upon an existing Hall of Famer (minimum 10 years after induction) who has continued to distinguish themselves with exemplary achievement or contributions, Gold was a natural choice.
To commemorate this iconic and ultimate recognition, friends, family and colleagues were asked to share what makes Les Gold a true one of a kind.
What abilities or talents most contributed to his success or do you admire most?
"Les is a skilled lawyer who knows how to neutralize a bad situation quickly and equitably. He is a good listener whose mind is always working for a solution to make things work. I have watched him make simple suggestions at a dinner table that make sense and are workable, to standing in front of a government body making a speech and grabbing everyone's attention." — George Weinstock, Retired SSI Industry Hall of Famer
"Les' greatest talents lie in his ability to understand both sides of an issue, and to instill trust in his objectivity to those engaged in a controversy. Les has a talent for collaborating with parties involved in controversy and reconciling their differences, while instilling trust in his wisdom … this is probably true because he is so old it is assumed that he is now wise!" — Ron Spiller, Retired SSI Industry Hall of Famer
"I admire his genuine guardianship of our industry the most. With his kind, yet very influential approach, he worked hard to protect our monitoring businesses from the potential takeover by Bell Operating Companies. This was a critical moment for our industry, and Les was instrumental in ensuring a positive outcome." — Sandy Jones, Retired SSI Industry Hall of Famer
"I have known Les since 1983. His demeanor does not change or waver with the passing of time or as the industry changes. His steadfast leadership surpasses fleeting and sometimes short-lived industry moments that seem important at the time, but eventually fall away. Les seems to know which issues to focus on and which to let alone and eventually they die." — Kirk MacDowell, MacGuard Security Advisors
"Les is considered the 'Gold' standard — pun intended — when it comes to all matters legal. He has successfully defended a countless number of alarm dealers over his 40-plus years in the industry. Additionally, he has established himself as an expert when it comes to alarm dealer contracts, alarm company sales and acquisitions." — Rick Gombar, Gombar Insurance Services
What traits and characteristics have helped him to build goodwill among colleagues?
"Les is a humble and generous. Even as a top industry leader, he takes the time to welcome newcomers into the industry and provides them guidance and networking opportunities. He gets satisfaction seeing others succeed and ultimately his introductions have served to create a stronger security industry." — Sandy Jones
"Les' calming demeaner, intellect and leadership helped guide the industry, especially the old WBFAA prior to CAA through the false alarm issues prior to the formation of SIAC. Les worked tirelessly and used his contacts through elected officials to be the sound of reason quite often when government over-reach could have proved detrimental to the industry." — Kirk MacDowell
"I have never in my 67-year career in the alarm industry met a single person who had anything negative to say about Les Gold. My wife Linda and I have been social and business friends of [wife] Sandy and Les Gold from Day 1, so we have seen him away from his desk, at the conference table or at a speakers lectern and he is the same bright, caring and fun person." — George Weinstock
"His personal traits include an ability to create the appearance that he is interested in what you are saying, even though he is thinking of something else." — Ron Spiller
What's something people might not know?
"Les and Sandy love the opera and have traveled extensively to listen to the best per-formers in the world. I remember they had just flown from Los Angeles to New York to hear Pavarotti perform live. The following week back in L.A., a friend of theirs reached out to say he and his wife were leaving for Europe to hear the famous tenor, had two spare tickets and invited Les and Sandy to attend. They jumped at the chance and flew to Europe to hear Pavarotti live again!" — Kirk MacDowell
"One of the things most people don't know about Les is that he attended a vocational high school in Chicago, and flunked wood shop." — Ron Spiller
"Les is a big sports fan, especially when it comes to the Dodgers. Having played baseball both as a child and a young man, he is knowledgeable in all aspects of the game and has been a Dodgers season ticketholder since they moved to Los Angeles. I have been fortunate to attend countless games with him." — Rick Gombar
"As my own lawyer, Les has straightened out some unfortunate experiences skillfully and with a positive conclusion. But I got him once when I shared the draft of a letter I pretended was going to be sent to a government agency. It was nasty, unpleasant and vile. That was when I got an angry phone call from Les — we both had a good laugh." — George Weinstock
"Les was instrumental in starting Securing New Ground. ISC was already well established and a great place to learn about new technology, products and services, but there was no event focused on the business aspects of the market. Along with myself and [SSI Industry Hall of Famer] Jeff Kessler, Les was instrumental in founding SNG. It became the first executive-level industry event focused on the business of security." — Sandy Jones
If you enjoyed this article and want to receive more valuable industry content like this, click here to sign up for our FREE digital newsletters!
Security Is Our Business, Too
For professionals who recommend, buy and install all types of electronic security equipment, a free subscription to Security Sales & Integration is like having a consultant on call. You'll find an ideal balance of technology and business coverage, with installation tips and techniques for products and updates on how to add sales to your bottom line.
A free subscription to the #1 resource for the residential and commercial security industry will prove to be invaluable. Subscribe today!