Security Integrators Reveal Their Favorite Brands, How to Earn Their Business
Wonder what makes a security integrator pledge loyalty to a particular product brand or what sways that same company to jump ship? SSI's 2017 Top Market Leaders reveal their top 5 access, fire, intrusion and video brands.
Only about one-third (32%) of installing security integrators and dealers believe the prices their manufacturers and wholesale distributors charge them for products are generally fair and reasonable.
Almost half (49%) say certain items are overpriced and more than 17% contend all products are too expensive. That according to Security Sales & Integration's most recent Operations & Opportunities Report (August 2017).
And yet price was seldom mentioned and never the No. 1 factor when several of the industry's leading security firms were asked why they select or discard brands. The much more subjective and broader term of value is referenced much more frequently.
While price naturally plays into a value assessment, typically much more impactful to integrators and dealers are qualities such as support, features, reliability, loyalty and compatibility.
As part of selecting 2017's Top 75 Market Leaders in October, SSI asked those high profile and proven integrators to identify their preferred brands in the major product categories of access control, fire safety, intrusion detection and video surveillance.
Those results were compiled to determine the top five vendor listings featured in this article. As a follow-up to the initial Market Leaders process, those firms were subsequently asked to respond to two questions. They were: 1) What are the three most important reasons your company chooses a product brand? 2) What are the three leading reasons your company might change brands?
In all, 17 Market Leaders stepped up — offering varying degrees of detail — to share how they judge their supplying technology partners. About the Market Leaders program: The selection process was based on integrators' percentage of total revenues measured against vertical market concentrations.
The majority of those making the cut submitted entries during 2017 with the balance being chosen by SSI's editors based on their significant standing in the industry.
The 75 recognized firms spanned the 12 vertical markets of education, financial institutions, gaming/hospitality/arenas, government, healthcare, houses of worship, industrial manufacturing, mass public transportation, office buildings, residential, retail/entertainment, utilities/infrastructure, plus an other category.
At the end of the day, integrators rely on their suppliers to help them delight their clients and turn a reasonable profit. Just as end customers are looking for painless, hassle-free solutions to their needs or wants, so too are the security professionals that serve them.
They have found the sources to fulfill that in the manufacturers included among the top five lists presented here. Congratulations to them! Now take a look and see if the Market Leaders' make-or-break criteria match that of your business.
Top 3 Reasons a Market Leader Chooses a Brand
Kern Group Solutions
Scott Kern, Managing Partner
When we select a brand to offer to our customers for their security requirements it's paramount that the brand be trustworthy, which conveys to our customers peace of mind when buying through our recommendations. We tend to remain loyal to our core brands for years once we have established that they deliver and have passed our trust standards.
The manufacturer of the brands we sell must have solid, reliable inside & outside sales and technical support. They should offer ancillary resources such as certified training, registered pricing, discounted demonstration equipment, etc. As an example, one of our video brands, Axis Communications, has some of the finest presales and postsales support in the industry.
The brand has to fit within our design and sales process. We only carry and specify two or three brands for most of our core business categories of video, access, intrusion and fire. We can't be everything to everybody and have no desire to be. When we select a brand to carry we are very loyal and invest our time and money to learn that product. This allows us to offer our customers real value and expertise in relation to the product and its real-world capabilities.
Intec Security Solutions
Danny Soileau, Consultant
Because the product is solid and reliable, which lets us go in with confidence that what we spec is going to work and make the client happy for years to come. That in turn creates good faith word of mouth, which of course leads to more and better business.
Name recognition is important, but not the most important.
Dealer service is paramount. If a manufacturer stands behind their product, it really makes our life a lot easier.
Kratos Public Safety & Security Solutions
Jim Henry, E.V.P.
Proven track record of delivering products and services that meet advertised claims and specifications.
Proven track record of adhering to VAR policies and agreements.
Support! Support! Support! No manufacturer/supplier is perfect. It's how they address problems that separate the best from the rest.
SI Technologies
Joe Masciocco, President
Dealer loyalty or limited distribution.
Quality in products received; zero out-of-box failures.
Support.
Vigilant Platforms
Mindy Marvel, Director
Equipment performance and open standards.
Support from the sales and engineering staff.
U.S. manufacturing rather than Chinese or foreign-owned; lack of vulnerabilities.
Securityhunter
Daniel Prochnow, President
Excellent product quality/reliability.
Superior customer service/technical support.
Ability to meet end user requirements
Convergint Technologies
Tony Varco, V.P., Security
Is the solution already proven in the marketplace; does the solution have a history of success in terms of installation and performance?
What makes the product/solution uniquely different, such as unique selling points, from existing products/solutions that we already carry?
Can the manufacturer physically and technically support our locations as well as their product/solution?
Low Voltage Contractors
Robbie Danko, Marketing Manager
Brand relationships we have formed, and the overall levels of support they give us in providing service to our clients.
Open infrastructure, giving our clients choice of provider.
Innovation, having partners who are looking for what is on the horizon for technology.
Vision Tech
Rick Stuart, V.P. of Security Practice
Product quality.
Open architecture, i.e. plays well with others.
Strong local/regional pre- and post-sales support.
Dowley Security Systems
Mark Davis, President & CEO
Brand reputation in the marketplace and fit with our existing product lines.
Their distribution model, in that they don't sell direct and try to compete with us, and have a good distribution model through reputable suppliers.
Training/certification/support costs of technical and sales staff in order to support the brand.
DynaFire
Ken Hoffman, CEO
Training is standardized for technicians; more techs are trained, techs can tap the mind space of other techs.
Accessibility and warehousing of the product are improved. Total inventory is reduced, which frees working capital, less space is required, vendor responds quicker to emergency requirements, able to meet most of the client's needs because we have most of the necessary product on the shelf, in a vehicle, or within next day if necessary.
Vendor standardization results in lower costs to us and ultimately to the client because we move more.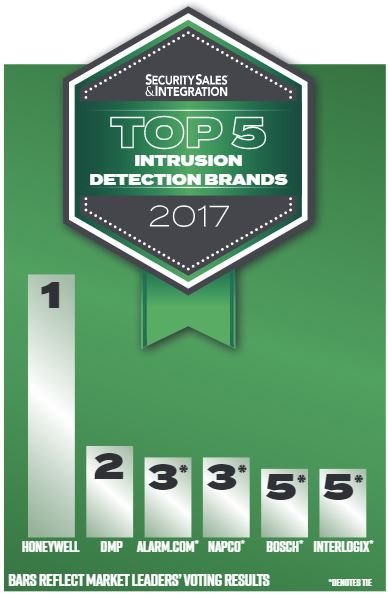 SSP
David English, Sales Manager
Features.
Support.
Customer demand.
American Digital Security
Buddy Mason, President
We are all about choosing brands with dealer direct channels. Cuts out the distributor competition.
Brands based on stability and longevity in the market.
Loyalty and longevity with the brand to build a true partner and purchase enough volume annually for deeper discounts.
The Protection Bureau
Matthew Ladd, President
Quality.
Price.
Support/integration.
Worldwide Security Network
Elie Ribacoff, President
Performance of the product.
Reliability of the product, or mean time between failure.
Technical support.
Securitas Electronic Security
Felix Gonzales, Sr. V.P. Strategy & Business Development
Product Quality – When selecting a technology product brand, the quality, reliability and longevity of the product line is a top consideration. SES customers are most often regional, national and global companies who see security as an investment in the reduction of risk. For their investment to provide a strong ROI for their security program, the security equipment installed must operate at the highest level, every day and over the expected lifetime of the product.
Service Reputation – The service and support reputation is another top consider when SES selects a technology product brand. Our customers are security professionals responsible for the security of the people, assets and businesses of their companies. They require outstanding service and support at the same high level as the initial project installation. We select product brands that match our commitment to service quality, response and communication.
Product Value – Selecting a technology product brand with a high product value is a top priority. The value of a product is made up of a number of components, including: ease of use, integration compatibility, quality, functionality and price. To assist our customers in their selection of the best technology solutions, we often use the SES Technology Evaluation Lab to provide in-depth evaluation of the quality, operation, compatibility and overall value of different brand products for our customers' unique application or project.
Custom Alarm
Melissa Brinkman, CEO
Quality of product offerings such as functionality, reliability, ease of use, return and warranty policy.
Support and relationship with the manufacturer.
If it will help differentiate us from others and bring value to our customers.
Read on for the top reasons these market leaders choose to change brands, as well as their top video surveillance and fire/life safety brands…
If you enjoyed this article and want to receive more valuable industry content like this, click here to sign up for our FREE digital newsletters!
Security Is Our Business, Too
For professionals who recommend, buy and install all types of electronic security equipment, a free subscription to Security Sales & Integration is like having a consultant on call. You'll find an ideal balance of technology and business coverage, with installation tips and techniques for products and updates on how to add sales to your bottom line.
A free subscription to the #1 resource for the residential and commercial security industry will prove to be invaluable. Subscribe today!