Recent Large-Scale Success Earns ADT Installer of the Year Award
Having shuffled its cards more than perhaps any other security player the past two years, ADT has emerged all aces, earning the distinction of SSI 2018 Installer of the Year (Large Company).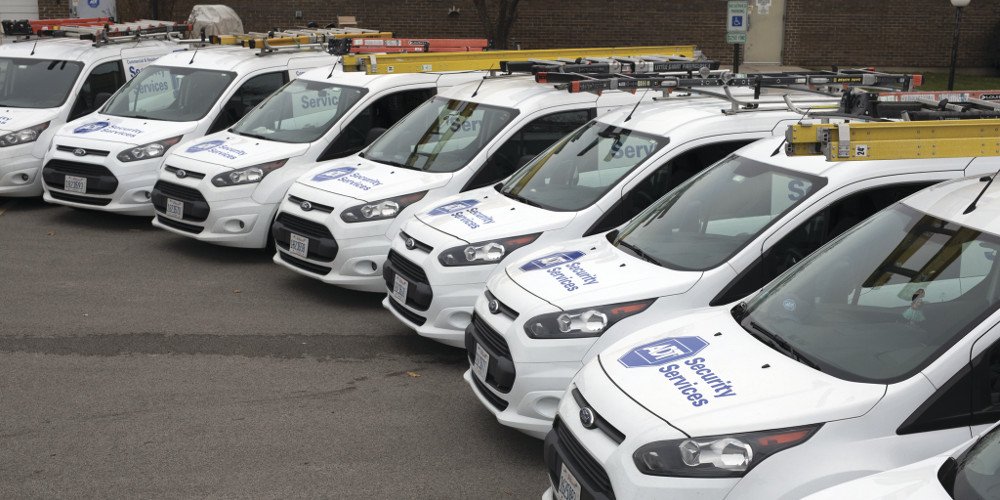 This aint your great, great, great, great, great granddad's ADT. In fact, with all the recent positive change that has taken place within the security industry's largest and best-known systems and monitored services provider, you may not recognize it as your ADT.
Founded in 1874 as American District Telegraph, in 2016 the company was acquired and merged with Protection 1, and earlier this year went public with trading on the NYSE.
The ADT-P1 merger joined progressive operations that are national leaders in home security & automation and commercial accounts.
The across-the-board results of the "new" ADT have been so dramatic that the business has been named Security Sales & Integration's 2018 Installer of the Year (Large Company).
"ADT's passion for customer service shines through in everything it does as it transforms from a business started 144 years ago into a company that is now redefining the security industry," says ADT CEO Tim Whall, an SSI Industry Hall of Famer whose hallmark in leading several top firms has been unmatched customer service.
"The new ADT employs about 18,000 associates with an average tenure of nine-plus years. We operate more than 200 locations and we are fully committed to the millions of customers we serve."
With radical reductions in how swiftly customers are served both when calling in and getting a technician or company representative onsite, lower attrition and less employee turnover, ADT significantly raised its service bar.
Leveraging deep resources that include 10 monitoring centers, the company also pushed the envelope to offer the latest in home security and automation products and commercial systems, including network and cybersecurity expertise.
Ahead in their own words, ADT leadership explains what the company is doing to ensure a high standard of excellence that encompasses customer service; business practices; marketing strategies; recruiting, training and motivating personnel; supporting local communities; and participating in security industry causes.
Touching Customers
Jamie Haenggi, ADT Chief Growth Officer: During the past two years, we have brought personal, high-touch customer service to ADT and the results have been impressive. Almost all incoming calls, or 99.9%, are answered by a live person in less than 60 seconds and abandoned calls declined from 10% to less than 1%.
Improved field service delivery resulted in more than seven days' service backlog becoming same/next-day service.
We measure customer satisfaction every day in nearly every transaction. Our leadership is personally involved and knowledgeable about details. We do not rally employees around financial numbers but rather around customer experience statistics..
We show up when we say we will and offer our exclusive Tech Tracker service to let our customers know when the service technician will arrive, his or her qualifications, and even offer a picture of the technician.
If a customer has a billing question, a professional from our highly trained call center will answer the phone and not hang up until you are satisfied. We offer dedicated teams in our National Account Operations Center that work together managing every aspect of those accounts.
And from a network and cybersecurity perspective, we are one of the industry's only companies that operates a Network Operation Center, staffed with Cisco Meraki certified professionals to protect our clients' virtual as well as physical assets.
Jim DeVries, ADT President: Every employee, from call center operator to executive management, has metrics for their position based on serving the customer better. These metrics are monitored and measured daily to reward those who meet or exceed their metrics or counsel those that may need improvement.
The company uses Key Performance Indicators [KPIs] to measure and adjust its approach every day. It has developed daily scorecards that track overall corporate performance and provide a breakdown of performance by field branches.
ADT also has daily KPIs for its monitoring centers and customer service teams that measure dozens of items including alarm response time, customer hold times and percent of calls transferred.
Eye on IoT and Cyber
Jay Darfler, ADT Senior Vice President of Emerging Markets: The best way to grow is to keep delighting the customers we already have. So, improving attrition and lowering acquisition costs remain a core tenant to growth. We also focus on delivering our multitude of solutions to a wider audience as an additional area of growth.
We do so by offering expanded services that include network security and enterprise cybersecurity solutions for national account customers. Home automation and securing the Internet of Things continue to be areas of growth for us and ways to attract new segments via new partners and distribution channels.
Expanding beyond a purely traditional physical security brand enables ADT to deliver customer value in growing safety categories like cybersecurity, mobile and wearables, as well as leverage our technician force for in-home support that caters to the customer.
ADT works with dozens of partners across multiple categories to bring new products to consumers in the home automation space, including our most recent integration with Google Home.
We have also expanded our enterprise cybersecurity offerings to include network/cybersecurity solutions called Managed Detection & Response, or MDR, which focuses on threat detection via 24/7 monitoring and instant response versus the traditional approach that focuses on prevention.
We will also continue to introduce new cybersecurity options for residential and small business segments, as the need for more holistic cybersecurity solutions is growing in every consumer group.
Messaging Safety & Service
Haenggi: The ADT marketing team fires on all cylinders when it comes to traditional advertising, digital, search and social media, all the way over to public relations, customer communications and employee engagement.
From a residential marketing perspective, one of our most popular and longest-serving marketing programs is the LifeSaver Award. During the past six years we have awarded ADT's highest honor to more than 350 employees who have helped save customer lives, and presented in excess of $350,000 in grants to first responder agencies.
ADT has a rich heritage of leading in the security industry. We continue to so by providing customers with real protection that protects the good in their life.
That encompasses everything from the life safety and peace of mind that comes from 24/7 professionally monitored security to delivering on the promise of smart home technology through true integration into one app, concierge service to design it, install it and configure it — as we have done for nearly 2.5 million ADT smart home users today.
The ADT logo recently underwent a brand refresh. Extra lines were stripped away, leaving just our core elements — a blue octagon and our name. This not only simplifies the logo, but also makes it reduce and reproduce more easily in mobile formats like phones and smart watches.
From a business marketing perspective, our core value proposition is not only the ability to provide sophisticated solutions that go far beyond basic fire and intrusion systems, but truly integrated solutions, inclusive of cybersecurity, all backed by a team of professionals that know customer service is job No. 1.
Keep reading to see how ADT hires, retains and trains new employees, and take a look at its personal community approach…
Security Is Our Business, Too
For professionals who recommend, buy and install all types of electronic security equipment, a free subscription to Security Sales & Integration is like having a consultant on call. You'll find an ideal balance of technology and business coverage, with installation tips and techniques for products and updates on how to add sales to your bottom line.
A free subscription to the #1 resource for the residential and commercial security industry will prove to be invaluable. Subscribe today!