2020 TMA Meeting Marked By Keen Security Market Insights
Being ready for whatever technology or business challenges and opportunities lie ahead was a focal point for the Monitoring Association's first virtual Annual Meeting.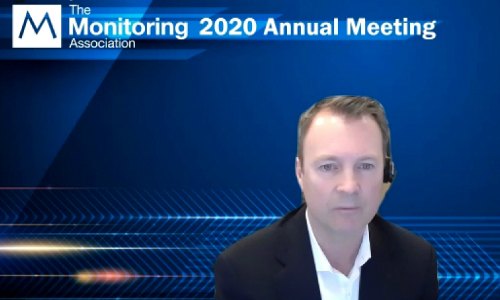 Photos and Videos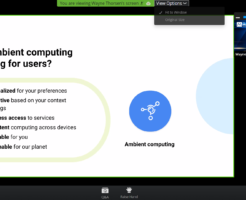 View Slideshow
ALEXANDRIA, Va. — "The shift to ambient computing will take some time, but it will happen most completely in the home and that represents a significant opportunity for security professionals," said Google Managing Director of Hardware Business Development Wayne Thorsen during his opening keynote for the first-ever virtual TMA Annual Meeting.
That was a mere example of the predominantly positive, insightful and highly valuable information shared by top-level industry thought leaders and analysts throughout The Monitoring Association's conference, held Oct. 27-29.
The ambient computing concept takes the combination of artificial intelligence (AI) and machine learning to the next logical extension; that is seamlessly fusing numerous data sources (e.g. individual preferences, video, a multitude of sensors) to deliver highly intuitive, personalized user experiences that make lives easier, more convenient, more enjoyable, safer and more secure.
Thorsen's presentation was aptly moderated by TMA President and SSI Industry Hall of Famer Don Young , who serves as CIO and EVP of operations for ADT, which Google partnered with a couple of months ago.
Thorsen added that voice command, which Google has invested in for 11 years now, will be another central element of ambient computing. He emphasized, and as evidenced by that ADT deal, that Google has come to understand its ambitions in the home can only be fully realized through synergistic alliances. "We believe professional monitoring has never been more important, and we believe in helping people," he said. He also emphasized the enormous role privacy assurance and the establishment of standards will play in the smart home space, and why the Connected Home over IP (CHIP) project that includes several other technology leaders is so vital.
Speaking of the smart home, that was the focus of another engrossing session provided by Parks Associates President Elizabeth Parks. Among other things, she noted how smart connected devices have helped increase the penetration of residential security systems from decades being stuck in the 20th percentiles to more than a third of all U.S. broadband homes today. She said they expect that trend to continue, particularly fueled by the pandemic increasing usage, interest and expectations for technology in the home.
Along with that Parks noted that professional system monitoring rose from 24% to 29% from 2018-2019. From a product standpoint, she shared data showing the fastest growth coming from smart video doorbells and networked cameras.
On the other hand, Parks' statistics denote a steady decline in professional residential security systems installations with self-installed rising from the low 20th percentiles to 47% by the end of 2019. And the pandemic has likely pushed that even higher; however, more professional providers are getting a piece of that action now by offering DIY alternatives themselves.
Parks also zeroed in on the emerging opportunities in home medical products, services and monitoring business. Currently, 34% of surveyed homeowners are interesting in connected health device monitoring. "Our movement will help seniors remain living at home longer rather than be placed in facilities and will really expand our perception of what home health services will look like," she stated. Three other areas she earmarked for big-time growth were loss prevention (e.g. climate and flood detection), indoor air quality and asset tracking. (Check out the November issue of Security Sales & Integration for the 2020 Home Automation Deep Dive report in partnership with Parks Associates.)
Last but in no way least, Imperial Capital EVP and Co-Head of Investment Banking John Mack led a fascinating panel discussion on the current state of security industry mergers and acquisitions. Also participating were Mark Melendes of CIBC Bank, EGIS Capital Partners' Robert Chefitz, and SSI Industry Hall of Famers Michael Barners of Barnes Associations and MSK Partner Les Gold. The group acknowledged that due to the pandemic M&A activity is substantially down in 2020 but showing signs of recovery.
"We should all be very happy to be in an industry that continues to attract investment capital at a healthy rate," said Mack. "There are some 12,000 alarm companies in the industry, and the vast majority of them are doing well throughout this ordeal." He shared data from his firm that illustrated while publicly traded physical security companies are weathering the economic challenges as well as could be expected, cybersecurity company stocks and valuations are soaring.
Along those lines, Mack pointed out the promise of the "software-as-a-service" business model that leverages the power of the Cloud. "The SaaS model tends toward lower upfront investment, less attrition and trades at higher multiples than the alarm industry. Particularly on the commercial side, this would appear to represent a viable opportunity to our industry," he said.
Barnes cited the electronic security space seeing more competition, including Big Tech, declining alarm company margins, and some attrition spikes contributing to a perspective of higher risk among investors, which results in the cost of capital rising. "It is tough to pin down where the market is right now. M&A is definitely off, and in general alarm company valuations are about 20% lower. But there are bright spots too for certain companies and it is a wait and see given the pandemic and other uncertainties," he said.
Melendes mentioned he has seen a definite pick-up in financing and refinancing activity in the third quarter as compared to earlier in 2020 when lockdowns first came to pass. Gold added that while COVID-19 has had an impact on transactions, he believes activity is on the brink of rising again. "All the companies I speak with are doing very well," he said. All agreed that the pandemic is limiting and changing how investors conduct due diligence, and that Google's investment in ADT is a very positive sign that bodes well for the security industry overall.
Those were just a sample of the event's many quality sessions. Taking a bit of a risk in making the entire affair live rather than prerecorded, the Zoom- and Whova-platform proceedings weathered some technical challenges (mostly related to individuals' connectivity issues) but ultimately delivered high value and engagement to attendees. That said, it was announced TMA plans to return to an in-person event for its 2021 Annual Meeting, which is scheduled for Oct. 9-13 in Kapalua on the island of Maui, Hawaii.
Check out the slideshow for more insights from the meeting.
If you enjoyed this article and want to receive more valuable industry content like this, click here to sign up for our FREE digital newsletters!
Security Is Our Business, Too
For professionals who recommend, buy and install all types of electronic security equipment, a free subscription to Security Sales & Integration is like having a consultant on call. You'll find an ideal balance of technology and business coverage, with installation tips and techniques for products and updates on how to add sales to your bottom line.
A free subscription to the #1 resource for the residential and commercial security industry will prove to be invaluable. Subscribe today!