Ladder Safety 101: The Most Common Types of Ladder Accidents & How to Prevent Them
Did you know more than 90,000 people receive emergency room treatment from ladder-related injuries every year? Don't be a statistic, follow these tips.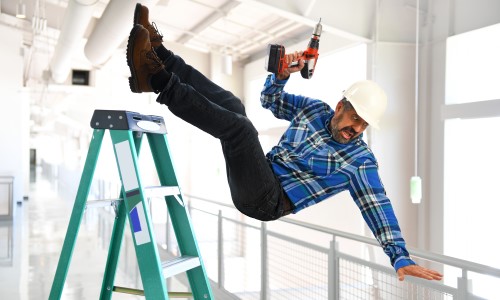 I recall seeing a technician standing in front of his faithful step ladder. The technician commented, "This is my step ladder. I never knew my real ladder." Ta-dum! OK, on a serious note, ladders are a very important tool that we use every day without much thought … and that's a problem.
A Consumer Product Safety Commission (CPSC) report on ladder safety revealed some startling statistics concerning the frequency and severity of ladder-related accidents in the United States:
More than 90,000 people receive emergency room treatment from ladder-related injuries every year.
Elevated falls account for almost 700 occupational deaths annually.
Ladder deaths account for 15% of all occupational fatalities.
Over the past 10 years the amount of ladder-related injuries has increased 50%.
According the Bureau of Labor Statistics, 50% of all ladder-related accidents were due to individuals carrying items as they climbed.
Now consider that the Occupational Safety and Health Administration (OSHA) stance is that 100% of all ladder accidents could be prevented if proper attention to equipment and climber training were provided. By understanding the causes of ladder accidents, the vast majority can also be prevented. Here are four common types of ladder accidents:
1. Selecting the Wrong Ladder — Choosing the right tools is important; that also goes for ladders. Take into consideration basic things like maximum weight load and length of ladder; you don't want to reach from the top step. Choose electrically safer fiberglass over metal ladders.
2. Using Worn or Damaged Ladders — Just like driving on old tires, worn ladders need to be periodically replaced. They need to be inspected for worn rungs and broken areas.
3. Incorrect Use of Ladders — Sounds simple, one should always use good judgment in applying the appropriate ladder to the task. It's not surprising to find that human error is the leading cause of ladder accidents. Techs should always maintain "the three points of contact rule" with the ladder. That is, keep at least three of your four limbs in contact with it at all times.
4. Bad Placement of Ladders — Make sure the ladder is sitting on a firm and level surface. Do not place in front of doors or hallways unless they are locked, blocked or guarded with signage and/or personnel. Have other staff help steady ladders if possible.
One company you may want reference for additional ladder support material is Werner. Make sure to peruse the free online training, safety videos, and ladder-safety tips. Additionally, check out Werner's ladder inspection material.
All this may seem like a lot of extra work. However, take my word, even if you run a small company, having a dedicated person for safety inspections and documentation may save you one day when OSHA comes knocking. Use good judgment working with ladders.
Now that we've talked about safety, let's look at some exciting ladder offerings for making our daily tech lives easier, safer and more productive. When it comes to good commercial step ladders the Old Blue Series electrician's ladders from Werner get a top rating. Check out special features such as the customized Holster Top with ToolLasso sockets. These have so many features they're labeled a "Jobstation" by Werner.
Many techs are finding a good deal of versatility in multiposition ladders. These fold down to store in a small area. They are lightweight and can expand quickly to create a ladder of over 20 feet. They can also fold over in to a respectable and sturdy step ladder. A couple of these ladders can often take the place of three or four standard ladders. Two popular makers of multiposition ladders are Little Giant and Gorilla Ladders.
As you've likely already learned, the higher up the ladder you go the more precarious it can be. Often techs that work higher jobs need to employ the service of lifts and booms. Most times these are leased, so make sure they are planned into your project pricing. If you install lots of video surveillance in high places, for example, you may want to look at some of the low-budget, compact units available today.
Genie offers Electric & Bi-Energy Lifts that are quiet and can fit through standard doorways. They can go up to 36 feet and have a horizontal reach of 21 feet. Elevah is another company with an electric ladder lift line. Its Elevah Move compact platform units easily maneuver remotely and work up to 20 feet.
Tool Tip
Winter will be coming shortly. Cold and icy ladders from your truck top are a pain. Stowing your ladder on the van's floor is also not a solution. Rack Track has come up with an ingenious ladder storage system for your service vehicles.
The JetRack is a ladder storage system that prevents tangling with tools and materials, and eliminates ladder damage caused by constantly shifting cargo. JetRack secures ladders to vehicle ceilings or walls using tool-grade aluminum for durability, according to the company.
If you enjoyed this article and want to receive more valuable industry content like this, click here to sign up for our FREE digital newsletters!
Security Is Our Business, Too
For professionals who recommend, buy and install all types of electronic security equipment, a free subscription to Security Sales & Integration is like having a consultant on call. You'll find an ideal balance of technology and business coverage, with installation tips and techniques for products and updates on how to add sales to your bottom line.
A free subscription to the #1 resource for the residential and commercial security industry will prove to be invaluable. Subscribe today!
One response to "Ladder Safety 101: The Most Common Types of Ladder Accidents & How to Prevent Them"