Here's How Manufacturers Are Stepping Up Their Fire Alarm, CO2 Wares
Fire safety expert Shane Clary shares what fire and life-safety products from Honeywell, Potter Electric and more caught his eye at ISC West.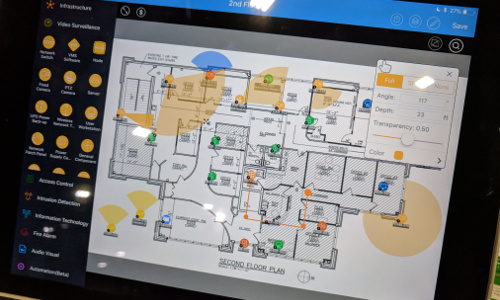 While principally a security trade show and conference, the annual ISC West event, held in April in Las Vegas, still offers its share of fire alarm products and services for attending dealers to see.
Each year the show gets larger, and presents more opportunities to discover new products throughout the Sands Expo exhibit floor. With my Fitbit keeping track, I logged over 15 miles walking during the two days that I was traversing up and down the corridors and manufacturer booths.
Note that this column is not intended to be an endorsement of any of the products that I saw, and obviously is not inclusive of all of the excellent products that were being displayed in Las Vegas.
Some new technologies were being shown as well as a number of new control units for the detection and reporting of fire at a protected premises, so here's a brief sampling of some new wares.
Honeywell, Potter Electric Highlight Controls
Honeywell was showing the new FireLite control units. The ES-50X replaces the 5024, while the ES-200X replaces the 9200. These controls offer greater flexibility over the former units and do present several new built in features, such as support for their wireless products and offsite transmission means.
These controls also support a new combination smoke/CO detector, the SD255CO. In addition, the current SD355 addressable smoke detector is being replaced with the SD365 addressable detector.
Honeywell representatives said this detector has been designed to be more immune to the generation of unwanted alarms.
Potter Electric was also introducing several new control units, including the AFC-50, AFC-100 and AFC-1000 addressable panels and the PFC-4064 conventional control, which can be expanded up to 192 Class B circuits.
The AFC-1000 is the largest addressable point control that can be obtained through standard distribution, according to the company.
Potter also showcased its fire alarm management software, which can link up to 255 of the company's control units. This allows for an owner of a large facility or a service provider to manage a large amount of controls or locations from a single centralized spot.
The connection can be through LAN, WAN or the Internet. Each control that is on the network can be queried as to its current condition. Resetting of a system would still need to be performed at the protected premises in accordance with NFPA 72.
Gas & Smoke Detection Is Well Covered
Several manufacturers were debuting various gas detectors, such as hydrogen, carbon dioxide, ammonia and natural gas. I was very interested in the CO2 detectors, as I'm seeing an increasing demand for their implementation particularly where soft drinks are dispensed and where cannabis is being extracted.
These detectors can be added to a fire alarm system. If you do, however, be aware the temporal-3 (T-3) notification sound cannot be used. Also, the use of these detectors varies between jurisdictions.
I was intrigued by the power over Ethernet (PoE) power supply on hand in LifeSafety Power's booth. The allowance for PoE has been added to NFPA 72, and the National Fire Protection Association is holding a one-day meeting on this topic just prior to its annual Conference & Expo being held this month, also in Las Vegas.
While the LifeSafety Power PoE product was for access control and CCTV only, I suspect that in the future there will be products Listed (by UL or other nationally recognized testing lab) for fire alarm usage.
On the smoke detection front, Fire Fighting Enterprises (FFE) was demonstrating its new Fireray One smoke beam. The unit is a combination transmitter/receiver that goes across a space to be covered to a prism. This new unit allows for quicker alignment and has been engineered effectively not to be subject to activation by sunlight.
One final item to highlight seems like an effective tool that can be used in the field during the bid process. System Surveyor's eponymous Cloud-based application enables the floor plan of a site in PDF or other formats to be downloaded from the Cloud and then used onsite during the site survey.
Icons with feature attributes can be inserted, as well as text and photographs from the site, which can then be used later for the development of a bid and the design of a system.
One does not need to be online while at the site. In addition to fire alarms, this application may also be used for intrusion detection, CCTV, access control and other low-voltage systems.
While I was most likely captured by 10,000+ video cameras as I walked about for the two days that I was there, the expo did present a solid amount of new items on the fire side of the industry to make the time worthwhile.
ISC West was the first of several trade shows that I will attend this year, with one more being in the States and the others taking place in the U.K. and Germany. Stay tuned for future reports — and perhaps more mileage counts — following those events.
If you enjoyed this article and want to receive more valuable industry content like this, click here to sign up for our FREE digital newsletters!
Security Is Our Business, Too
For professionals who recommend, buy and install all types of electronic security equipment, a free subscription to Security Sales & Integration is like having a consultant on call. You'll find an ideal balance of technology and business coverage, with installation tips and techniques for products and updates on how to add sales to your bottom line.
A free subscription to the #1 resource for the residential and commercial security industry will prove to be invaluable. Subscribe today!