Warning: Posting Surveillance Signage Does Not Constitute Consent
Legal expert Ken Kirschenbaum explains why you should do yourself a favor and stay away from deploying surveillance signage.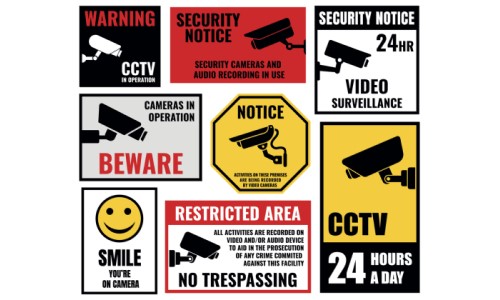 Posting signs; do you need to for video or audio? Since you are the one selling the video and audio equipment and perhaps providing the platform for recording, storing and retrieving the data, what do you tell your subscriber?
An online search turns up recommendations to post signs to be protected on the basis that if people then remain on the premises they have consented to video and audio recording.
However, don't confuse an Internet search or the opinion of a trade website with a legal opinion, unless the article is by a lawyer. Even then you should probably be suspect.There is nothing I am aware of that change video or audio laws just because signs are posted.
There are no statutes I am aware of that require signage when there is video or audio interception or recording, other than in New York City for nightclub entrances and exit doors.
Let me put it another way so there is no more confusion: You don't have to post surveillance signage. Posting signs do not constitute "consent," implied or express.
Posting signs will not excuse unlawful video or audio interception or recording. Actually, the audio laws are less confusing. You are either in a one-party or all-party state. Once you satisfy the one- or all-party consent, you are able to mechanically intercept and record the conversation.
We all commonly encounter automated answering systems where you hear, "This call may be recorded for quality assurance …" Who came up with this terrific idea? If you're in an all-party state do you think that staying on the call after that recording means you've consented to the recording?
I don't, especially if the recording doesn't suggest that you hang up. Some calls are the only way to communicate with the party, such as your bank or most customer service, so it's not much of an option to hang up. A better option would be to permit you to call back on an unrecorded line.
While this suggestion may make sense, that doesn't mean it solves the legal issue of consent. Consent would require the recording to say: "This call is recorded and if you consent to the recording then press 1, if you don't consent do nothing or press 2 and this call will be disconnected and you can then write to us or call back on our unrecorded line at number."
Video is another issue. Some states do not permit capturing the video of another without their consent. Again, signs mean nothing and do not constitute consent. Other states, probably most, permit capturing video in any public area where there is no expectation of privacy. So you can video in New York City's Central Park on the Great Lawn but you can't video in the public bathrooms.
The next issue, and perhaps the most important, is what you are doing with the data, video or audio. You cannot use it for commercial purposes without express consent. That means you can't put it on your website or make a commercial using the data. You can't use it for illegal purposes, such as blackmail.
If the data is obtained illegally then you can't use it for anything. If you inadvertently record a crime you can turn it into the district attorney's office (and hope they don't arrest you, because that might be the easier case). One court permitted the illegal audio recording when a stepfather was abusing the birth father's children. That was a judicially carved out exception.The violation of surveillance and audio laws involves other laws, such as civil rights statutes.
Penalties can be civil damages but can also be criminal prosecution. So what's your role? You sell and install the equipment. You don't give legal advice. The Standard Form Agreement (alarmcontracts.com) specifically advises the subscriber to use the equipment lawfully; it doesn't tell the subscriber what the law is or isn't, and neither should you. Let them check the Internet.
If you enjoyed this article and want to receive more valuable industry content like this, click here to sign up for our FREE digital newsletters!
Security Is Our Business, Too
For professionals who recommend, buy and install all types of electronic security equipment, a free subscription to Security Sales & Integration is like having a consultant on call. You'll find an ideal balance of technology and business coverage, with installation tips and techniques for products and updates on how to add sales to your bottom line.
A free subscription to the #1 resource for the residential and commercial security industry will prove to be invaluable. Subscribe today!
One response to "Warning: Posting Surveillance Signage Does Not Constitute Consent"