Document Downloads
Security Sales & Integration November 2018
The Smart Home Issue, Alert 360's Well-Rounded Inner Circle, Residential Security Dealer Survey and more.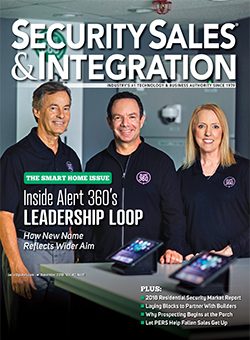 This months issue focuses on the Smart Home from the Security perspective.
Meet Alert 360's Well-Rounded Inner Circle
By any name, Alert 360 (until September known as Central Security Group) is lauded as one of the industry's largest and best-run installation and monitored services providers. Find out how the firm has positioned itself not only as a security leader but also as a pacesetter in the fast-growing home automation and IoT space. By Scott Goldfine
Home Monitoring Fees and DIY on Upswing
While 2018 looks to be strong overall for the security industry, in some ways those focused on residential clientele face an uphill battle. The 6th SSI/Parks Associates Residential Security Dealer Survey shows security pros face sharing smart home market spoils with wholesale monitoring providers, DIY and other competitors.
 Making Your Porch Pitch
Smart home excitement and opportunity is being fueled not just by what's inside by also outside residences. Learn how embracing the latest trends and technology from the front porch to garage can drive more sales and RMR.
 How to Become a Homebuilder Buddy
Developing complementary relationships with builders is vital to broaden a security dealer's smart home horizons. Find out how to connect with prospective partners, what products and packages to offer and how to make builders look cutting edge in the process.
 Should You Be in Hot Pursuit of PERS?
This life-safety service is not for every dealer, but a booming elderly population, technological advancements and resourceful central station relationships build a healthy case for embracing personal emergency response systems business.