Document Downloads
Security's Recruitment Problem is a Tech Problem
Make sure your company can compete in today's cut-throat hiring environment by offering the right incentives.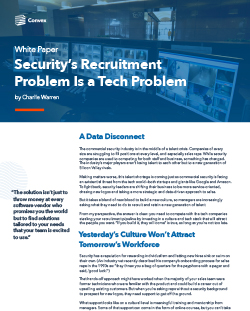 The commercial security industry is in the middle of a talent crisis. Companies of every size are struggling to fill positions at every level. And it's not just security companies trying to recruit your employees.
Your business needs to compete with the tech companies, such as Google and Amazon. They are stealing your recruitment pipeline by investing in a culture and tech stack that will attract the people you want. So what should your company do to hire the best talent?
This new download, "Security's Recruitment Problem is a Tech Problem," address the challenges that commercial security companies are facing and some ways you can stack up against your competition.
Access to cutting-edge tech is a make-or-break issue for this generation of recruits. Learn more about how embracing data and technology can give you the recruitment competitive edge. Download your copy today!
Please fill out the form below to receive your download.