Antaira Managed Switches Help Protect Airport from Illegal Drones
Antaira managed switches were combined with a digital 3D protective shield to prevent illegal drones from entering into a restricted area.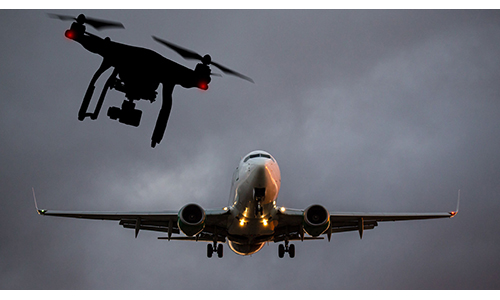 BREA, Calif. — Adding an increased level of safety to a restricted air space in Utah, several Antaira managed switches were installed to help construct a digital 3D protective shield.
Antaira Technologies says its LMX-1202G-SFP-T Gigabit Managed Ethernet Switches were deployed inside multiple tall pillars surrounding the protected air space. The switches link together dozens of IP surveillance cameras, computers and a drone-detection radar system to the airport's central control station.
During the bid process Antaira says the integrator tried several network switches before choosing the LMX-1202G-SFP-T 12-port gigabit Light Layer managed Ethernet switch. The integrator used the 12-port Antaira managed network switch because in addition to its network capabilities, the IP30-rated unit provides DIN-rail mounting capabilities, and the ability to live in temperatures that range from -40° to 167° Fahrenheit.
The West Coast industrial network equipment manufacturer explains that drones come in a range of sizes and weights, and that even small drones can present danger to aircrafts when they share the same space with drones.
Antaira points out that back in 2018 the Gatwick Airport in London was shutdown when a drone flew into its restricted airspace. The result of the shutdown according to Antaira, was that more than 1,000 flights were cancelled with more than 140,000 passengers left on the ground, and the airlines lost more than $50 million because of the shutdown.
Antaira notes the goal for the Utah airport was to prevent a repeat of the Gatwick Airport incident. To accomplish its goals, system designers implemented a combination of radar and high-resolution video to form the foundation of the 3D shield.
Using the Antaira managed switches, the 3D shield acts as a countermeasure that detects drones that enter the perimeters of the restricted air space. Once a drone is detected the system will launch a "net drone" that chases down the loose drone and retrieves it using a net.
The company says the net drone helps to prevent the rogue drone from hitting bystanders on the ground, and authorities can track down the origins of the drone because it takes minimal damage through its capture using the "net drone."
Security Is Our Business, Too
For professionals who recommend, buy and install all types of electronic security equipment, a free subscription to Security Sales & Integration is like having a consultant on call. You'll find an ideal balance of technology and business coverage, with installation tips and techniques for products and updates on how to add sales to your bottom line.
A free subscription to the #1 resource for the residential and commercial security industry will prove to be invaluable. Subscribe today!