Drones Leader Shares Technology and Growing Opportunities for Security Pros
FlytBase's platform is paving the way for security and other applications to benefit from fully autonomous, beyond-visual-line-of-sight drone fleet operations.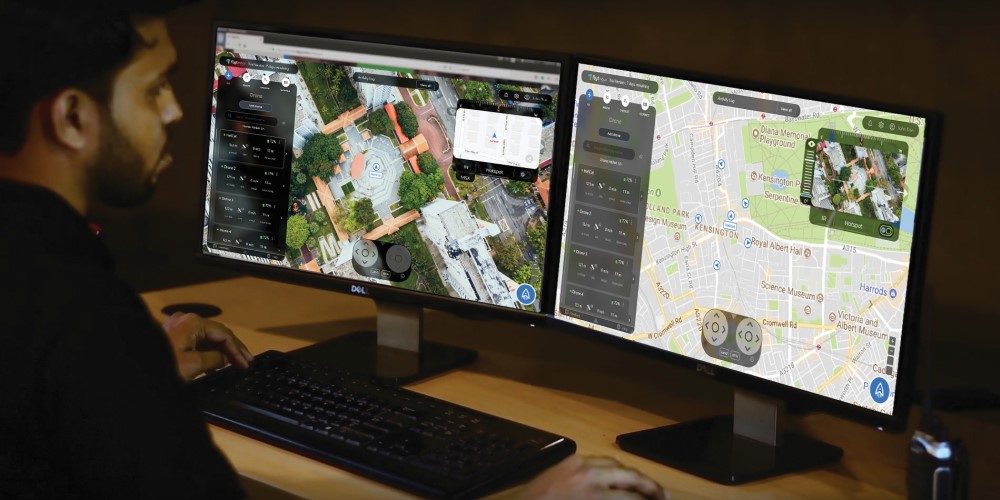 You've likely heard of the Internet of Things — in which a multitude of electric, electronic and computerized devices can communicate via the web — and chances are you've also come across many variations of that term applied to assorted markets. Get ready for another one: the Internet of Drones (IoD).
At the forefront of that movement is FlytBase, a Silicon Valley provider of drone-agnostic software solutions to automate and scale drone operations. The firm asserts its offering to be the world's first IoD platform that brings together intelligent drone fleets with Cloud-based business applications, most notably security and safety.
"We built a platform within which you could have onboard intelligence on the drone. The drone could be self-sufficient and autonomous," says FlytBase Head of Business Development Achal Negi. "The software allows drones to autonomously drive through test cases or areas with collision avoidance, precision landing as well as Cloud connectivity that allows communication of all the gathered data. Based on this, we have built many end solutions. Our flagship product right now is offering a complete solution to automate drones for security purposes."
The two major components of FlytBase's platform are FlytOS and FlytCloud, which provide the necessary building blocks to help developers quickly assemble complex drone applications. In addition to security and safety, those applications span remote drone operations, emergency response, automated inspections, warehouse management, delivery, etc.
FlytBase is compatible with all major drone platforms like DJI and custom-made drones based Ardupilot and PX4. It also supports various hardware platforms, including Intel, Qualcomm, Nvidia and Samsung. The company also offers SDKs for web and mobile, and a 3D simulator to completely test drone applications before deployment.
With locations in San Jose, Calif., and Pune, India, where most of its development team toils, FlytBase has grown to around 30 employees. The business development team overseen by Negi annually travels across the United States for fresh opportunities and deployments.
"From Day 1 we wanted to be a global player. We have customers across North America, South America, Europe, Africa and South-East Asia. We always took a global approach, and now there are more than 6,000 users leveraging the FlytBase platform for their applications. Then there are 100-plus enterprise customers worldwide using FlytBase applications across verticals," adds Achal.
The company's ambition is to become the de facto platform standard for any type of drones applications — an Android for drones. The especially exciting part is that FlytBase and many of its customers are looking for integrators to help them deploy, integrate and maintain surveillance drones for security, safety, response and operational purposes.
In this exclusive SSI interview, Negi elaborates on the opportunity, as well as the nuances of his business, canvassed against the broader backdrop of the burgeoning professional surveillance drone industry.
What are some of the top challenges you see in the drone industry today?
Most of our customers have conducted pilot projects in the field, but the real challenge is to go to a full-scale deployment where you can get that ROI for the end business, be it security, public safety, warehouse management and control. That is where we have been working with customers and partners to help deploy and scale the drone solution for various use-cases.
However, looking at the scenario the world is in right now with the pandemic, that is something that has been pushed back a little and stretched the timelines.
How do the U.S. and Canada markets differ from other regions as far as adopting drones, and the regulations?
In terms of regulations, the U.S. has been a frontrunner. There are test sites in various states and we are developing tools that multiple partners who are part of these U.S. test sites can conduct those operations. They are proving the technology to the FAA as something that can be used and scaled. We've been working to develop customers throughout the U.S.
How competitive is your segment of the drone industry?
When we look at the competitive space, there are companies who are working on a particular vertical. They are building a solution for a specific use case. Whereas we have a horizontal platform that allows you to sell applications or have applications for various use cases. Along with that, the developer platform allows you to have your own integration.
The analogy of FlytBase's approach would be where you have Windows and then you have Microsoft Word but then you also have applications from other companies. From that standpoint, there are not enough companies who are building this kind of platform. We want to be neutral in terms of hardware and build our technology where we could have a big fleet of drones.
Considering a security scenario, you could have a drone that has a normal HD camera. Or you could have a drone that has a thermal camera so you can do night surveillance. Or you could have a drone that has loudspeakers and sensors onboard so you can pass messages. These drones could be custom or off -the-shelf and you need a single solution like ours where you can manage all of them.
How scalable is your platform? How many drones can you control?
Essentially we have designed the system to run hundreds of drones for any kind of application. So far we have customers who are connecting 20 to 30 drones as a single solution. The system has been designed to support any number of drones from various drone manufacturers so end-users can have a hybrid fleet of drones for any use case.
What is your revenue model? Is it more of a one-time sale or recurring?
We have recurring revenue. Most of our solutions are subscription-based. We charge on multiple parts. Those could be the number of drones you're flying or the flight time. We work with the customers to understand their usage and then help them with the subscription fee. Apart from that, we charge a one-time amount for the integration and onboarding of systems integrator partners. Our team closely works with them to consider the solution as per the requirements to help them conduct testing and complete the integration. Once it is configured, we provide complete documentation and full support.
Do you do the monitoring or is it on the customer end or through a third party?
We just provide the software. The customer uses that software to do the monitoring. Consider this security use case. You could have multiple sites or a big site where you want to have a fleet of drones fly. Then you'll have a centralized dashboard where you can be connected over the Cloud. You can monitor those places from the images you're getting. You can have somebody sitting remotely who can manage multiple sites. We provide that infrastructure and technology where you can see all the operations and remotely liaise with them. The security company or end user uses that software to manage the fleet of drones and the live video feed coming from them.
Keep reading to discover drone opportunities for integrators…
If you enjoyed this article and want to receive more valuable industry content like this, click here to sign up for our FREE digital newsletters!
Security Is Our Business, Too
For professionals who recommend, buy and install all types of electronic security equipment, a free subscription to Security Sales & Integration is like having a consultant on call. You'll find an ideal balance of technology and business coverage, with installation tips and techniques for products and updates on how to add sales to your bottom line.
A free subscription to the #1 resource for the residential and commercial security industry will prove to be invaluable. Subscribe today!