Drones Leader Shares Technology and Growing Opportunities for Security Pros
FlytBase's platform is paving the way for security and other applications to benefit from fully autonomous, beyond-visual-line-of-sight drone fleet operations.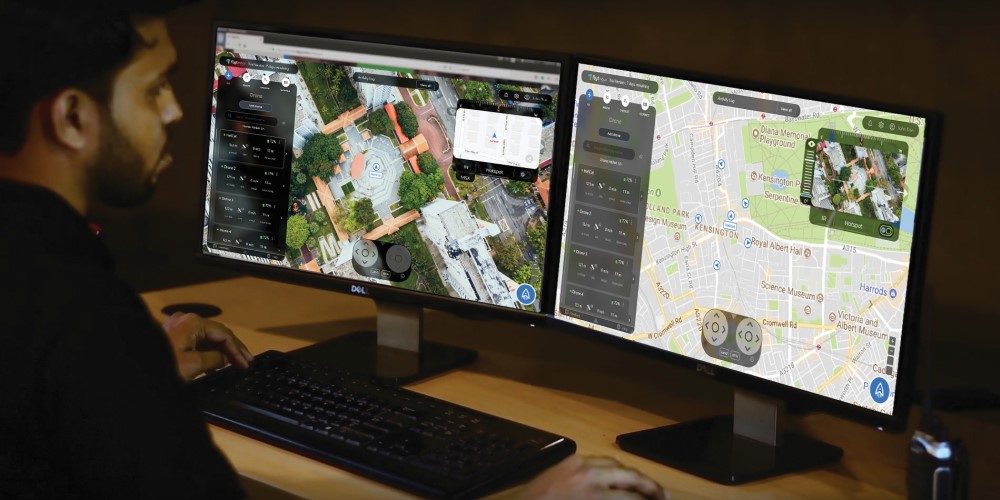 How are surveillance drones a viable standalone solution or add-on to existing security systems?
When we talk about security, we are talking about a completely autonomous fleet of drones that can take off from the base station, do the complete survey of that area, give you the live video feed, have AI analytics on top of that where if you are seeing an intruder or somebody moving in a suspicious manner you get an alarm on your screen. Then you can control the drone while sitting at the remote station, look at that and take necessary actions.
The ground force or patrol or security guard can be deployed as response and take care of that area. When we talk about public safety, we've been closely working with a customer in Texas who is into computer-aided dispatch. They have a complete software integration by which they dispatch fire trucks, ambulances, basically any 911 emergency, and are able to track it. We come into the picture by helping them with a complete technology stack so they can deploy drones as first responders. The drones can take off from a drone-in-a-box kind of setup, where they have been kept and charging. They take off and go to that particular location, with onboard intelligence to avoid no-fly zones like airports or government facilities.
Once at the location, you get live video fed from that particular accident site, and you're able to take necessary action, such as deploying a particular set of fire trucks. You gain situational awareness from using autonomous drones as first responders. In general, while commercial buildings and facilities may have CCTV cameras there are typically blind spots. And you really struggle with night surveillance where you do not have good coverage of the area. Then there are private properties as well as residential communities where you may not have security personnels or proper CCTV coverage. You want to safeguard that kind of residential community.
We have partners who are looking to use drone solutions for residential communities and as well as commercial lots. A challenge has been working with these communities to understand their privacy concerns as well as working with regulatory authorities to make sure things are conducted as they should. We don't want to get into something that angers people about these things. It's about deploying the solution in a way where it's for everybody's benefit.
What vertical markets are prime for drones to enhance security or safety?
The first use case is usually customers wanting to safeguard an area. They need a solution using which they can detect intruders. Usually customers having a large facilities wish to deploy drones where they could easily detect a moving vehicle or person. The alarm could be triggered and appear on the screen so you can take the required action. Second use-case is crowd management.
Due to COVID-19 outbreak and country-wide lockdowns, we are seeing mutiple use cases come up especially in countries like India and Spain. Drones are being deployed to maintain social distancing so authorities on the ground can use them to manage the lockdowns. Then there are very specific uses for customers with retail security systems. They want the drones to be integrated with that. Once the alarm is triggered, the system can communicate and release the drone from a base station so it can go to that particular area and give the end user a live feed on their dashboard.
There are other scenarios. For example, anti-poaching drones can be deployed where there's wildlife and you want to survey continuously sitting at a remote station. You can do those kinds of things with drones really well. One more use case I touched on earlier is where you are looking to broadcast messages. There are drones with loudspeakers. You can play those messages on loop to create awareness or communicate an urgent mass notification.
In some cases are drones for security or safety bringing added client benefits?
Drones are tools that can provide data. Companies looking to deploy them for security then ask things like, "Can we do yard management?" or "Can we do a remote inspection of our facility?" They were using drones to safeguard, but then the same drones can also do routine inspections. Similarly, when we talk about use cases like public safety, drones could be used by teams on the ground to get a great overview of an area. When customers start using drones they realize there are a bunch of things they could do.
To what extent are you working with systems integrators?
Where it comes to security applications, we often partner with systems integrators. We provide the technology so they can create a complete system for the end customer and sell the hardware, software and deploy a complete solution, and we help with software and integration. Better as an integrator to get into drone space via in-house or outside expertise? What's happening now is the use of off-the-shelf drones, which are readily available. You can get one from any store. It has all the sensors and the reliability on that platform. We have made those drones compatible with our solution.
You can get a $2,000 drone from any store in the U.S., and then you can subscribe to us and get operational. In that sense, any security company can now explore these kinds of operations in-house. It is usually good to have someone who is aware of drone operations and has a basic background. Obviously, you would have to follow regulations and understand the compliances to deploy these kinds of solutions. From the technology standpoint and the hardware standpoint, you could easily access the use of special drones and then leverage our expertise and solution to deploy those drones at your customer's facility.
How can integrators get more educated about drones, and work with FlytBase?
We have been a leader in content creation. We have a lot of information in our blog and tutorials; as well we provide free consultations. We have a channel through our website where you can schedule a call with us. Our team will work with you to understand your requirements and help you with the parts of our platform to automate that complete solution. Then we can also help you recommend the drone hardware or the right partner to work with in terms of getting the charging pad technology, drone-in-the-box technology, etc.
Looking ahead, do you see incremental or exponential growth on the horizon?
We believe it will grow exponentially, because drone hardware is getting commoditized. You have these really good off-the-shelf drones with the required payloads coming into the market, and they are really cost-effective. Now all you need is a complete solution where you can automate it. From the technology standpoint, now things are shaping very well. As we get more assistance from the regulatory side for a specific area and region, this industry is going to really boom.
If you enjoyed this article and want to receive more valuable industry content like this, click here to sign up for our FREE digital newsletters!
Security Is Our Business, Too
For professionals who recommend, buy and install all types of electronic security equipment, a free subscription to Security Sales & Integration is like having a consultant on call. You'll find an ideal balance of technology and business coverage, with installation tips and techniques for products and updates on how to add sales to your bottom line.
A free subscription to the #1 resource for the residential and commercial security industry will prove to be invaluable. Subscribe today!