Home Security Systems: Dealers, Purchase Trends and Triggers
Part of the rise in the adoption of home security systems is the separation of professional installation from professional monitoring. Parks Associates has all the details.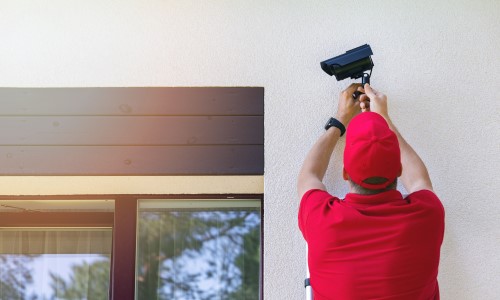 Parks Associates' latest security research, Security Buyers: Purchase Trends and Triggers, finds that 49% of DIY security system owners report that they purchased their home security system due to a burglary at their home or the home of a loved one, compared to just 27% of professionally installed system owners.
The research firm featured its latest research during its virtual session, "State of the Home Security Market," on Aug. 18, as part of the 26th annual CONNECTIONS: Premier Connected Home Conference.
Parks Associates brought together industry players from the pro-service channels and heard directly about connectivity challenges and incorporating smart home technology into offerings. The 75-minute session included visionary insight from leaders and interactive discussions on the impact of new technology and services and the challenges that come with smart technology in the home.
There are many new entrants in the DIY and monitoring landscape, so companies must go beyond the standard peace-of-mind value proposition to differentiate in this crowded market. Benefits such as ease of use and access control innovations can help solutions stand out. Some security companies branch into new sectors, such as energy services and vehicle monitoring.
Part of the rise in the adoption of home security systems is the separation of professional installation from professional monitoring. Self-installation provides a new way for consumers to buy with lower upfront costs. Lower prices, no-contract offerings, and new installation and service options provide consumers with the ultimate choice in home security, automation, and monitoring services.
Consumers expect their security systems to provide basic interactivity that enables them to remotely access and control the household security system and receive notifications as scheduled or requested.
Consumers can determine the optimal combination of installation, monitoring, and automation that provides a sufficient level of security and convenience for their household — a package that is "safe enough" for their needs. The research firm found that 24% of professional monitoring security cancellations in 2021 were due to consumers acquiring smart home devices like networked cameras.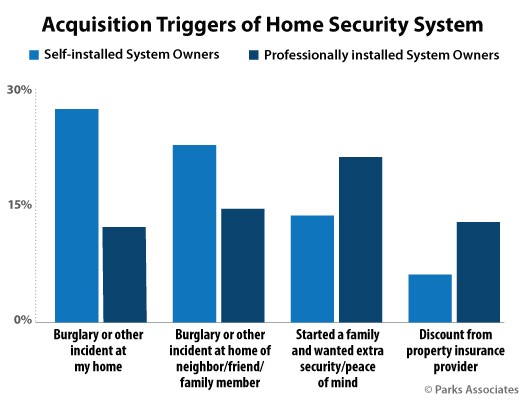 Though consumer demand is high for pro-monitoring, and NPS scores are relatively good for professional monitoring services, many consumers still report a high likelihood of switching providers. This large segment of consumers wanting to switch providers may not have much to do with the service of the provider. Still, the attraction of cheaper options from DIY players as the price for professional monitoring continues to rise for pro-install established players in the space.
Parks Associates also reports that 41% of customers reporting a high likelihood to switch providers could be the "canary in the coal mine" that rising monthly monitoring fees from established pro-install players and the availability of cheaper monitoring options from DIY players are attracting customers away from the $40 to $45 per month monitoring model, leading consumers to "price hop" to cheaper pro-monitoring services.
When looking at purchase channels, online purchasing has become dominant. By divorcing system installation from the system purchase, DIY solutions have expanded the channels through which consumers acquire security systems.
The most common method of acquiring a security system is now online, accounting for nearly a third of all system purchases. The online form of purchase allows customers to look and research all their choices for a security provider.
Customers' ages highly influence channel preferences, with younger consumers purchasing online or at retail and older customers purchasing from a company representative or using a system already installed in their homes. Providers should be aware of the potential frustration consumers may experience by not providing transparent pricing or easy-to-navigate websites, ultimately impacting their potential customer base.
---
Sadirah Pathan is a Contributing Writer for Parks Associates.
SSI has partnered with Parks Associates for the creation of DIY FYI, a column designed to help dealers keep track of important smart home market developments, what the competition is and whether they want to jump into something they see as a new opportunity.
Parks Associates will virtually host the next CONNECTIONS sessions on Oct. 20 and Nov. 10. This executive conference includes presentations from Parks Associates' leading analysts and visionary sessions featuring executives in the connected entertainment and digital home technology industries. Register here.
If you enjoyed this article and want to receive more valuable industry content like this, click here to sign up for our FREE digital newsletters!
Security Is Our Business, Too
For professionals who recommend, buy and install all types of electronic security equipment, a free subscription to Security Sales & Integration is like having a consultant on call. You'll find an ideal balance of technology and business coverage, with installation tips and techniques for products and updates on how to add sales to your bottom line.
A free subscription to the #1 resource for the residential and commercial security industry will prove to be invaluable. Subscribe today!