How Alert 360 Positioned Itself as a Pacesetter in Home Automation & IoT
Alert 360 execs share how the company formerly known as Central Security Group built a customer base that is 95% RMR, discuss the importance of employee happiness and more.
Photos and Videos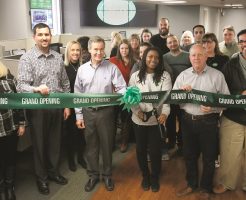 View Slideshow
Tell me more about the dealer program. How many participants, are you actively growing it, and if so what qualities are you looking for?
PATTERSON: The dealer program here was founded in 1999. One of the things we pride ourselves in is our unmatched support for these dealers, so they can spend all their time growing their business and not having to worry about doing administrative work and following a paper trail. Currently, we've got more than 200 active dealers and are looking to grow that. We consider our program one of the most aggressive with very competitive and generous multiples. We don't have any holdbacks. We provide dealers with free marketing materials. We pay out weekly. And I think it's very important that we don't require them to have a nonexclusive agreement with us. They're not tied down.
If they decide they don't like the program, give us 90 days, and they can move onto a different program.We're always looking for new dealers, but it's got to be the right dealers. We want to make sure they're able to pass our background requirements and that they're doing the right kind of business. Most of that would be residential versus commercial. It's helpful if they're in our current markets, where they can help us grow our current customer base.
How has 2018 been for the business in terms of your projection versus actual? Any surprises or challenges?
CATINA: This has been a great year for us. The wealth of the solid acquisition opportunities has been surprising to me, but it makes sense with the evolution of the industry. Many of the 10,000-plus smaller alarm companies that actually have solid tenured customer bases are having a hard time keeping up with technology and simply choosing to sell their company. The ones coming to us now have great portfolios. Both our revenue and RMR continue to have nice year-over-year growth, and we're anticipating the same for 2019.
Does Alert 360 mostly sell its new systems or are they leased? Do you tend to do a low upfront payment and a contract, or is it month to month?
BOOTS: We have somewhat of a unique offering. We allow the customer an option. We offer an outright sale, so the customer can purchase the equipment upfront. Close to 100% of the customers want that system monitored so there's always going to be some recurring revenue in there. Some customers are more comfortable paying a little more upfront, and if they want to own that equipment, that's up to them. However, most customers today, based on the way we pay for cable and mobile phones and security, are more comfortable with the lower upfront and higher monthly. That's going to be a company-owned solution. We offer both, but the majority of our customers choose to have a company-owned solution with the monitoring. And our standard agreement is 36 months.
How is the account attrition going, if you look at year over year the past few years to where we are today?
CATINA: It's been flat. We spend a lot of time on retention and attrition. We have daily meetings looking at everything that's come in the prior day to cancel. We have an entire team that works under Kent that fields every cancellation call. One thing that's important is we empower the team to talk to and take care of the customer. We have about a 15% save rate for this team, which makes a big difference each month.
MORRIS: Our Office of the CEO Retention Team members are highly qualified. They're our elite employees. They have all the tools they need to save the customer, and they do so at a very impressive rate on a daily basis. We try to learn what the customer's concern may be, or why they are considering leaving us. We try to target a solution for each individual customer, so they feel like they're valued. And we treat them like a long-term friend.
Moving on to technology. As you look at the business today, can you drill down and share three technology-related opportunities you're most excited about?
DIETRICH: Video continues to be a huge opportunity. That's No. 1. After that is access control.There's opportunity, especially with what Alarm.com has introduced into that area. Also IoT devices such as doorbells, lighting controllers, surround-sound speakers. Also all of our interaction systems support the Amazon Echo and Google Home. These opportunities often come in the form of add-ons to our existing systems with increased RMR.
How do you differentiate these offerings from the competition? Does that take place on the service side?
BOOTS: We think about how to differentiate just about anything we do. Specifically around technology that may not be something unique to us, we really focus on our price points. We think being the intermediate price provider is a nice place to be. It's attractive to consumers. It gives users the ability to add services in the future, which is important to us, especially IoT devices.
Does Alert 360 have a DIY play? What's your take on that part of the market?
DIETRICH: We're always looking at DIY and bench test a lot of these products. To the average homeowner, the installation isn't quite as easy as the manufacturers and commercials make it out to be. We still think there's a place for both DIY products and professional companies such as ourselves. We tend to see more people leave security to the professionals rather than attempting themselves. I like to compare it to lawn service, which kind of exploded the past decade. Even though for some it might be simple to mow your own lawn, many people either don't have the time or would rather spend that time elsewhere. We still think there's a huge place for companies for professional installation of these services. So we don't have a DIY or MIY play.
GINSBURG: One thing I won't do is have a me-too product. I've seen some of our competitors all of a sudden offer a do-it-yourself product, maybe set up a new website or something and, poof, they're in the DIY business. We're not going to do it as a company until we're confident that it's the right hardware, the right user interface and, more importantly, we can install it. Meaning if they drop the ball, if the customer is uncomfortable, we can swing in with our tech force and either finish it or just do it for them.
Aside from finding good employees, what would you say is a leading industry-wide challenge today?
GINSBURG: Undoubtedly the top challenge for our business is deceptive sales. I never in a million years would have thought, if you'd asked me 10-15 years ago, that we would need a fraud department within our company, but we do have one. We're monitoring deceptive companies out there approaching our customers and getting them to switch, unbeknownst to them. As an industry it harms us all. It's a problem.
Speaking of changes compared to a decade or more ago, how much harder is it to stand out as a security company nowadays?
GINSBURG: It's a lot more challenging. You're selling and servicing a lot more products. As an example, 20 years ago a tech support call used to be, "How do I turn my chime on and off?" Today, a tech support call can be 15 or 20 minutes and be dealing with a door lock or an HVAC controller. You definitely have to be a lot more knowledgeable and a lot quicker. However, I still believe if you invest in the right infrastructure to service those types of customers, you can win. I really do think you can win.
If you enjoyed this article and want to receive more valuable industry content like this, click here to sign up for our FREE digital newsletters!
Security Is Our Business, Too
For professionals who recommend, buy and install all types of electronic security equipment, a free subscription to Security Sales & Integration is like having a consultant on call. You'll find an ideal balance of technology and business coverage, with installation tips and techniques for products and updates on how to add sales to your bottom line.
A free subscription to the #1 resource for the residential and commercial security industry will prove to be invaluable. Subscribe today!