How to Capitalize on the Rising Interest in Residential Video Cameras
Once considered taboo, in recent times video cameras (especially doorbells) have been among the fastest-growing security products sold into the home. Find out how cameras have become a window to a fully monitored security and life-safety solution.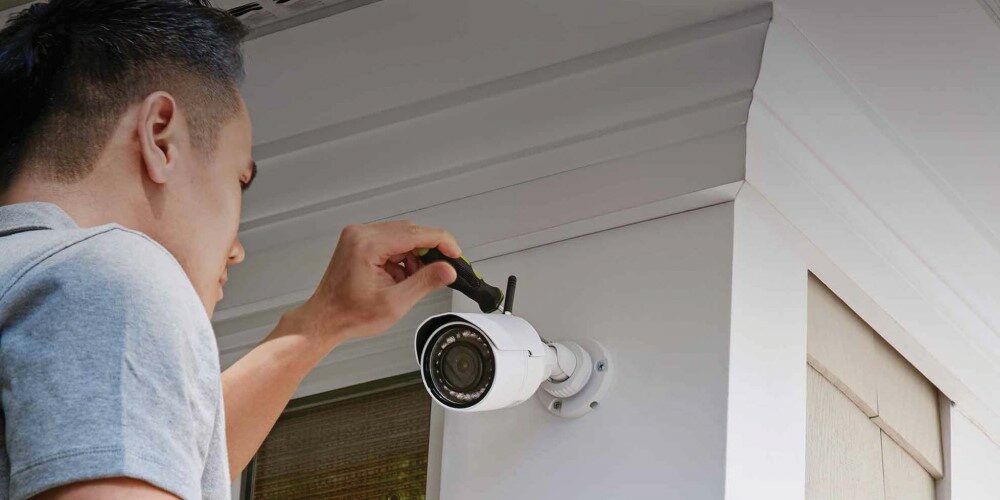 Anyone who has given a smartphone to their child knows that feeling, "I've just placed the world at their fingertips." It's a pivotal, teachable moment and usually requires 'the responsibility talk.' Because a smartphone isn't just a phone anymore, it's … a camera; a personal portal to engage with friends on social media; a suite of apps, services and sensors — the list goes on.
Similarly, the cameras in and around our homes aren't just cameras anymore. Manufacturers have a responsibility to produce residential surveillance cameras that are easy to use, offer apps and a backend Cloud that delivers a full user experience, quality video and sound, and enhanced analytics that add meaningful value to a family's everyday life.
During the past 18+ months, our everyday lives have experienced monumental shifts: we have new ways of living, working and engaging with people — and many of us are spending more time in our homes than ever before. Certainly, those changes have also opened doors to potentially more consumers wanting video solutions where they live.
This evolution is really an add-on to consumers' already growing interest in home security cameras, which has been growing since 2016. Let's take a closer look at those trends and how security dealers can best capitalize.
Start With Their Why
The numbers are exciting, and spark the questions: "How can I take and use that good news? What can I expect when I chat with a current customer or meet someone new?" One of the best things is also the simplest and something dealers already do so well — talk to the customers.
Take a collaborative approach with each of your customers, picking up similar cues from what you know works or align to the elements customers will most appreciate and need day to day. Such framing opens doors to create something that feels more customized and therefore more comfortable and useful — it goes a long way toward building that confidence.
Be inquisitive to understand their situation; what's important to them and how they use their home; how they would like to use their space. Was there a big life change moment? What gear and interfaces do they already use and like, plus any plans for expansion? What technology have they seen or tried — whether because of family or friend recommendations, or something that caught their attention and they dove into research mode?
See Landscape in New Ways
An important next step is to help show customers that residential cameras aren't just cameras anymore. They are the window to unlocking the complete benefits of a whole-home security system.
Dealers can leverage that initial customer engagement with awareness about cameras' advancements and standout features from the past few years, then highlight the benefits of integrating cameras with a fully monitored security and life-safety solution. The current 3G radio sunsets (AT&T and Verizon) also open up an opportunity to contact the customer and upsell them to new devices and services, including video.
There are numerous silver linings borne out of the DIY smart home mentality, especially when it comes to cameras. Customers have gotten an idea of cameras' capabilities — and limitations — whether using video doorbells, outdoor/perimeter cameras for an entryway or garage, or using one to two indoor devices to keep an eye on kids or pets.
Consumers also have more familiarity with using an app to control and monitor their home throughout a day. One element of security that consumers may not be as familiar with or think of is the idea of cybersecurity. It's important to reiterate the importance of working with trusted, reputable companies and manufacturers.
Again, there is more to a camera than meets the eye — and working with partners and manufactures that offer encryption and privacy is crucial. If a homeowner doesn't ask about cybersecurity during a sales call or during an installation, it's important to bring it up.
And speaking of installation, consumers are having the realization that, for many, installation can quickly become daunting, with lots of steps that may work for a few, and many need assistance. When they see the broader set of capabilities that are possible with an end-to-end security system featuring a set of well-positioned cameras, those benefits become even clearer.
By and large, consumers' sentiment has shifted and their comfort levels seem to have leveled up. In- and outdoor cameras are more of the norm, and that means opportunity to help customers branch out with the help of a professional, augmenting experiences they want (or didn't know are available).
This is where dealers' expertise can truly shine: pointing out the increased advantages of integrating cameras with other sensors and features for a connected system or offering a comprehensive smart home solution that covers the same ground and makes it easier to add other devices as customers' lives evolve.
The chance to educate and guide that transition from one-off products to an integrated, consistent system, is pivotal for creating that confidence and establishing a foundation of long-term loyalty. Even if done virtually!
Point to the Possible
With increased intelligence found in many standalone cameras and professionally monitored security systems, customers can realize that more technology does not have to also mean overbearing nor overwhelming. Some dealers may consider providing consumers a hands-on, showroom experience that will help them understand the capabilities, needs and the versatility.
Certainly, some customers will be well-suited for just a single- or two-camera arrangement. But providing that future-ready vision will allow for an automatic peace of mind and a more seamless customer — or dealer-installed path for growth.
For example, if the customer starts with a video doorbell or an outdoor camera covering a yard or parking area, there is a natural progression to either add devices inside or further out, especially as people spend more time around their homes and realize, "Wow, a lot happens here during a given day."
For those customers who have a system that's more than five years old, there really has not been a better time for them to consider an upgrade, and they will realize the benefits quickly. Those customers will be familiar with a panel setup, sensors will already be correctly installed in the right places, and then even a single video camera can bring an enhanced strength to it all.
For some, it may even be more enticing to go with a full system replacement with added conveniences and more modernization. The ability to continually improve features and enhance performance through hardware enhancements — or remotely through software — is nicely matched by customers' higher connection speeds and helps to narrow gaps in adoption rates.
While AI and facial recognition can be commonplace to customers who use them on a smartphone or laptop, the residential security industry is still in the beginning phase of this technology. As best practices evolve, reducing false positives and providing enhanced protection is at the top of every camera manufacturer's list.
Because, after all, a camera is more than a camera. It helps us take action and protect the things we hold most dear: our home and family. And it's never just a camera that's helping save a life — it's the whole system that's integrated with it: the software/app, the support of the dealer and monitoring system to monitor security and life safety.
Consider a traveler whose home system detects an issue that summons the local fire department. Having a camera at the front door could allow the homeowner to talk to the responder and guide them to a spare key versus having to break down the door. That offers a real, positive impact in a situation that could have otherwise resulted in unnecessary expenses.
Also consider parents and kids making the trick-or-treating rounds on Halloween. Higher peace of mind can be realized thanks to video doorbells and yard signs indicating professionally monitored security systems. Home security cameras are ready for a broader future in so many more homes.
---
Dwight Dumpert is Senior Director of Product Management for Video, Resideo.
If you enjoyed this article and want to receive more valuable industry content like this, click here to sign up for our FREE digital newsletters!
Security Is Our Business, Too
For professionals who recommend, buy and install all types of electronic security equipment, a free subscription to Security Sales & Integration is like having a consultant on call. You'll find an ideal balance of technology and business coverage, with installation tips and techniques for products and updates on how to add sales to your bottom line.
A free subscription to the #1 resource for the residential and commercial security industry will prove to be invaluable. Subscribe today!