How DTiQ Melds Surveillance, Point-of-Sale to Ring Up $50M Annually in RMR
Integrator DTiQ uses surveillance and POS data to offer "smart audit" consultative services for retail and hospitality clients, enhancing employee engagement and reducing theft.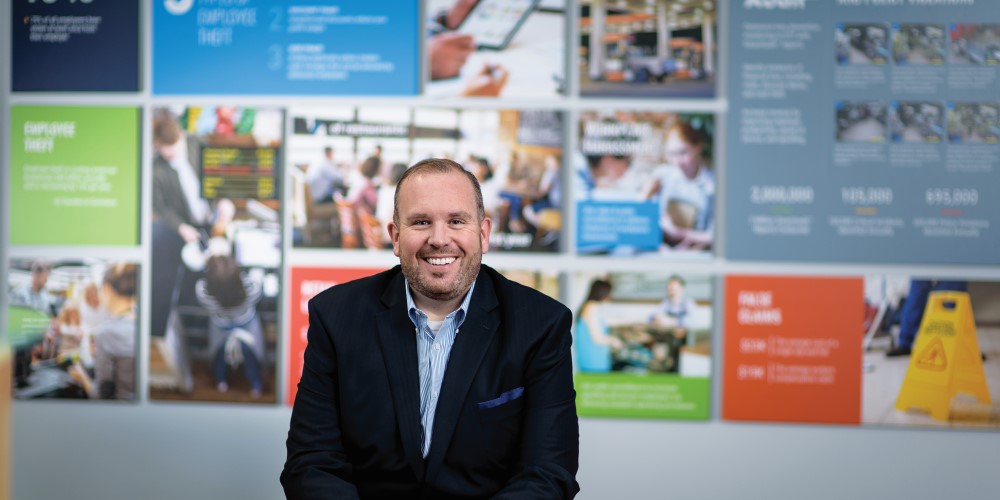 Most security integration companies are known for their technical ability to sift through the thousands of equipment choices from various manufacturers to pull together the best technology solution for the specific application need of their client.
But it is rare to find an integration firm whose entire business model is built around a technology stack of its own creation. Such is the case of Framingham, Mass.-based DTiQ.
The company combines its own proprietary software with IP camera technology to earn $50 million annually in recurring monthly revenue (RMR) consultation services.
The software system integrates retail point-of-sale (POS) systems with security technology to create "smart audits" for clients to reduce theft, improve the customer experience and enhance employee engagement.
Since its founding 20 years ago, DTiQ has installed its loss-prevention software and data-analysis technology and surveillance systems at more than 35,000 retail and hospitality locations.
Its business model has evolved through recent acquisitions (and a subsequent rebranding) to be more than a deployer of technology solutions, but a bottom-line consultant for its client base, which reads like a who's who in retail and fast food around the United States.
Drive-Through Intercom Roots
Founded in Los Angeles in 1999 by Sam Naficy, the company, which was originally called Drive Through Technologies (DTT), started out as specialists installing intercom systems for drive-through fast food restaurants.
Eventually, the DTT intercom business model collided with the convergence of the Cloud, which was driven by bandwidth and Internet connectivity. Soon, the company found itself focused on installing IP cameras that integrated with POS systems, still solely in the restaurant niche.
"Data became much more relevant," says Mike Coffey, CEO. "The old POS systems were just cash registers that printed out receipts. DTT moved into the business of combining the data from the POS system with Cloud-based video. When you put those two together, you can do analysis on the POS data … you can figure out when a restaurant has its busiest times, when employees are doing things they should not be doing, and other data. DTT's new business model was to install software and surveillance systems, then marry the POS data with the video. And, we actually deploy human beings to look at the data. For the past eight years, that model has been all the growth in the business."
Specifically, the company's technology offering is a full bundle of switches, wiring, onsite NVR or Cloud storage connection, and multiple cameras, which are OEM'ed and branded under the DTiQ name.
The software takes the data from the POS system with the permission of the restaurant operator and integrates it with the surveillance video to create a "smart audit."
"A 'smart audit' is a 0 to 85 score that rates how effective a store is operating," says Coffey. The software spread like wildfire, bringing the company some of the biggest names in franchise restaurants as clients.
Rebranding After Acquisitions
Then, in early 2018, the company acquired Boston-based Loss Prevention Innovations (LPI), which offered similar data analysis services, but focused in the retail channel servicing big names in grocery, clothing, jewelry and shoes.
LPI did not have its own technology, but instead used whatever software and camera data the store owner had installed. However, LPI had a more robust onsite consultation service than DTT, using an 80-person team spread throughout the country.
"Enterprise retailers have more of an in-store need for training as opposed to restaurants," explains Coffey. "If you are a major retailer with stores spread across the country, you cannot afford to employ multiple loss-prevention specialists who are stationed close to the geographical footprint of your stores. You have to constantly train them and coach them. A retailer might have a three- or four-person team to cover 100 stores. Suddenly, they can only visit each store once or twice per year. Our team can visit a store five times per year without really a lot of cost."
In July 2018, DTT made a second acquisition, buying competitor 360iQ. "It was a competitor, but with a much newer technology stack with better data capabilities," notes Coffey. "While DTT supported many more locations and brands, the 360iQ business really supported one or two big customers. About a year-and-a-half ago, 360iQ had invested a whole lot of money into building a brand new technology stack with the purpose to combine surveillance and POS data analysis. We were debating about doing the same thing, and we decided essentially to buy one instead of updating and rebuilding our own."
As a result of the acquisitions, DTT re-branded in 2018 as DTiQ and relocated its headquarters from Southern California to suburban Boston. The company's consultative services are contractually based, making almost all of the company's $50 million in 2018 revenues RMR.
Structuring Base Packages
DTiQ does not sell any POS systems; its solution is POS agnostic. "The customer picks whatever point of sale they want to work with. We integrate with 26 of the most popular ones on the market right now; they all have different ways of integrating. That's part of our secret sauce. Some of them are really hard to integrate with, and some are really easy. At the end of the day, the data's got to be accurate and right," says Coffey.
Getting it "accurate and right" as Coffey says requires the use of a sophisticated algorithm in the software that matches the timestamp in the store from each of the POS locations.
The timestamps must be precise to validate the data. The company's product stack and audit reporting capabilities are presented to clients in packages, tiers and bundles … "like a Chinese menu," describes Coffey. "We have a quote sheet, and we sell our solution by number of cameras, and then we do add-on services. If you want the analytics, it costs more. Our salesperson has to pick the right components from the different parts of the Chinese menu."
So, for example, if a restaurant franchisee is not worried about the location's customer service, but more concerned about the safety and security of the employees, they can select a package of equipment and audit reports that tailored for that.
If another franchise location is more concerned about employee theft, a package can be chosen for that. The base package for every client is some level of POS data integrated with video surveillance.
Coffey says the company leads its sales presentations with a video surveillance system installation, and he says every client is going to have some sort of video surveillance at the location, whether it is an existing system or one installed by DTiQ.
From there, the vast majority of DTiQ customers will sign up for some level of algorithms and analytics to analyze their POS data, typically a report once or twice per month. From there, customers can get more sophisticated if they wish, such as customized reports once or twice per week, or a report focused solely on a particular shift of employees.
"Given the way our technology stack works, the camera is one of the least important elements," he continues. "We really think ourselves more as a software company, so we'll work with any kind of modern IP camera and a lot of different analog cameras as well. If we show up at a location, and that location has an IP camera installation that was done just 18 months ago, we can essentially still light up the location with our advanced analytics and our services and our capabilities, but leave all the existing cameras in place."
Keep reading to learn about what data DTiQ tracks and the types of reports it can generate…
If you enjoyed this article and want to receive more valuable industry content like this, click here to sign up for our FREE digital newsletters!
Security Is Our Business, Too
For professionals who recommend, buy and install all types of electronic security equipment, a free subscription to Security Sales & Integration is like having a consultant on call. You'll find an ideal balance of technology and business coverage, with installation tips and techniques for products and updates on how to add sales to your bottom line.
A free subscription to the #1 resource for the residential and commercial security industry will prove to be invaluable. Subscribe today!