How DTiQ Melds Surveillance, Point-of-Sale to Ring Up $50M Annually in RMR
Integrator DTiQ uses surveillance and POS data to offer "smart audit" consultative services for retail and hospitality clients, enhancing employee engagement and reducing theft.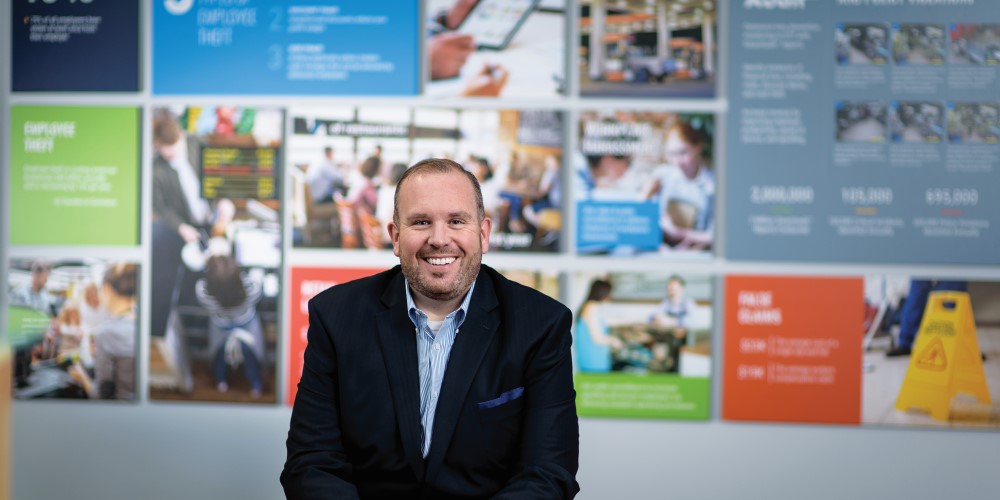 Tracking Useful Data
As noted, DTiQ's smart audits score a location on a 0-85 basis. The data being tracked and scored can range widely depending on the type of store, but it primarily falls into four main categories:
Customer Experience — This would include analytics on how long customers are waiting in line at the cash register, for example.
Employee Engagement — "Do you want fries with that?" is a common example of the DTiQ system tracking employee engagement. The system can monitor the frequency of upselling products or requests to join a loyalty program per employee, per shift, etc. Another common employee engagement area being tracked is the cleanliness of a store or restaurant. The camera analytics can also determine if employees are standing around a lot during their shift, if they are constantly on their cellphones, etc.
Loss Prevention and Operations — Reports can analyze employee theft, slip-and-fall scams by patrons, or stolen inventory. For example, the security system can track if the back door is being propped open on a frequent basis, which is a common signal of inventory loss. If a store has an employee or multiple employees taking $20 a day and putting it in their pocket, over 20 shifts a month, that starts to add up.
Safety and Security — This is exactly as it sounds … a sophisticated monitoring security system to keep employees and customers safe. This is especially important in retail convenience store applications where there might be a single employee on staff during an overnight shift.
Inventive Reporting Keeps Businesses Safe, on Track
There are 150,000 convenience stores in the United States and more than 1 million restaurants. The use case scenarios for security professionals to assist these retail locations are endless. Here are just a few of the unique reports developed by DTiQ to help clients.
Overstaffing – One particular fast food chain has a handful of corporately owned locations. The company discovered those corporately owned and operated locations were among their worst-performing stores in terms of profit.
After adopting the DTiQ solution, then training the staff, those locations elevated to the top of profitability in six months, primarily by determining the restaurants were overstaffed. The camera analytics track employee movement, and by determining that employees were standing still for prolonged periods of time, the reports showed the locations were overstaffed.
"When a restaurant hires too many employees for a shift, and you do that over a month, that actually costs you a lot of real money," says Coffey.
Bathroom Usage & the Opioid Epidemic – It might seem odd to measure the number of people who go into the bathroom and for how long, but at least some customers are very interested in that information.
"Our customers care quite a lot about it because of the opioid epidemic. We had a customer with someone who died in a bathroom a couple of weeks ago. The person had gone in the bathroom near the restaurant's closing period, had overdosed, and the employees didn't check the bathroom before they left. They left and locked up, and the person overdosed and died. The next morning, there was somebody found dead in the bathroom," says Coffey.
"You can't put cameras in a bathroom, but you can put a smart camera outside the bathroom that tracks the number of people that go in and the number of people that go out, and you can even identify the person going in and the person going out … not identify them in a personally recognizable way, but based on shape know that it is a person. We can then write a very simple algorithm that says if somebody's been in the bathroom for more than an hour, please send an alert to the manager. That's a real-use case of somebody using our technology in a proactive way to better manage a location," he explains.
Grab-and-Go Stores – When Amazon debuted its first Amazon Go Stores in 2018, the concept turned heads. No checkout. No employees. No lines. This advanced shopping experience, driven by storefronts loaded with sensors and cameras, could eventually be the wave of the future in retail.
To date, there are 11 Amazon Go stores in Seattle, Chicago and San Francisco. Coffey says that if this is a sign of things to come, DTiQ's technology is in the right place at the right time.
"What is the future of retail? I think retailers will need to do more things with technology and sensors where you just pick up an item and walk out with it. Will this Amazon model make its way into every other convenience store out there? What if Amazon opens 10,000 of its own stores?"As stores become more connected, we will integrate with data that analyzes the effectiveness of a store's environment. We are well positioned," he says.
Cybersecurity Best Practice: Establishing a 1-Way Pipe
Whenever a security integrator is hooking into a client's network, the specter of cybersecurity invasion can be an issue.  Coffey admits that most of its franchisee clients are not too focused on cybersecurity.
"If the corporation has done the background work and checked for the compliance, then franchise owners default to the corporation and don't tend to address it or worry about it," he says.
However, DTiQ's enterprise clientele are very concerned about it, and the issue is commonly part of the sales discussion. "Cybersecurity is very important to everybody and it is very important to us. We do a whole bunch of work in our labs where we scan our software to look for things like port vulnerability and direction of communication," he says.
The company submits its software for Payment Card Industry (PCI) compliance multiple times per year, as the standard for POS systems requires. "Our software never gets any credit card data. We do not want the actual credit card information. We only will get information that a credit card was used, and in some cases we get the last four digits, but we do not want or collect any personally identifiable data or credit card data," Coffey explains.
For added layers of cybersecurity protection, DTiQ has also taken the extra step to prove to customers that they have only deployed a one-way directional cable into the customer's POS system. This guarantees that the data only goes directionally one way to DTiQ, and never from DTiQ back into the client's network.
"That assures them that if anybody ever were to be able to get into our environment, they could never get into the client's POS system," adds Coffey. DTiQ even goes so far as to give potential customers the software to run in their own labs. When that testing comes back clean, Coffey says it usually give the client's CIO assurance to sign off on the deployment.
In rare instances, DTiQ has identified that the client's network is vulnerable, making the deployment even more delicate. "Our entire network is walled off on its own network. Any sensors or cameras that we physically deploy at the client's location sit on our own network. From there, we just want a pipe to the Internet. And when we send that traffic to the outside world, we actually send it in a highly encrypted way, so data cannot come in or out. It gets sent only with a direct handshake to our Cloud, and only if that handshake is secure. There is a whole protocol there," he notes.
If you enjoyed this article and want to receive more valuable industry content like this, click here to sign up for our FREE digital newsletters!
Security Is Our Business, Too
For professionals who recommend, buy and install all types of electronic security equipment, a free subscription to Security Sales & Integration is like having a consultant on call. You'll find an ideal balance of technology and business coverage, with installation tips and techniques for products and updates on how to add sales to your bottom line.
A free subscription to the #1 resource for the residential and commercial security industry will prove to be invaluable. Subscribe today!