Rapid Growth, Hospitable Service Makes SAF an Installer of the Year
From humble homespun beginnings little more than a decade ago, integration firm SAF Technologies has found the right combination to grow gangbusters, making it SSI's 2018 Small/Midsize Installer of the Year.
For many of us, getting organized enough to conduct a garage sale can seem like a tall order — imagine finding the wherewithal and resolve to launch a successful security integration company between the lawnmower and storage boxes.
That's precisely what husband and wife Alan and Alison Weeks did in 2004, kicking their car to the curb and starting SAF Technologies from their Charlotte, N.C., area home.
The couple has grown the business into one of the Carolinas' largest privately held security integration companies, and now captured SSI's 2018 Small/Midsize Installer of the Year Award.
"SAF believes when you put employees first they in turn put your customers first. When you treat your staff as if they were family, you will have very little turnover," says SAF Technologies President Alan Weeks (Alison serves as CEO).
"With the growth we have had in the past two years most of us feel like we have been drinking from a firehose. SAF has grown 97%, increasing our revenue from $5.2 million to $10.3 million. That has come through creative sales, marketing programs and system design."
In addition to servicing customers throughout North and South Carolina, SAF handles national and even some international accounts.
Along with an electronic security division, the firm also has a commercial door and hardware unit, and employs fulltime locksmiths. This allows end users and general contractors to select a single vendor to take care of entire door openings.
"SAF's focus is on midsize to large clients, with healthcare being a major vertical market," says SAF Technologies Executive Vice President and Managing Partner Joe Clouatre. "Currently, we service over 450 healthcare facilities in the Carolinas. Each customer is unique and our designs are proof that we listen to and collaborate with our customers. We do not take a cookie-cutter approach where one solution fits all."
Grab a glass of sweet tea and sit a spell as Clouatre and the Weekses share SAF Technologies' approach to hospitable customer service; savvy business strategies; effective marketing tactics; indoctrinating new hires and grooming them into loyal associates; and completing the circle with a culture that encourages generosity in community and industry.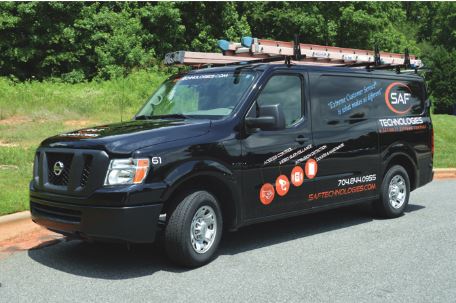 Ready When Duty Calls
Joe Clouatre: We are the home of Extreme Customer Service. As SAF's EVP and managing partner, I train every employee in that program. The goal is to exceed customers' expectations on a continual basis.
Alison and Alan Weeks founded the company on quality and customer service. After working in the industry for many years, they could not find an integration company that cared about quality the way they did, so they founded SAF. They have always promoted, "If you touch it, make it better."
Alison Weeks: Let me give you some examples of SAF's quality customer service in action. We received a call from a customer on a Tuesday who said they were supposed to have an access control project completed by that Friday.
The vendor who was awarded the project just informed them they could not meet the deadline. SAF completed the project that Thursday with only two days' notice.
In another case, an SAF project manager called a general contractor at 11 a.m. one morning to check on the status of a project. He needed to see if they were ready for them to be onsite.
The general contractor said they were not ready and to call them back in a few days. At 2 p.m. the same day, the GC called our PM back and said he just found out they needed to go for their Certificate of Occupancy the next morning at 7 a.m.
The SAF team went to work, and had the access control system and the surveillance system up and running by midnight.
Lastly, it was a Friday night around 5:30 p.m. and one of our technicians ran into a challenge with door hardware on an installation. He sent an email within our company asking for advice.
Within an hour there were two managers on-site with him, plus one of SAF's full-time locksmiths. They were there to help one of our internal customers.
Alan Weeks: After every service call our customers receive a quality survey. Currently, we have 718 surveys and our average score is 9.51 out of 10. We also conduct in-person interviews with customers and conduct quality inspections.
Another way to evaluate our customer service is through our Extreme Customer Service recognition program. Each time SAF receives an email or letter from a customer stating our employee or employees did a great job and exceeded their expectations, it is read at the monthly safety meeting.
The email or letter is framed and hung up on our walls, and each person mentioned receives a $100 gift card. Since implementing this in 2014, we have given over $17,000 in gift cards to technicians, managers and office administrators.
Being Nimble and Quick
Alison Weeks: We focus on being an employee-centric company, putting our people first. We also believe you must have strength in every position, with strong players in every position on every team.
We also want to make sure our customer base is very diversified from a vertical market perspective. We know that for a business to be successful and sustainable, it must have an excellent new business development component.
Alan Weeks: Even though you can be drawn into the weeds on a daily basis, you have to stay focused on what the overall goals are for the organization. You must also be flexible and willing to shift and take advantage of situations or opportunities that present themselves.
As far as growth strategies, it is good to set targets, but you cannot lose sight of your core values and what made you successful in the first place.
At SAF, we do not want to be the biggest integration company on the planet. We just want to be the best we can be for our employees and our customers. If you focus on those two things, growth will come.
For us, as a company that has experienced tremendous growth year after year, accurate budgeting can be a challenge. We are presently researching new financial software.
Our monthly financial meetings are critical to ensure we are on top of any trends or changes in the financial health of the company.
Clouatre: Let me provide examples of some successful initiatives. One of our customers was thinking about outsourcing their locksmith department.
They not only wanted locksmiths but sought those with special capabilities like project management, and experience in creating design and adhering to architectural standards. Today that is totally outsourced to SAF.
In 2015, we created the SAF Educational Academy to bring educational content to end users, consultants and employees.
To help facilitate that SAF built an interactive educational and training facility in Matthews, N.C. There both management and technical classes are conducted throughout the year.
The next step was for SAF to host a regional security expo in 2017 at Charlotte Motor Speedway. This involved over 8,000 square feet with both management and technical training classes. In 2018, the expo will expand to over 32,000 square feet.
Read on to learn about SAF's marketing strategies, what it takes to join the SAF family and more…
If you enjoyed this article and want to receive more valuable industry content like this, click here to sign up for our FREE digital newsletters!
Security Is Our Business, Too
For professionals who recommend, buy and install all types of electronic security equipment, a free subscription to Security Sales & Integration is like having a consultant on call. You'll find an ideal balance of technology and business coverage, with installation tips and techniques for products and updates on how to add sales to your bottom line.
A free subscription to the #1 resource for the residential and commercial security industry will prove to be invaluable. Subscribe today!