Monitoring Roundtable: Leading Providers on Overcoming Pandemic, Supply Chain Issues & More
Having proven their mettle maintaining services during the pandemic, wholesale central stations are continuing to bring security dealers evermore value and revenue opportunities. Leaders from the industry's top providers explain how. Also find SSI's new monitoring provider directory.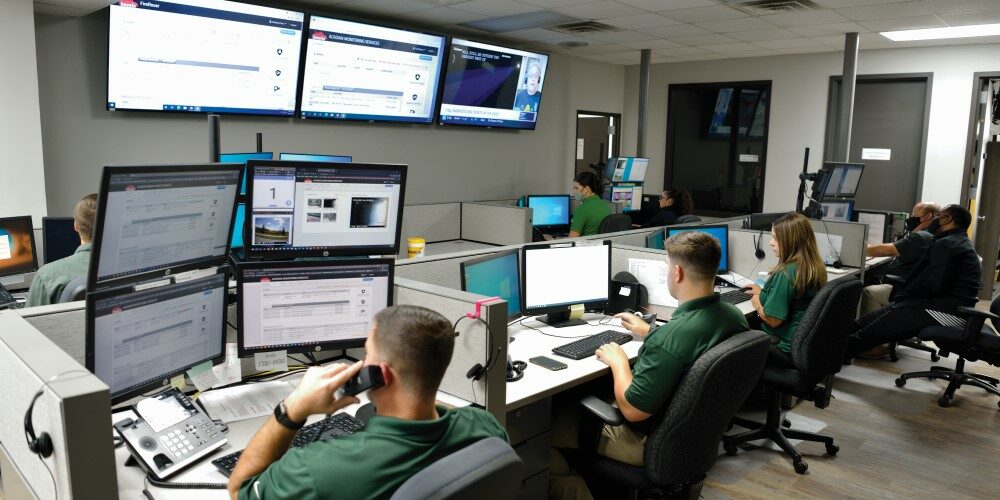 One could argue that the diligence in which the security industry's wholesale, third-party monitoring central stations dropped nary an alarm system signal during the historic COVID-19 pandemic is the most dramatic and impactful delivery of critical messaging since Paul Revere's triumphant midnight ride to alert the colonial militia about the arrival of British forces nearly 250 years ago.
During this unprecedented turbulent period, these essential providers served as stabilizing moors amid the storm — preserving the safety of millions and security dealer partner businesses, as well as the reputation of the industry itself.
Rising above and beyond the call of duty, these dedicated monitoring centers have taken lessons learned from the ordeal of the past couple of years to further fortify their facilities, building in even more reliability and redundancy.
At the same time, they are pushing hard to raise the bar on service and the array of services they offer dealers to meet end-user needs and generate recurring revenue opportunities. All that and more is discussed among the 12 leading monitoring services firms featured in this year's SSI Monitoring Roundtable.
What ongoing effects is the pandemic having on your business and dealer customers?
Steve Mayer V.P. Operations and Administration, EMERgency24: EMERgency24 was able to implement work-from-home procedures very quickly at the beginning of the pandemic and we have evolved policies to comply with the permanent work-from-home standard in UL 827.
That allows us to continually offer WFH opportunities as long as their physical space complies with standards and that productivity and quality metrics follow our internal standards. That's huge when a storm hits. We can put out a broadcast note to monitors who'd like a few hours of double-time pay. They can log in immediately and start working through the signals.
There is no delay in getting ready to come to the office and there is no commute. This helps us keep our metrics intact even during inclement weather. As far as our dealers, most have recovered, but we have had some longer-standing companies cashing it in. Fortunately, we've been able to keep most of those accounts within our dealer network by connecting the seller with potential buyers.
Jim McMullen, President, COPS Monitoring: The pandemic and possible future situations that could cause the same or worse impact on our business and the workforce continues to be top of mind and discussed at each of our regular management meetings. Coupled with inflation and higher wages, the shutdowns caused by the pandemic and more opportunities to work from home changed the way people think of their work and has made it more difficult to attract people that want to work in an office environment.
This emphasized the importance of keeping our existing employees, and why we reinvested more than $5 million in our employees. From a recruiting standpoint, we believe our six locations give us a unique advantage in that we can attract the best talent in different parts of the country, not just from one or two employment marketplaces.
Woodie Andrawos, President, NMC: COVID-19 significantly impacted how we leverage technology to help protect our dealers' revenue streams and ensure business continuity. Our goal was to provide guidance and support to empower them to continue to scale their business while identifying new, high-value RMR opportunities. To do this, we realigned the focus of our virtual training and support; and helped them identify new sources of business that we might not have been entrenched in before.
At the same time, we also found that demand for intelligent security systems surged amid a steady rise in commercial property crime. Businesses require enhanced security and surveillance measures now more than ever before. With many companies in the service and manufacturing industries closed, there was a greater need to protect and secure their property and assets. We believe the demand for more intelligent services, like proactive video monitoring, can be attributed to the demand for cost reduction and optimization valued by business operators.
Al Lanclos, Director of Operations, Acadian Monitoring Services: The pandemic forced us to look at our protocols, processes and the way we handled business. We had to revamp our business model somewhat by sending employees home and increasing efficiencies. Using our medical resources from our parent company, which includes four doctors and many other health professionals, we were able to navigate the rapidly changing health information by altering our protocols to meet or exceed our dealers' and vendors' COVID-19 policies. Once we returned to the office, we provided PPE free of charge as well as COVID testing. We focused heavily on communication with our dealers to keep them advised of ongoing changes.
How are supply chain and inflation affecting your business, and are additional costs being passed along to customers?
Michael Zydor, Managing Director, Affiliated Monitoring: Through a combination of luck and foresight, supply chain issues have had little impact on our operations and business. We have always been careful to ensure we had sufficient supplies of necessary equipment and spare parts such that a disruption like the one we are experiencing now would not negatively impact our ability to operate at peak efficiency.
As a result, we have not had to pass any major price increases down to our dealers. And although we have largely escaped unscathed by supply chain difficulties, we know that many of our dealers continue to struggle with equipment and part availability. This struggle is just one reason we have invested in a solution that allow our dealers to convert almost any POTS or 2G/3G cellular panel to LTE CAT-M regardless of manufacturer and at minimal cost.
Justin Bailey, President, AvantGuard Monitoring Centers: Rising costs have motivated AG to be more efficient in many aspects of our business to avoid increasing costs for our dealers — things such as the use of automation in customer support and AI solutions to have the ability to reduce cost while simultaneously improving response times for alarm signals. AG has also diligently rolled out a number of tools for our dealers such as our improved dealer dashboard, AG Chat, AVA, the automated voice assistant, and more to help dealers be more efficient, which helps AG be more efficient. Inflation has also required AG to reevaluate employee wages and, in many instances, increase wages to be more competitive and take care of employees across the organization.
Aria Kozak, President & CEO, Elite Interactive Solutions: There have been cost increases that are being worked into our pricing. At the same time, the rising cost of crime and the demand for business resilience exceed the current cost increases for our solution. As the leading company in crime and catastrophe prevention, the actual cost to prevent and eliminate crime is a small percentage of their business risk and potential losses. The increases in civil unrest, crime, vandalism and personal risk to stakeholders are exceeding customer concerns related to increased cost due to inflationary pressure.
What are some of the latest technology changes/improvements within your facilities?
Morgan Hertel, V.P. Technology and Innovation, Rapid Response Monitoring Services: Rapid is always adding, upgrading and working on all the new technology. During the past two years, we have been hyper-focused on coming up with better technology to increase and improve the overall customer experience. We have dramatically changed our notification applications, which include SMS, email and push notifications, and real-time milestones back to platforms. We have also implemented Dynamic Workflow, which allows us to ingest lots of relevant data about an alarm event and then alter the workflow accordingly, all without the specialists having to make decisions on their own.
Mayer: EMERgency24 is leading a beta development and testing of Honeywell's CLSS premium. Our developers and engineers have enjoyed the opportunity to collaborate with Honeywell's team. We are excited about the opportunity to provide our dealers and their customers such game-changing and innovative solutions, such as integration with RapidSOS, which will enable automatic and electronic transmission of dispatching information into the PSAP.
Peggy Page, Strategic Account Manager, STANLEY Security Wholesale Monitoring: We are currently launching one of our newest solutions — interactive video monitoring. Our trained professionals review alerts from onsite security panels or camera analytics to visually confirm if an intrusion attempt is taking place and then follow customer directed protocols for handling the alarms including notifying law enforcement or other first responders. This service is a very cost-effective way to eliminate nuisance alarms and ensure your customers are only alerted when events truly require their attention. The cameras filter alerts using analytics and Al.
Arpad Rozgonyi, COO, Swissguard Group: We have been continuously developing our suspicious activity detection capabilities with the involvement of the latest AI technologies that support the surveillance work of our watch guards. These solutions help our guards to be more focused and more precise to focus on and detect suspicious activities as early as possible to win time to act and thus prevent undesirable outcomes.
Bo Denkers, V.P. Software Engineering, AvantGuard: In the past year, we moved all voice traffic to a new telephone platform with the latest distribution facility and carrier redundancies. This platform natively supports high availability as well as AI plugins to help the agent in real-time as well as post-call quality analysis. We are also completing our three-year server and storage refresh for on-premise monitoring equipment at one of our locations.
What measures do your facilities take to assure cybersecurity and privacy of accounts information?
McMullen: Believing your monitoring centers are secure and using the best technology is one thing. Proving it and continually testing your systems is quite another. The SOC 2 certification we've maintained since 2017 clearly illustrates we have the security, systems and control procedures in place across the largest network of monitoring centers in the U.S. to reliably safeguard our dealers, subscribers and their sensitive information. We also contract with RiskSense, a leading cybersecurity firm, to perform periodic scanning and penetration tests of our network to help ensure they're protected against malicious attacks.
In the past year, we've deployed CrowdStrike, Mimecast and improved data encryption. CrowdStrike is installed on all of our desktops and server platforms and leverages advanced endpoint detection and response applications and techniques to provide an industry-leading, next-generation antivirus offering powered by machine learning to ensure breaches are stopped before they occur.
Mimecast is installed on our email server to stop cyber threats such as phishing, brand impersonation and ransomware before they get the chance to affect our business. And our password strength and update policies meet or exceed NIST standards.
Zydor: Affiliated takes cybersecurity and customer privacy very seriously. Today, the potential for and threat posed by cyberattack is as large, if not larger, than the conventional threats to monitoring that we have spent decades preparing for. We have taken a multi-pronged approach toward cybersecurity that includes cutting-edge security hardware and software, a dedicated security resources officer whose sole job is to ensure our compliance with best security practices as defined by NIST and others, and the utilization of third-party auditors who hold us to the stringent standards required to pass a SOC 2 audit.
Kozak: We have a robust cybersecurity program that runs through our entire ecosystem of advanced technology solutions. Utilizing multiple security access layers, suspicious activity rules and notifications, lockout rules and a full audit trail, Elite's services will prove to be an effective extension of your security efforts. In addition, Elite implements a physically segmented-out surveillance system network that is not in direct communication with end users' networks.
Keep reading to hear how these providers help increase RMR, address other challenges and for the 2022 interactive monitoring provider directory…
If you enjoyed this article and want to receive more valuable industry content like this, click here to sign up for our FREE digital newsletters!
Security Is Our Business, Too
For professionals who recommend, buy and install all types of electronic security equipment, a free subscription to Security Sales & Integration is like having a consultant on call. You'll find an ideal balance of technology and business coverage, with installation tips and techniques for products and updates on how to add sales to your bottom line.
A free subscription to the #1 resource for the residential and commercial security industry will prove to be invaluable. Subscribe today!