How 2022 PDQ Winner ADT Advances Alarm Response
ADT's "game-changing" technology helps first responders lessen lost resources to false alarms and focus on true emergencies. See how its smart program led to winning 2022's Police Dispatch Quality Award.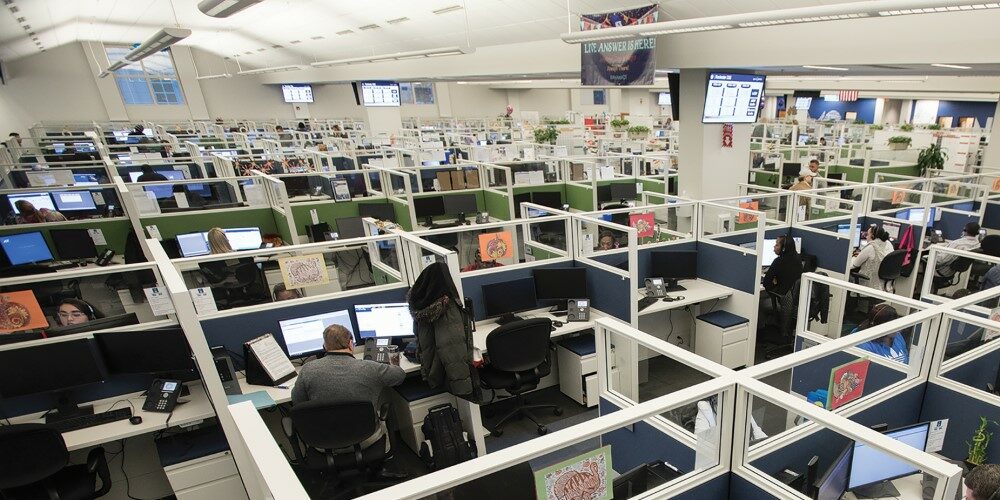 With the introduction of its System Monitoring and Response Technology (SMART) program, ADT says it is working to help prioritize alarm calls, thereby enhancing the partnership between first responders and the electronic security industry.
These efforts and results to reduce false alarm dispatches catapulted the industry's most prominent installation and monitored services company to capturing its first Police Dispatch Quality (PDQ) Award.
"The PDQ Award continues to exemplify companies that lead the way in minimizing false alarms," says Security Industry Alarm Coalition (SIAC) Executive Director Stan Martin, an SSI Industry Hall of Famer. "As the largest provider of security systems in our country, ADT's efforts to minimize unnecessary alarm dispatches benefits every security company. In many ways their alarm management practices impact how our entire industry is perceived by law enforcement. We need to acknowledge and embrace ADT's success and leadership."
14 PDQ BEST PRACTICES
1. Advertising, sales literature provide realistic expectation of alarm response
2. Salespeople explain permitting requirements, fees and fines
3. Use of Enhanced Call Confirmation (ECC, formerly ECV)
4. Contact customers after every false alarm
5. Track worst false alarm off enders and take action
6. Instruct customer on verification process and keep call lists updated
7. Ongoing communications with customers
8. Installers have minimum NTS Level I or II training or equivalent
9. In-house training must be led by credentialed instructors
10. Customers thoroughly instructed on all system operations
11. Checklists used for installers and customers
12. Unique or additional initiatives (e.g. video verification)
13. Development of strong working relationship with local law enforcement
14. Properly calculating and actively reducing false dispatch rate
The SMART undertaking continues the path forged by the 2020 launch of ADT's Alarm Messenger. When an alarm is triggered, instead of a monitoring agent calling the customer, Alarm Messenger texts or emails the customer and their emergency contacts a link to an interactive portal.
This allows quick review of the alarm information, chatting and verifying or canceling the alarm directly from their phone. In two years, ADT says more than a million emergency alarm responses have been avoided. Today, more than 3.4 million ADT customers are enrolled in the service, which now also incorporates video sharing.
"The SMART initiative is a game-changer in terms of how law enforcement and customers receive information from electronic security systems," says ADT Senior Vice President and Chief Monitoring Officer Larry Folsom. "SMART builds on previous strategies, such as two-call authentication, by providing new and innovative ways to alert and communicate with alarm site owners and managers of an alarm, faster ways for them to communicate among themselves and help assure police or emergency services are dispatched when they are needed and with the proper priority for the call."
Established by SIAC and Security Sales & Integration and endorsed by the Partnership for Priority Verified Alarm Response (PPVAR) and Installation Quality (IQ) program, the PDQ Award annually honors a security firm that best demonstrates a proactive, cooperative and successful effort in false alarm reduction strategies.
Now in its 17th year, the program's mission is to raise industrywide awareness, promote partnering with responding agencies for public safety, motivate alarm companies to take action and provide workable models. ADT was formally presented with the accolade during June's ESX show in Fort Worth, Texas.
"ADT has demonstrated that the company continues to take a leadership role to promote strong partnerships with public safety agencies and demonstrates how technology can help us enhance these partnerships," adds Martin. "SMART further enhances efforts to dramatically reduce unnecessary false alarm calls for service and prioritize the most urgent calls based on real-time information. The fact that where it's in use today the program has reduced unnecessary dispatches by 54% is a major milestone for our industry and is deserving of our recognition."
Proceed as Folsom and ADT Vice President of Customer Monitoring Technology Tom Nakatani supply more details on SMART as well as other alarm management topics.
What drove ADT to mount this comprehensive false alarm reduction program? Why is ADT proactive rather than reactive in this area?
Larry Folsom: As the most trusted name in security, we are always working to find ways to innovate the alarm process. And with false alarms accounting for a significant portion of all alarms, we targeted this area with the launch of our SMART monitoring platform. SMART is a proprietary technology that offers ADT the potential to deliver alarm signals electronically for more than two thirds of the U.S. population, removing the need for a phone call from ADT to 911 centers. ADT's electronic alarm signal delivery into 911 centers means faster notification, better accuracy and no operator delay for both ADT and 911 call takers.
In addition, SMART is able to communicate more details about an alarm, helping the dispatcher determine the type of support the customer needs. The FCC estimates that if first responders could arrive just one minute earlier during an emergency due to better location accuracy and more detailed information, 10,000 lives could be saved per year. Every second counts.
Who are the primary people responsible for developing, implementing, fine tuning and maintaining this initiative?
Folsom: Developing SMART has been a full team effort. Along with myself, some of the key people involved in the process included Executive Vice President and COO Don Young [an SSI Industry Hall of Famer], Vice President of Customer Monitoring Technology Tom Nakatani and Carie Small, director of SMART monitoring engineering [see sidebar below]. Once the technology was put together, a formal program was put in place that brought multiple business units together to deploy the solution to our customers.
ADT's field operations and monitoring both report to Young, ensuring a high level of coordination among the teams. Every team played an important role, including sales, IT, marketing, legal, operations and many others.
What modifications of the plan have been made along the way? How costly of an undertaking was it and what is the ROI?
Folsom: SMART was so successful based on our pilot program that we increased our deployment rate from 100,000 to 500,000 customers per month. There is multiyear road-map for SMART that includes providing even better information, analytics, alarm scoring, video and more. ADT is making significant investments in monitoring and has dedicated tens of millions of dollars in funding for technology, training and marketing. The SMART program is still ongoing but in terms of pure costs has already returned more than the initial investments.
What have the customer challenges and law enforcement feedback been relative to implementing the plan?
Tom Nakatani: The customer feedback has been overwhelmingly positive, and they find it easier to respond to alarms via text message. Since many people do not answer unknown calls, the SMART texting element helps to better ensure they receive communication about alarm issues and can respond quickly and easily from anywhere.
On the first responder side, 911 centers have been very receptive to the technology. It provides them with more impactful and relevant data about the alarms, helping them to better prioritize and send the appropriate response when needed.
How have the results meshed with your projections? Do you believe this approach is an example for others to follow?
Folsom: The results have exceeded our expectations. SMART has helped to reduce false alarms by 53% and helps connect ADT agents to first responders eight times faster than by voice. ADT is proud to be part of the broader security industry and the reaction we've received has been entirely positive. In this aspect, the industry stands together in our eff orts to reduce false alarms and keeping our customers safe. Based on the success of the platform, we hope that more monitoring centers will join forces and continue to improve and enhance our technology and operating practices.
What challenges did the pandemic present related to ADT's alarm management? How has the work-from-home trend altered the landscape?
Nakatani: Labor shortages during the pandemic impacted 911 dispatch locations. With the reduction in 911 staff availability, ADT looked to SMART monitoring to aid in the speed, accuracy and responsiveness to alarm signals coming from its customers. ADT responded quickly to the pandemic and moved thousands of agents to work-from-home over the span of a few weeks. From monitoring agents to technicians, many of our team members are able to work remotely, which provides greater flexibility for our employees and increased service to our customers.
How are advances in communications, technologies, standards and training, and programs like TMA's ASAP to PSAP affecting alarm management?
Nakatani: ADT has successfully managed through the AMPS, 2G and now 3G cellular transitions as well as the creation and sunset of various other alarm communication technologies and items like 10-digit dialing. Planning and handling these changes require significant resources and efforts but are part of our process.
Standards and training work hand-in-hand. For a program to be successful all parties need to work collaboratively to help ensure the process is smooth and seamless. New standards such as TMA-AVS-01 and UL 827 with work-from-home are very important for the security industry to continue to evolve.
ADT has been a long timer supporter of ASAP to PSAP. ASAP was groundbreaking when it was first deployed for the ability to deliver alarm signals, the data standard and TMA [CSAA at the time] providing an infrastructure to connect to various agencies.
SMALL PLAYS BIG ROLE IN SMART'S SUCCESS
Director of ADT SMART Monitoring Carie Small, who has been an integral part of the program's development and rollout, also contributed to this article. When she took over the SMART teams there were fewer than 100,000 customers on the platform. By the end of 2021, there were more than 3.3 million locations being protected with the service.
According to ADT, Small helped spearhead what is the fastest adoption of monitoring technology in the history of the alarm industry. That accomplishment, says this year's PDQ Award winner, is just another example of her dedication to bringing more safety and security to ADT customers, 911 centers and first responders.
Why is ADT bullish about video verification of alarms? What are the wins and ongoing challenges?
Folsom: Video has become ubiquitous for consumers and has long been a part of commercial installations. It's not just the fact that video/cameras are there, but the possibilities that have opened up with better connectivity, analytics, user interaction and standards. That's why verification, whether through video or other means, is going to be required for basic alarm handling in the future. The ability for a security company to effectively coordinate and deliver those aspects in balance with privacy and security will determine how well they succeed.
Do you see DIY or MIY having an impact on false alarms?
Folsom: Customers who opt to have professional monitoring for their DIY systems will have the same support as professionally installed customers. However, those who opt to self-monitor will be responsible for managing their alarms, which could impact the number of false alarms if not handled properly.
The PDQ program has been around 17 years, how has alarm management changed for ADT during that time? How are you celebrating winning this award?
Folsom: The PDQ program is a great venue for highlighting companies and programs that are improving the interaction between the security industry and police. ADT has continually worked to define and adopt industry standards for managing alarms, and has led the way with new technologies and processes. SMART has been the most impactful, quickly adopted and effective of any program during this time. ADT has already issued press releases related to the PDQ Award and will incorporate the win in future marketing and sales materials.
If you enjoyed this article and want to receive more valuable industry content like this, click here to sign up for our FREE digital newsletters!
Security Is Our Business, Too
For professionals who recommend, buy and install all types of electronic security equipment, a free subscription to Security Sales & Integration is like having a consultant on call. You'll find an ideal balance of technology and business coverage, with installation tips and techniques for products and updates on how to add sales to your bottom line.
A free subscription to the #1 resource for the residential and commercial security industry will prove to be invaluable. Subscribe today!
One response to "How 2022 PDQ Winner ADT Advances Alarm Response"