Top 5 Networking Challenges and How Network Testing Can Help
New advancements in dedicated network test technologies can help alleviate some of the growing pressures network engineers face.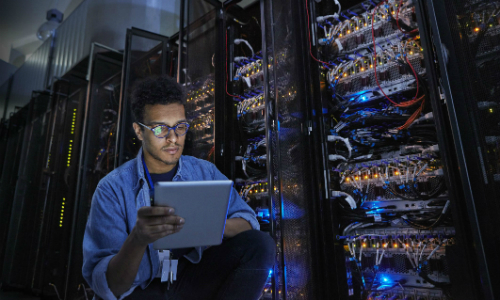 Network engineers have an increasingly important — and challenging — role to play in keeping a company's network operating smoothly. In addition to the basic duties of designing, deploying and troubleshooting today's complex networks, they're also tasked with configuring security systems, monitoring performance, and understanding and implementing a broad new set of technologies like software-defined networking, IoT, Cloud and more.
With more responsibility than ever before, it's no wonder that network engineers — and the technicians on their teams — feel overwhelmed.
In fact, in a recent Spiceworks survey of more than 250 IT pros and MSPs/IT service providers, 40% of respondents cited that they face challenges in network and device deployment, 35% in network management and maintenance, and 28% in network related organization and staffing issues. Across these categories, respondents noted five key challenges impacting their networking operations and testing, including: constant upgrades, security issues, time constraints, monitoring and analysis and finding qualified hires.
Organizations are relying more on solutions that centralize network management and configuration. Engineers are using software tools, such as protocol analyzers, and purchased or home-grown scripts and programs to address their problems. But these tools are often so highly specialized that field technicians cannot be easily be trained or trusted to use them effectively.
The result is that field technicians are limited to performing basic tasks with PCs or laptops and cannot do much troubleshooting. The visibility gap between engineers that seldom have time to go onsite and field technicians that typically lack the knowledge or insight to understand or articulate the problem at hand is growing. This can cause delays in problem identification, isolation and resolution.
This is where new advancements in dedicated network test technologies help alleviate some of the growing pressures network engineers face. Let's look at these five challenges a bit more in-depth.
1. Constant Network Upgrades
As technology trends change and digital transformation continues, IT is tasked with staying on top of it all. This can put organizations in a constant cycle of upgrades. For example, look at the churn of Wi-Fi technology that networking teams have had to address over recent years as it has migrated from 802.11n to 11ac to 11ax. Or the advent of high-power PoE, which has put pressure on IT to be in the "power delivery business," not just the "data delivery business." And now, the constant demand for more bandwidth and capacity across networks with mobile devices and guest support is driving NBASE-T and even 10G technology in the access layer.
But beyond managing new technology deployments, IT also must deal with aging devices, legacy infrastructure and tech refresh projects, software and firmware upgrades, and more. These often trigger a wave of change across the network. For example, when an access point is swapped out, it can require uplink and switch upgrades, which in turn can mean VLAN configuration changes, and so on. The reality is, most organizations endure change on a weekly or monthly basis.
To help manage this change, IT teams can utilize dedicated network test solutions to prepare for change — assess the network's "as-is" state — validate deployments and document the results. For instance, doing pre-deployment performance testing can establish baselines and validate network quality and performance before rolling out a new technology or migrating to a new standard. And by identifying and eliminating any pre-existing conditions prior to updates, IT can remove confusion after deployment, should problems arise.
Network discovery can help document the "as-is" state prior to making any changes: cable-to-switch connection, port-level PoE/VLAN provisioned, and network path used from client to critical applications. When surprises occur during upgrades, dedicated network test solutions can expose network and device status to technicians on the ground so they can clearly document and report to the engineer in order to remediate the issues quickly. 
Today's organizations are concerned with how to secure network devices, and with good reason. The dramatic increase in Wi-Fi, BYOD, IoT, smart lighting and more, have made it difficult to stop the spread of threats like malware (especially when most of these devices have little to no security embedded). As teams struggle to find the best ways to secure the network, some put in sensors to scan for devices, audit the airspace to eliminate rogues, isolate traffic with VLANs, create no Wi-Fi zones or add complex authentication schemes for connecting to the network.
Dedicated network test solutions offer a solution for all of these tactics. For example, with "no Wi-Fi" zones, technicians can walk the floor and scan for rogue devices on wireless networks including hidden SSIDs. Technicians and engineers can also validate authentication schemes, create a device inventory, validate key device accessibility by VLAN or SSID, or expose RF health issues (which could be a sign of a security problem). Today's testers also work with Cloud services, allowing teams can instantly share and document their work around device management and rogue hunting. 
3. Time Constraints 
It's no secret that IT teams are overburdened, have limited resources and struggle to be as proactive as they'd like. Many organizations have let tool sprawl (adopting a mix of tools that technicians can't use or tools so specialized they are not commonly brought on site) get out of control. And as a result, IT organizations are working to consolidate and simplify network management systems and tools.
Centralized visibility through network management systems is good thing, but comes with its own set of coverage, deployment, maintenance and training challenges. And, when troubleshooting networks onsite, there's still no replacement for an engineer or technician with a testing solution in hand to get to the root cause.
Understanding the status of the network at an exact moment in time (from the end-device's perspective) is key to identifying and resolving issues. Changes to network configurations and the overall environment in which clients operate are constantly happening. Understanding the "true current" state of the network is critical when troubleshooting, provisioning, and properly documenting it.
For example, a testing solution that can quickly verify the switch port that a client device is connecting to, the path that packets take to reach a server, and the stability of the DNS service are important visibility elements that cut down on problem isolation times. In case on-site technicians are not equipped to conduct such analyses, a tool that allows remote control by offsite engineers to execute and interpret the result will dramatically reduce mean-the-to-resolution (MTTR) and reduce down time. 
4. Monitoring and Analysis 
When it comes to monitoring uptime and firmware levels or conducting real-time analysis, centralized management systems really help, but it still might not cover highly-distributed access networks. Consider this example: Wi-Fi reception is highly affected by barriers and noise sources in end-user environments.
Barriers such as stack of paint cans, new partitions in offices, a metallic conduit for ventilation, and adjacent Wi-Fi networks can all affect Wi-Fi performance. These changes may alter its bandwidth or connectivity. Worse, what if the environment is changed without the IT team's knowledge? To identify these issues, you can't totally rely on the network management system or tribal knowledge. On-site visibility with capable hardware to detect the true, current status of the environment is the key to quick isolation.
Organizations that rely on advanced dedicated network test solutions can verify performance and functionality of devices and networks to validate uptime. Today's solutions offer a variety of end-to-end performance testing (for latency, loss, jitter and path analysis). For example, if a client is talking to the internet for a video streaming service, the traffic would be routed through a switch.
If that switch goes down, the traffic may default to a secondary switch that's not designed to handle the increased load, resulting in poor performance. Using a dedicated network test solution, a technician could quickly isolate that issue. Additionally, some of these solutions allow technicians to share test results for analysis by peers or other engineers by uploading them immediately to the Cloud for collaboration.  
5. Finding Qualified Hires 
Finally, many IT organizations struggle to find and retain qualified talent. But it's about more than just finding staff with the right certifications; they must be able to quickly learn the network configuration and topology and have real network troubleshooting experience.
Finding these candidates takes time and resources. In a world where most organizations are already battling to maintain a minimal headcount, hiring can be an ongoing challenge. As a result, the existing engineers and technicians are frequently asked to do more with less, onboarding inexperienced new hires, conducting constant training, and working with tools that may be too difficult to operate or interpret.
The good news is that engineers and technicians who are armed with the latest dedicated network test solutions can simplify network troubleshooting and validation with test automation, Cloud collaboration, and an increasingly broad set of testing capabilities. Engineers no longer no longer need to go through complex tool configurations that traditionally take hours to perfect or explain to technicians.
For instance, when deploying switches to support VoIP, the network requires multiple VLANs to be configured to support clients and different traffic types. With preconfigured autotests, these network testing technologies can perform multiple VLAN and SSID validation in a single button press. This information can instantly be shared up to the Cloud so a more experienced engineer can advise the onsite technician. This saves a ton of time and streamlines the documentation process, and frees up engineers from "hands on" networking so they can focus on management and planning duties. 
As networks continue to increase in size and complexity, managing and troubleshooting them will become more demanding. The challenges discussed above are constant across virtually every IT department, and they're not likely to disappear anytime soon. But understanding these issues and how advanced network testing solutions can alleviate them can empower engineers and technicians with the visibility, access and collaboration they need to maintain high-performance networks. 
---
James Kahkoska is CTO at Colorado Springs, Colo.-based NetAlly, formerly a business unit of NETSCOUT and previously part of Fluke Networks.
If you enjoyed this article and want to receive more valuable industry content like this, click here to sign up for our FREE digital newsletters!
Security Is Our Business, Too
For professionals who recommend, buy and install all types of electronic security equipment, a free subscription to Security Sales & Integration is like having a consultant on call. You'll find an ideal balance of technology and business coverage, with installation tips and techniques for products and updates on how to add sales to your bottom line.
A free subscription to the #1 resource for the residential and commercial security industry will prove to be invaluable. Subscribe today!