Security Pros Share Success, Sharpen Skillsets at SSI Summit
The Total Tech Summit convenes several hundred of North America's top integrators to heighten their operational and product solutions.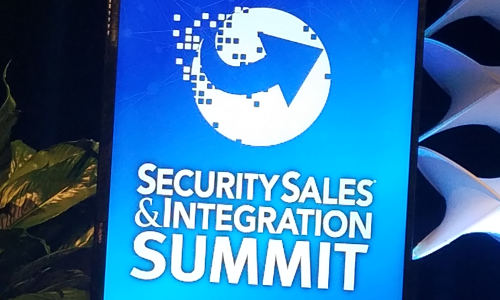 Photos and Videos
View Slideshow
PITTSBURGH ― Security was prominent on everyone's mind as the 8th Annual Total Tech Summit (TTS) that included the Security Sales & Integration Summit was held here Nov. 7-9, just a few miles away from the Tree of Life synagogue shooting that left 11 dead less than two weeks prior.
In recognition of that SSI and event organizer AE Ventures scrambled to add securing houses of worship as an additional topic to the already jam-packed agenda.
In opening the event, SSI Editor-in-Chief & Associate Publisher Scott Goldfine told SSI Summit attendees, "Your jobs as security integrators are always important, but just recently we found out how important providing security truly can be. Increasing security is going to be at the forefront for many houses of worship going forward. With that in mind, we will be dedicating a portion of this event to exploring solutions you can employ in those projects so you can help prevent incidents like this recent tragedy."
With sister publications CE Pro and Commercial Integrator making up the other two-thirds of the TTS, the event hosted almost 400 integrators from 275 companies this year.
The itinerary included educational sessions, keynote, networking events, plus a vendors expo, presentations and prescheduled one-on-one meetings with attendees.
The SSI Summit gathered 105 leaders from top security dealer and integration businesses throughout North America, representing more than $1.8 billion in residential and commercial market revenues and in excess of 158,000 installations for 2018.
In addition to the opening remarks, Goldfine led two presentations including a best practices roundtable session focused on effective internal and external communications, and better managing projects from both logistical and financial standpoints.
Following the panel discussion, each attendee table was assigned one of two challenge questions centered on the topics of company communications and project management, and given time to collaborate on ideas with the best ones being shared with everyone.
The communicated ideas included: sales reps give clients a call when in their area; using a personalized email address with the company's domain name in it; providing large customers with a personalized phone number; tailoring a CRM to capture personal info on customers, such as preferred contact method, preferred times, things they like to do and participate in and important product features to them; be proactive in monitoring their systems so when, for example, a camera is down it is addressed before they are even aware of it; promote engagement using an app or other means; assign specific techs to the account; host a mixer with existing and prospective customers; and have auto-acknowledgements in place when emails or social communications are received.
The project management ideas included: implement WHIP (work hours in process); standardize estimating along with a management review; standardize work instructions and cross train technicians; execute presale engineering; verify scope with the customer; invoke RAM (resource allocation management); offer technicians a loaded labor rate with a performance bonus; emphasize continuous communications especially involving changes; conduct weekly project meetings; conduct pre- and post-sale meeting with operations and sales; stay on top of new product training; use templates to ensure consistent processes for accuracy and uniformity; automate as many processes and procedures as possible with leading software; and standardize labor for specific tasks.
Goldfine also presided over a commercial markets voice of the customer session that allowed integrators in attendance to become more intimate with those security challenges and needs. Included were representatives from major healthcare, banking and commercial real estate communities.
Access control solutions were high on the minds of the former and the latter, while cybersecurity was most prominent in the banking concerns.
SSI Editorial Director Jason Knott led a panel called, "Fresh Horses: Products & Applications Your Company Can Ride for Revenue & Profit Growth." Takeaways from the four areas of concentration were as follows …
Houses of Worship — early detection is key, recommend cameras in parking lots; electronic security is only part of the solution, also focus on training and emergency response lockers; and show tact at all times.
Hosted Video & Access Control ― Best with light commercial niche, combine onsite with Cloud; remote monitoring is not specific to any industry, all can benefit in some way.
Interactive Monitoring — Make cameras with analytics part of a core offering; there is no reason every alarm system customer should not use interactive services in some fashion; clients' use of it brings less attrition, additional RMR and more equipment sales.
Voice Control ― Although 70 million homes are projected to have an interactive speaker by the end of 2019, it's still early from a security usage standpoint; it is not just a residential solution; consider targeting boardrooms.
Nightingale Security CEO Jack Wu, whose company served as the cover story for May 2018's SSI Robosecurity Issue, took to the stage for "Adding Drones to Your Solutions Mix."
Referring to drones as robotic air systems (RAS), Wu pointed out their high value and cost effectiveness as compared to humans for tedious and repetitive tasks like patrols and monitoring; faster incident response when every second counts; and better suited to monitor large facilities.
He said just about any market where they have a larger area and perimeter, multiple locations, valuable assets and/or regulatory requirements is a candidate to deploy RAS.
The capabilities of Nightingale's drones are simply amazing, but best of all the company is looking to partner with security integrators to deliver total solutions.
5G Disruption 
How game-changing will the cellular communications looming advancement to 5G be? So much so that it served as the TTS keynote topic for the second year in a row.
DISH Executive Vice President Tom Cullen, whose company has acquired a tremendous amount of spectrum space the past few years to position itself as a 5G leader, touched on the innumerous ways in which the exponentially faster technology will revolutionize the commercial, institutional, government and consumer sectors.
The technology will transform networks and fully enable the Internet of Things (IoT), opening up a new universe of opportunities as well as challenges for security integrators.
Cullen outlined key elements of that dynamic as: massive data collection; advanced pattern recognition; predictive analytics; pioneering insights from data; increasing network security risk; and mounting privacy concerns and regulation. The 5G platform will begin to emerge in 2019 and by off and running by 2020.
To see what took place at the Total Tech and SSI Summits 2018 and pick up a few more tidbits, continue on to the slideshow. Next year's TTS will be held in Fort Worth, Texas.
If you enjoyed this article and want to receive more valuable industry content like this, click here to sign up for our FREE digital newsletters!
Security Is Our Business, Too
For professionals who recommend, buy and install all types of electronic security equipment, a free subscription to Security Sales & Integration is like having a consultant on call. You'll find an ideal balance of technology and business coverage, with installation tips and techniques for products and updates on how to add sales to your bottom line.
A free subscription to the #1 resource for the residential and commercial security industry will prove to be invaluable. Subscribe today!