Napco, UEI Lead Smart Home Stocks in 2019
Stocks of 50 major smart home-related companies averaged a stock price increase of 29% in 2019, led by impressive gains from UEI, Napco and others.
Public companies engaged in the smart home market had a stellar year in 2019 as the average stock price rose a whopping 29%. The strong smart home stock gains were welcome news after 2018 during which smart home public companies suffered average stock price losses of 19%. But those losses are long forgotten by smart home investors in 2019 as the 50 public company stocks tracked by SSI sister publication CE Pro had an extraordinary 29% stock price gain on average.
Those 2019 gains are in line with similar stock gains in 2017 (up 40% on average) and 2016 (up 22%). The increase for smart home stocks mimicked the overall markets for 2019, which also saw massive growth. The S&P 500 gained an identical 29% for 2019, while the Nasdaq had its best one-year performance in six years rallying 35% overall for the year, and the Dow Jones Industrials rose 22%.
As noted, the list of publicly held companies tracked by CE Pro includes 50 companies this year. Companies that are tracked include retailers, manufacturers, component-level suppliers, cable and satellite TV providers and more. The list changes every year as companies buy into the smart home space, or sell their smart home assets.
Indeed, some of the notable changes this year include:
Home Depot and Lowe's were both dropped from tracking since the warehouse giants both dropped their respective DIY smart home lines, Wink and Iris.
Control4 is also off the list. The company was acquired by SnapAV in May, taking the previously public company private.
Honeywell is no longer tracked since it spun off its smart home division to Resideo.
Ascent Capital, owners of MONI and Brink's Home Security, voluntarily delisted its stock in 2019.
United Technologies is still on the list for 2019, but the company is exiting the smart home arena with the announced shutdown of Interlogix at the end of 2019.
TiVo and Xperi have a pending merger that will unite those stocks in 2020.
Anixter will be dropping off the list in 2020 following the completion of its $3.8 billion acquisition by private equity company Clayton, Dubilier & Rice (now reported to be worth $4.3 billion) due for sometime in early 2020.
Mosaic Acquisition Corp. is new to the list after its buyout of Vivint, the No. 1 company in the CE Pro 100, for $5.6 billion. As part of the deal, Mosaic will be taking on the Vivint Smart Home brand name.
As always, many of the stock prices (rise or fall) are not necessarily directly reflective of the state of the smart home market. Most of the companies on the list are highly diversified companies engaged in multiple industries, from automotive to commercial security to elevators.
2019 Smart Home Stock Results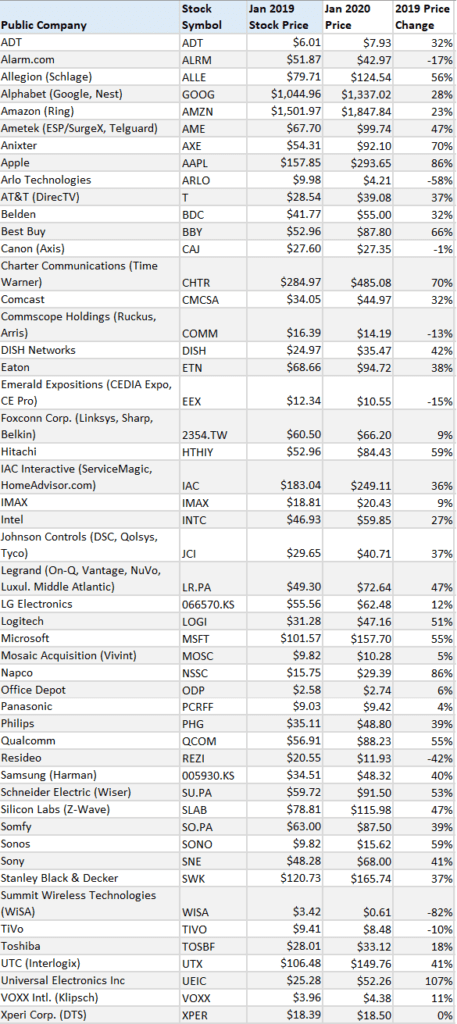 In 2019, 42 of the 50 stocks showed price gains. And 36 of those gainers tracked had double-digit stock price gains in 2019.
The biggest gainer in 2019 was Universal Electronics Inc. (UEI), makers of remote controls and other interfaces. The company's stock rose 107% last year. However, in 2018 UEI was down 49%. So since the end of 2017 the stock has moved from $49.65 per share to its current $52.26 per share.
For the third year in a row, Napco Security had a stellar year. In 2019, its stock rose an incredible 86%. That is on the heels of an 82% stock price gain in 2018. Napco's stock has risen from $8.65 per share at the end of 2017 to $29.39 at the end of 2019. That represents a 240% gain in two years. The company's iBridge home automation platform is catching on with both security integrators and custom electronics dealers alike.
Other solid smart home stock gainers in 2019 were Apple (86%), Charter Communications (70%), Best Buy (66%), Hitachi (59%), Microsoft (55%) and Logitech (51%).
Sonos had a solid rebound year. The company launched its original IPO at $15 per share in September 2018 only to see it fall to under $10 per share by the end of 2018. But the stock ended 2019 at $15.62.
IPO Stock Trend Is Less Than Stellar
Among the eight smart home stock companies that had lower prices, several were companies that had launched IPOs in 2018.
Other than Ascent Capital, which delisted its stock after filing for bankruptcy in May, the company with the deepest stock price decrease last year was Summit Wireless Technologies, proprietors of the WiSA high-res wireless audio standard. The stock had an IPO at $5 per share in July 2018, only to end 2018 at $3.62, down 32%. The spiral continued in 2019. The stock fell another 82% to just $0.61 per share.
Another IPO that has not fared well is Resideo. The Honeywell spinoff launched at $28 per share in October 2018. By the end of that year it was down 37%. The trend continued in 2019 as the stock fell another 42% to $11.93 per share. The price dip has not stopped Resideo from being proactive in the market. The company has made several key strategic acquisitions that potentially position it well for future growth.
Yet another IPO that appears to have fallen flat is Arlo Technologies, makers of residential surveillance cameras. The stock launched in August 2018 at $16 per share. It ended 2019 at $4.21 per share. That is a 73% decline over two years.
---
This article first appeared on SSI sister publication CE Pro. 
If you enjoyed this article and want to receive more valuable industry content like this, click here to sign up for our FREE digital newsletters!
Security Is Our Business, Too
For professionals who recommend, buy and install all types of electronic security equipment, a free subscription to Security Sales & Integration is like having a consultant on call. You'll find an ideal balance of technology and business coverage, with installation tips and techniques for products and updates on how to add sales to your bottom line.
A free subscription to the #1 resource for the residential and commercial security industry will prove to be invaluable. Subscribe today!