Are Pro Security Companies on Amazon's Shopping List?
Buying an alarm company such as Brink's or Vivint would give Amazon an army of techs to sell more security and home automation gear and reduce the cost of truck rolls by saturating the market.
In April, Amazon launched a home security portal that gathered a bunch of "smart security" products that the e-retailer already sold and bundled them into five "smart security packages designed for peace of mind," with the "smartest" kit selling for $840, including installation (see details and analysis here).
That bizarre bundle includes a Ring video doorbell — battery-powered only, not hardwired — along with a Wink home automation hub, Amazon Echo Dot, a cheap IP camera (Xiaomi Yi), an indoor air quality sensor (Awair), a couple of motion-activated floodlights and a few Z-Wave security sensors.
It also includes a $25 Bluetooth speaker (Oontz from Cambridge SoundWorks) so you can "Ask Alexa to play music or dog barking sounds while you're away to make it look like you're home."
As I said, big whoop. Nothing to see here. Just Amazon throwing together a bunch of the cheapest products it could negotiate.
But there will be something big in security, and it will probably happen within a year because Amazon needs feet on the street — lots of them — for the next important phase in their evil plan to take over the smart home.
Sure, Amazon will want the recurring revenue that comes with professionally monitored security systems, but when the company acquires an alarm company, it will do so for other reasons. The reasons boil down to these:
Amazon can't install their own security products (Ring or others) without alarm certifications.
They want as many technicians as possible driving around in service vans in order to reduce the cost of a truck roll and hasten service—just as with Amazon deliveries.
They want to increase the tab on every single service call by selling more items with each site visit. It's pretty simple to attach home automation and networking devices to security projects sold/installed by a pro.
Two words: Amazon Key.
They will want an excuse to build out a remote network monitoring and management system for consumers. They will become the managed service provider for the home.
1. Amazon Can't Install (Real) Security Today Through Smart Home Services
Last year, Amazon launched Smart Home Services. Since then, they've been hiring and training technicians as fast as possible to do free "smart home consultations" and WiFi assessments, and to install and service products like those mentioned above.
The reason their "security" packages today are so silly (see below) is that they don't have licensed security dealers to do real alarm systems. In fact, we imagine Amazon techs can't even install the Ring doorbells in many jurisdictions due to licensing requirements for surveillance system jobs.
Where, then, does that leave Amazon with its shiny new $1 billion acquisition of Ring (Bot Home Automation)?
Today, Amazon probably couldn't install the professionally monitored Ring Alarm system (formerly Ring Protect) in most U.S. states and localities due to quirky regulations that generally have nothing to do with security and everything to do with politics. (Of course, Amazon couldn't install Ring Alarm anyway, because it isn't actually available yet, despite the company having settled the "Zonoff" lawsuit with ADT.)
The Comcasts and ADTs of the world employ armies of professionals to stay on top of local regulations. On top of the alarm and surveillance laws, there are rules for installing door locks and low-voltage gear, including silly things like power-over-Ethernet.
That probably explains why Amazon isn't installing Ring's wired video doorbells as part of the security packages. The other explanation would be that doorbells can be tricky to install, depending on how a front door is (or isn't) wired.
It would make perfect sense, then, for Amazon to acquire a large national security provider.
2. More Techs = Faster, Cheaper Truck Rolls
Once Amazon has hundreds or thousands of qualified technicians in the field, they will be able to provide near on-demand service for installations and "consultations"—not unlike what Uber does today with rides, and Amazon does with deliveries.
Today, not even Amazon can make much money charging $129 to install a thermostat or a video doorbell because…truck rolls. But when the fleets get bigger, and the techs more plentiful, the price of a truck roll tends toward zero.
Take a logistics powerhouse like Amazon, and every last second of a tech's time will be spent selling and installing, rather than wasting gas going to and from customer homes.
Amazon has promised to provide smart home services for Lennar's "WiFi Certified" homes, but it's having a tough go at it, sources tell us.
With its 2017 acquisition of CalAtlantic, Lennar is expected to build some 41,000 homes per year. There's no way Amazon can service these communities without a large fleet of qualified technologists, and a professional security offering to boot.
I'm pretty sure Lennar is begging Amazon to do something fast on this front.
The best way to get a whole bunch of home technologists — especially in this painfully tight labor market — is to acquire a security company because there are no general purpose national "smart home" installation companies that aren't attached to an alarm company, except for Geek Squad.
3. More Tech to the Top Line
Amazon can't sell stuff. They can "carry" stuff but they don't sell per se. They have that really sophisticated recommendation engine for online shoppers, but it isn't terribly useful if someone buying a security system sees a suggestion to "add smart lights" to the order.
A trained home technologist, however, can easily connect the dots for customers: Wouldn't you like your lights to turn on during an alarm event? Don't you want a better WiFi router for that new wireless video doorbell?
Hey, did you know your particular 911 provider won't dispatch police without video verification? …I have all these goodies on my truck because we have the very best research on the planet so I knew you'd want me to go ahead and install them now.
Professional security dealers report 36% of their alarm systems include networked cameras, according to smart-home research firm Parks Associates.
The pros even manage to attach smart thermostats to 16% of their security jobs. It would be surprising if Amazon.com had this kind of success with attachment sales.
Amazon's new "security packages" entail two customer visits — one for the initial in-home visit to "identify your needs and learn more about what you want," and the other to install and configure devices.
Considering the street price of Amazon's "Smartest" package, we have an effective labor charge of about $232 total for those two visits (math below).
Even with decent product margins that Amazon can eke out of vendors (especially the ones it owns), that's still not a whole lot of money for two service calls. The math is below.
In motivation #2 above, we discussed adding to the bottom line by saturating the market with service providers to drive the cost of truck rolls to practically nil.
Now we consider adding to the top line by selling more things. Sure enough, "Every home is different," Amazon says in promoting the security packages. "That's why your smart home experts customize your package. Your expert can tailor it by adding more cameras, upgrading to the Echo Show, and more."
What a coincidence…Amazon itself makes cameras (Ring) and the Echo Show.
4. Amazon Key to Open More Doors
Per item #3 above, a couple hundred dollars for two truck rolls might not be so hot, but what if those truck rolls opened doors to more Amazon sales? Like, literally?
Simple: The security dealers install smart locks and cameras for Amazon Key — the service that facilitates unattended access to customer homes — and paves the way for additional Amazon deliveries, whether from Amazon.com, Amazon-owned Whole Foods, affiliated restaurants, or all the countless products and services Amazon will launch in the future.
5. The Consumer's Managed Service Provider
There's a saying among home-technology integrators: Own the network, own the home.
With the emergence (presumably) of the "home CSO," the saying might go more like this: Own the security, own the network, own the home.
Alarm providers are already protecting your physical property, so they're in a strong position to protect your digital property while they're at it — the premise of the "home CSO" CE Pro reference in its Top 5 Home Tech Trends report for 2018.
Why not? They're already touching your security system and IP cameras — things that sit on a home network. It's why Comcast is partnering with Cujo for the Xfinity Home security and automation service, and ADT is adopting Symantec's Norton Core and building its cybersecurity portfolio with acquisitions like DataShield.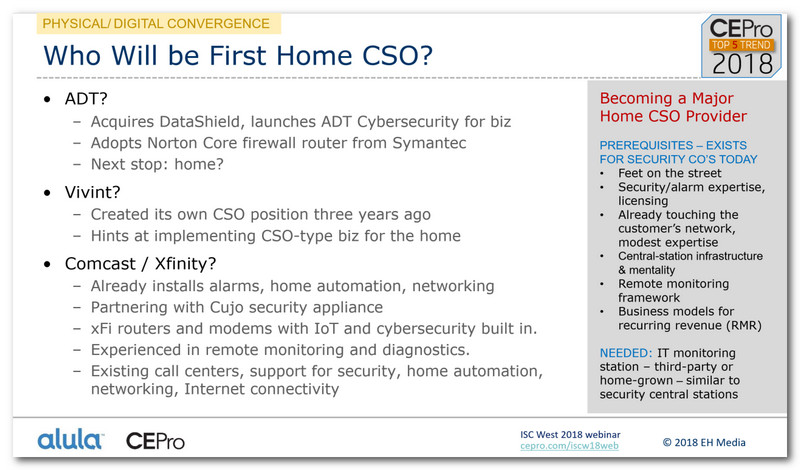 Amazon won't stop there. It will want to tunnel into the home networks it "owns" so it can provide remote tech support and "managed services" for all the things it sells and installs.
Want to reduce the cost of truck rolls? Don't roll a truck. Do it all remotely with software used to predict technology failures (Amazon knows a thing or two about AI), troubleshoot tech issues and fix problems before they happen.
Those problems, by the way — caused by product failures, network issues, power surges, human error and so many other unknowns — are the same problems that cause people to return products to Amazon at great expense to the company.
And while Amazon would actually be saving money with such a service it will make money in the process by charging customers for this service.
And then it will pile even more revenue on top of the managed-services fee because it will have such deep data into product usage, failures and other tech happenings that the rest of us won't stand a chance. This is Amazon's Holy Grail.
And it will all start with the acquisition of a security company because Amazon needs feet on the street to sell, install and service technology in the home.
Who Would Amazon Acquire?
VIVINT seems a likely acquisition target for Amazon. Owner Blackstone has been looking to sell or go public with the #2 U.S. home security provider at least since late 2017, valuing the business at about $3 billion. Vivint has a side benefit of a fairly rich portfolio of patents and applications … something that Ring (Bot Home Automation) does not. (Vivint patents here; Ring here)
Vivint is said to currently has about 1.3 million subscribers and gross revenues of $882 million for 2017. The company is a sales machine, making its vast fortunes in door-to-door sales, but now diversifying with new models like in-store sales through Best Buy. Of course, the Best Buy connection could be a curse for Amazon. Those two companies don't get along too well.
Vivint wouldn't be Amazon's only option, however. For example, GUARDIAN PROTECTION SERVICES in Warrendale, Penn., has decent national coverage, with 327,000 monitored accounts. It is also part of the Armstrong Group of Companies, which owns several regional communications companies to make things interesting.
Cable companies and telcos could feed Amazon with additional human resources at a time when the supply of skilled technical labor is severely constrained.
And then there's BRINK'S HOME SECURITY (formerly Moni, nee Monitronics), with its vast network of independent security dealers. After Moni acquired rights to the Brink's moniker last year, the company went from virtually zero brand recognition to the #2 most recognized brand in home security. Amazon + Brink's? Yowza.
VECTOR SECURITY, also based in Warrendale, Penn., could be another interesting prospect for Amazon. The provider is owned by the country's oldest insurance company, The Philadelphia Contributionship, which could give Amazon a boost in that business category.
More interesting, perhaps, is that Vector has expanded its offerings into managed network services for commercial businesses.
While these services have yet to come to the consumer market, I am fairly confident that traditional alarm providers will begin to offer both physical AND digital security services in the very near future.
We can expect to see the role of Chief Security Officer (CSO) in the home following the same trajectory as in enterprises and small/medium businesses.
"Home CSO" was named a CE Pro Top 5 Home Technology Trend for 2018.
One way or the other, it will happen, and Amazon will come to own a security installation company and central station, with access to hundreds or thousands of alarm techs.
That could be a problem for traditional home-technology professionals …
---
Editor's Note: This article first ran in Security Sales & Integration's sister publication CE Pro.
If you enjoyed this article and want to receive more valuable industry content like this, click here to sign up for our FREE digital newsletters!
Security Is Our Business, Too
For professionals who recommend, buy and install all types of electronic security equipment, a free subscription to Security Sales & Integration is like having a consultant on call. You'll find an ideal balance of technology and business coverage, with installation tips and techniques for products and updates on how to add sales to your bottom line.
A free subscription to the #1 resource for the residential and commercial security industry will prove to be invaluable. Subscribe today!