TRENDnet vs. Comtrend: Battle for Ethernet Adapter Supremacy
This month's Bench Test examines and tests two powerline Ethernet adapters from TRENDnet and Comtrend for a side-by-side comparison. Find out which came out on top.
In the world of electronic communications there is always that one spot where you need an Ethernet connection for a device but, as luck would have it, there isn't an available network drop or there's a solid concrete wall in the way of getting a wire to the location.
Thankfully the product wizards at several companies have worked to break through that problem by using the existing electrical infrastructure of a building.
This month, we examine and test two powerline Ethernet adapters from TRENDnet and Comtrend for a side-by-side comparison. Both companies manufacture networking hardware for consumer and business environments; however, TRENDnet has a wider portfolio of products.
The devices we tested from each manufacturer involve the use of two adapters on a building's powerline structure to transmit and receive data. Each set of adapters is designed to use the existing wiring of a building to provide a network backbone from point A to point B.
While both sets of adapters tended to perform well in a same room test there were noted issues when attempting to connect in another section of a building, making for a strong differentiation between the two products.
Construction
Both sets of adapters from TRENDnet and Comtrend have a white plastic outer casing that houses the internal electronics. While this design is acceptable it would be nice if the devices were enclosed in a metallic case for better protection, given they are being sold into commercial applications.
The Comtrend adapters are close to each other in size, with the primary unit measuring 5 X 2.25 X 1.5 inches, while the PoE unit measures 3.5 X 2.25 X 1.5 inches.
In contrast, the TRENDnet units measure 5.5 X 2.5 X 1.75 inches just slightly larger than the competitor's adapters. The Comtrend primary unit we tested has a "pass-through" socket on the front, allowing an electrical device to be plugged in so an outlet isn't blocked off from providing power.
While this is a handy idea for say, plugging in a lamp, it should be noted that both manufacturers stress avoiding certain electrical products on the same power circuit, especially motors and fluorescent lighting.
Every adapter has a three-prong power plug on the rear of the respective units with the TRENDnet adapters having a plastic securing tab on the bottom of the unit. This plastic tab allows the device to be secured to the outlet via the outlet's cover plate screw.
This is a good idea as it helps to prevent someone from indiscriminately unplugging the adapter to get to the power outlet.
The devices all ship with a Cat-5 jumper cable, which is nice for the consumer side of their businesses. We believe it would be rare that any of those cables would be used in a CCTV installation because of the short lengths provided. However, a Cat-5 jumper cable is always handy, so we won't criticize.
Features
The feature set for both manufacturers' devices is straightforward as you can imagine for such specialized equipment. Both manufacturers provide a method of extending the network backbone through existing electrical wiring and they can provide PoE for the edge devices.
The pass-through outlet on the Comtrend, as previously noted, is handy but care must be taken regarding interference devices like motors and fluorescent lighting. The fact that both ends have PoE on the TRENDnet units is a plus as well, making it a wash on the features scoring.
Setup
Both sets of the adapters need to sync with each other's primary and secondary units initially. This consists of plugging in both devices and allowing them to sync to each other via the electrical network. If they don't sync up each unit has a reset button to allow the devices to perform their search again.
It is noted in the configuration documents the Comtrend units are recommended to only be placed on the same electrical phase throughout a complex or building, while the TRENDnet devices don't have any restriction like that.
Testing
Plugging each set of adapters into a room's group of outlets allowed both sets of powerline devices to sync between each other. For testing purposes, we utilized a 5MP IP camera to provide the data stream from the remote powerline adapter to the local powerline unit.
The video stream was clear between both sets of devices and there were no perceived packet losses for either set of powerline adapters. We next moved the remote powerline adapter to another room, first with the Comtrend and next with the TRENDnet devices.
We had problems with the Comtrend devices connecting at first when they were a room away but the devices finally synced up and provided an acceptable video image.
Later, we moved the Comtrend remote powerline adapter to another section of the upper level and we could not get the devices to sync up.
Reading through the troubleshooting information, we noted the Comtrend units tend to have connection issues when they are on different power phases of a building, thus hindering their operational use.
We began testing the TRENDnet powerline adapters following the Comtrend units. The TRENDnet units worked fine in a known environment (single room) as well as in extended electrical rooms (same two used to test the Comtrend units). We didn't have any of the connection issues with the TRENDnet units that we encountered with the Comtrend versions.
Conclusions
Both sets of powerline adapters worked well in our test environment, but when the distance was increased and the test environment became more challenging, the Comtrend couldn't match the TRENDnet.
The latter tended to consistently connect even in cases where the wiring might not be properly phased throughout a location. Your mileage may vary; we're not saying these devices will work everywhere but they are worth a try before undertaking more costly interconnection methods in certain applications.
Because of the inconsistent connectivity issues, the Comtrend units become a very localized solution in our opinion. Given that the Comtrend units failed in areas where the TRENDnet worked perfectly, we find it hard to recommend it, particularly since both offerings are similarly priced.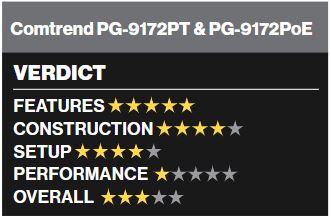 ---
Products are tested and reviewed by R. Grossman and Associates Inc., an independent consulting firm specializing in electronic security products and projects. For more information, visit www.tech-answers.com.
If you enjoyed this article and want to receive more valuable industry content like this, click here to sign up for our FREE digital newsletters!
Security Is Our Business, Too
For professionals who recommend, buy and install all types of electronic security equipment, a free subscription to Security Sales & Integration is like having a consultant on call. You'll find an ideal balance of technology and business coverage, with installation tips and techniques for products and updates on how to add sales to your bottom line.
A free subscription to the #1 resource for the residential and commercial security industry will prove to be invaluable. Subscribe today!