Allegion's Erica McBride-Rapp on Frictionless Access Control, Inclusion in Security
McBride-Rapp touches on trends in security during the pandemic, the importance of diversity and more in this month's SECURE Perspectives.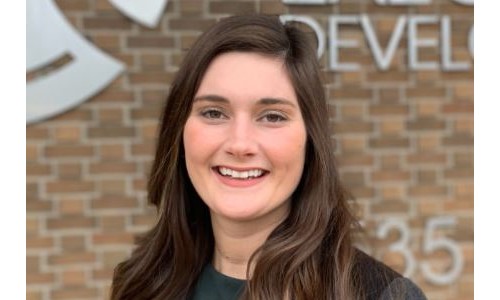 Erica McBride-Rapp
SECURE Perspectives is a monthly column by the Security Industry Association (SIA) profiling women in the security industry. This column is part of SIA's Women in Security Forum, an initiative to support the participation of women in the security field through programs, professional development and networking events.
For this edition of SECURE Perspectives, SIA spoke with Erica McBride-Rapp, logistics manager at Allegion.
SIA: How did you get into the security industry?
Erica McBride-Rapp: In my first job after my bachelor's degree, I was introduced to the security industry. I majored in supply chain management and started as a sourcing specialist in a new dedicated group for Allegion's sourced products business. I was later promoted to associate commodity manager, taking on the responsibility of managing our global accessories business. Shortly after this time, two of my colleagues introduced me to SIA and the SIA RISE committee.
How does your organization serve the industry?
Allegion is known for its innovative security products and solutions, with brands that have established leadership positions in their markets and strong reputations for quality. Those brands have roots in businesses from as early as 1750, and many have since created their respective product categories, adding to the breadth of the company global heritage and pioneering spirit. We serve the industry, in addition, by living our values – like "serve others, not yourself" and "do the right thing" – and by remaining true to our vision for seamless access and a safer world.
What is your current role?
I've been with Allegion for over six years and am currently a logistics manager. This role entails responsibilities for Allegion's distribution and logistics operations in the Americas region. Prior to my current role, I was selected for Allegion's two-year Supply Chain Leadership Rotational Program, which gave me the opportunity to have a variety of supply chain rotations across the country, holding roles in Indiana, Ohio, Colorado and Kansas.
What types of job functions do women fill in your company? Is there diversity of roles in your company, or do women gravitate toward certain job functions?
Historically, in our industry, women were in the minority and, as with many other industries, gravitated toward job functions like human resources and marketing. Since starting with Allegion, I have seen our commitment to promote and encourage diversity. In addition, skill requirements are continuously evolving; for supply chain management, the top six skills in the field are analytical, operational, people development, problem solving, strategic/critical thinking and leadership/strategic project management. This evolution also opens the area of opportunities that were not previously available. There are many advancement opportunities within Allegion for women; you will see this in all teams inclusive of supply chain and up to our executive leadership team.
With more and more data that shows diversity makes a better workforce, what opportunities do you see for women in the security industry? What impediments do you see for achieving this, and what could remedy some of these impediments?
Diversity in the workplace has been proven to drive higher engagement and productivity. With the increase of complexity in our industry, we can't afford exclusion. For a workplace to really leverage the benefit of diversity, it has to have an inclusive culture where diverse talent can thrive. In our industry, women have been able to contribute at every level, which makes the security industry appealing for those seeking fulfilling careers.
Our industry impediments are like those in most manufacturing and technology fields. We are working together to overcome historical low percentages of women in science, technology, engineering and math (STEM) educational fields. There has been a substantial increase in women participating in STEM fields, but it is exponentially important to drive awareness among youth of these fields and our industry. Lastly, like with all initiatives, it is important for leadership and culture to empower diversity and women in the workforce.
What do you see as important trends in the industry?
There are a wide variety of important trends breaking through in our industry. Two main ones come to mind for me. First, is the idea of "seamless access," which is actually core to Allegion, as our vision is "seamless access and a safer world." Second, is having an operational model that is customer-centric. Seamless access encompasses the idea that door hardware and solutions are not just about security anymore – they are also about convenience.
That's a tough balance, but when done well, you create a frictionless experience for users. Another important trend that could not be more important in today's world is simply being customer focused. Driving focus from a customer's purchasing to install to using experiences – for both commercial and residential applications – is something we all must aspire to accomplish.
More specifically, what trends are you seeing in your company's space of seamless access and security around the door and adjacent areas?
With COVID-19, seamless access and a "hands-free" experience are more important than ever. Touchless experiences make seamless access more effortless to our users in any scenario, whether there is a pandemic, a person with a disability or the even the aspect of ease to enter a building when your hands are full. Moving through a secure door should be effortless for everyone who is intended to have access.
What are the top challenges your company has faced in the last year?
Allegion is not alone in that the COVID-19 pandemic has presented challenges to all companies alike. Helping ensure our employees and customers are safe is our top priority. In addition, all companies have also been impacted by the logistical implications of 2020. At Allegion, we are proud of our supply chain strength and how it helped us both manage and mitigate impacts of the pandemic.
What are the biggest opportunities your company – and the industry – are seeing?
In the residential space, there is a developing importance being put on home security that is not the same as the past. People still want secure homes, but now they also want the ability to control and monitor from anywhere. Security is becoming more DIY, and that is possible with products like Ring and the Schlage Encode Smart WiFi Deadbolt. We can continue to cater to people's interest in protecting their homes with new technologies that give them more agency at the same time.
What do you hope the SIA Women in Security Forum can achieve for the security industry?
I continue to be impressed by SIA's Women in Security Forum – the group has increased engagement within the industry by promoting, recruiting and supporting women in the industry. I highly promote and encourage the Women in Security Forum to continue to make this investment in the industry. The group's efforts on youth outreach will also be instrumental on driving awareness on the educational and field opportunities earlier to next generations. I look for the forum to continue to cultivate a more diverse and inclusive industry.
What is your best advice for women in the industry?
Be open to new opportunities, always serve others and love what you do. Always keep striving to better yourself in your business and personal endeavors. Never be afraid to get involved inside your company or external networking; business truly is what and who you know. As Sheryl Sandberg exemplifies in Lean In, "sit at the table, seek challenges, take risks and pursue goals with gusto."
Who or what was the strongest influence in your career?
I have been lucky enough to meet and work with many great managers and leaders thus far in my career at Allegion. I've been fortunate to have had four Allegion mentors to date that have made an impactful influence on my leadership behaviors and career aspirations. I've been able to have mentorship from women in leadership, which is truly empowering. I am inspired seeing women throughout Allegion in leadership roles and making a difference.
In Gartner's 2018 Women in Supply Chain research report they found "on average, 14% of companies reported executive-level supply chain positions being held by women, which is about the same as last year (15%)." Both the supply chain industry and security industry will continue to drive women in leadership, which inspires me to promote both industries to future generations.
How do you define success?
Personally, success to me is encompassed of continued learning, mentorship, promotion and the empowerment of others' achievements. I feel successful mostly when I can help others by encouraging their growth and listening to their own hurdles to do my part.
What would you say to new upcoming women in the industry?
It's a truly momentous time to join the security industry. There is an abundance of innovation and diversity to develop an exciting career. Ensure you do your part in continuing to promote the industry and encourage other women in the workforce. William H. Danforth wrote the book, I Dare You, where he urges readers of any age to take chances and fulfill their full potential, "One enkindled spirit can set hundreds on fire."
If you enjoyed this article and want to receive more valuable industry content like this, click here to sign up for our FREE digital newsletters!
Security Is Our Business, Too
For professionals who recommend, buy and install all types of electronic security equipment, a free subscription to Security Sales & Integration is like having a consultant on call. You'll find an ideal balance of technology and business coverage, with installation tips and techniques for products and updates on how to add sales to your bottom line.
A free subscription to the #1 resource for the residential and commercial security industry will prove to be invaluable. Subscribe today!