Allied Universal's Caress Kennedy Discusses Career, Advancing in the Industry
In this month's SECURE Perspectives, Kennedy details Allied's role in the industry, the company's diversity, and gives advice for women in security.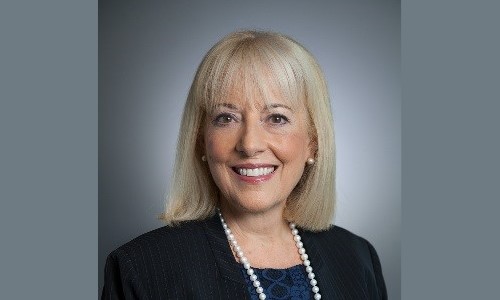 SECURE Perspectives is a monthly column by the Security Industry Association (SIA) profiling women in the security industry. This column is part of SIA's Women in Security Forum (WISF), an initiative to support the participation of women in the security field through programs, networking and professional growth events and thought leadership opportunities.
For this edition of SECURE Perspectives, SIA spoke with Caress Kennedy of Allied Universal. Earlier this year, Kennedy was named to the inaugural SIA WISF Power 100 list, recognizing 100 women in the security industry who are role models for actively advancing diversity, inclusion, innovation and leadership in the community.
SIA: How did you get into the security industry?
Caress Kennedy: I was running a large staffing firm and received a call from a former colleague who would later become the president of AlliedBarton. I was familiar with the security industry, as my partner was in law enforcement and he later worked as a security director for a large development company. I was introduced to Ron Rabena and Bill Whitmore and shortly after, I joined AlliedBarton as the managing partner for the New York/New Jersey region.
How does your organization serve the industry?
As the largest security provider in the world, we take our leadership responsibility — both within the industry and with our clients and employees — very seriously.
Allied Universal is an active participant in security industry groups. We attend conferences, sponsor events and serve on panels and local industry boards. Our mission is to share what we know with the industry and to also learn from our peers. Ultimately, we want to take a leadership role in contributing to the industry because these enhancements make us a better provider to our clients and a better employer. Our goal is to be a better partner to our clients by providing consultative advice to improve their security operations.
We also believe in continuing to develop our employees and have an incredible learning platform which offers professional development programs to our associates.
What is your current position?
President of the Northeast Region, which is $1.7 billion in revenue and employs 35,000 people.
What types of job functions do women fill in your company? Is there diversity of roles in your company, or do women gravitate toward certain job functions?
Women serve in all positions throughout the company, from security professional to regional president and everything in between, like operations managers, business development managers and branch managers. In addition to functional positions in operations, sales, HR and recruiting, we have other jobs in finance, accounting and technology. Allied Universal is the third largest employer in the United States and the seventh largest in the world. We have a very robust diversity program, and we practice inclusion.
With more and more data that shows diversity makes a better workforce, what opportunities do you see for women in the security industry?
There is a tremendous opportunity for women in the security industry. If you take the time to develop your skills and expertise, know how to provide value to clients and your employees and see yourself as consultant, bringing value in your role, you can achieve any goals you set for yourself.
What impediments do you see for achieving this? What could remedy some of these impediments?
It's important to have credibility with our clients and those we manage. One way is to develop your credentials. You need to be educated and knowledgeable about the industry. For me personally, becoming a CPP was an important step. I also got my security license and stood post when I started with the company, because I wanted to understand what our officers did. This really helped me to understand the business. Education and experiences helped to build confidence and credibility as I met with clients and led teams.
What do you see as important trends in the industry?
The world is changing, issues are more complex and companies need to be nimble to adapt. They also need to be able to provide value.
More specifically, what trends are you seeing in your company's space of security personnel, technology and professional services?
We are combining guarding services, security technology services, executive protection and risk advisory, as well other services like canines to provide comprehensive solutions for our customers worldwide.
Additionally, we are focused on building a company that is the best services company in the world, not just the biggest. We want to build a company that is No. 1 in our space by developing the structure and processes that provide best in class service for our clients and a place where employees want to work and build careers.
What are the top challenges your company has faced in the last year?
The COVID-19 global pandemic was challenging, especially because my region included some of the hardest-hit locations like New York City. We had to adjust very quickly as clients reduced staff and shut facilities. Then, when the world was reopening, we had to be able to scale back up very quickly. All of this was done while protecting our clients and our employees' health and safety.
What are the biggest opportunities your company — and the industry — are seeing?
I believe that by becoming a consultant to our clients, understanding their issues and problems and developing innovative solutions, we will have the greatest opportunities. Also, providing services globally to multinational clients is another area for expansion and growth.
What do you hope the SIA Women in Security Forum can achieve for the security industry?
To provide educational tools to help women develop needed skills and ultimately advance, and also to provide support systems and mentors for women in the industry.
What is your best advice for women in the industry?
Get educated and credentialed. Learn the business. Identify coaches and mentors to help you develop and further your career.
Who or what was the strongest influence in your career?
A mentor at Xerox who was president of the division where I worked. He was tough and had high standards. He was a brutally honest and direct communicator, but he also understood that people need to be nurtured. He would give you tough feedback and then leave a cookie and kind note on your desk — which always made it easier to accept the feedback!
How do you define success?
It is different for everyone. For me, I am happiest when I share ideas or practices with my team and it helps them to develop their skills and progress. I have been very lucky in my career and believe I have an obligation to pay it forward.
What would you say to new upcoming women in the industry?
There is tremendous opportunity in our industry. You can take your career in any direction and as high as you want. Learn as much as you can, educate yourself, develop expertise and try to add value in all that you do.
If you enjoyed this article and want to receive more valuable industry content like this, click here to sign up for our FREE digital newsletters!
Security Is Our Business, Too
For professionals who recommend, buy and install all types of electronic security equipment, a free subscription to Security Sales & Integration is like having a consultant on call. You'll find an ideal balance of technology and business coverage, with installation tips and techniques for products and updates on how to add sales to your bottom line.
A free subscription to the #1 resource for the residential and commercial security industry will prove to be invaluable. Subscribe today!
One response to "Allied Universal's Caress Kennedy Discusses Career, Advancing in the Industry"