Chumash Casino Resort Bets the House on Vivotek
Located in near Central California's coastal region, the gaming venue decided to use Vivotek equipment when it came time for a security upgrade.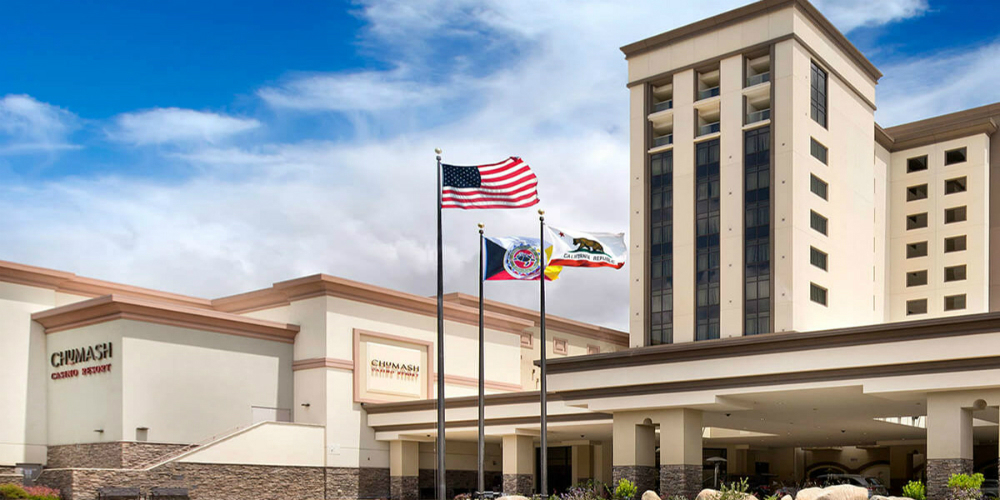 SANTA YNEZ, Calif. — Nestled here in the Santa Barbara County wine country, the Chumash Casino Resort offers visitors around the clock entertainment with dozens of gaming tables, 2,000 slot machines, bingo and a 1,400-seat showroom. The property also features a hotel with more than 100 guestrooms and 17 luxury suites, along with a spa that offers a wide array of relaxing beauty and restorative treatments.
In recent years facility executives decided a security upgrade would be necessary as security concerns in and around the property had become a challenge. The goal for the casino was to replace an aging interior/exterior analog surveillance system that was failing, and to provide upgraded picture resolution as well as remote viewing.
This included installing new IP-based cameras and NVR storage devices. Having already used a varied selection of Vivotek network cameras for its legacy surveillance system, the Chumash Casino Resort opted to go all-in with the company's products for the upgrade.
Resort officials selected a mixture of 21 Vivotek cameras connected to the Vivotek 32-CH NVR (ND9541) for the casino project. The outcome not only met, but surpassed their goal of replacing the legacy system, resulting in an all-Vivotek format for their tribal clinic months later.
The Chumash Casino Resort utilizes 14 FD8166A-N ultra-mini IR fixed dome cameras in the interior of the property due to its compact size, easy installation, invisible IR design and great picture quality, according to a press release.
On the exterior of the property, the casino chose to install five FD8367A-V fixed dome network cameras due to its varifocal lens, 30-meter IR and IP66-rated housing. All the cameras and the NVR are connected to a VivoCam web smart-managed PoE switch (AW-GEV- 264B-370) to provide an easy-to-manage surveillance system with remote and mobile access capability.
The ultra-mini IR fixed dome network camera has a tiny diameter of only 90mm. Due to its compact, intelligent design, the camera is said to be an ideal indoor surveillance solution that suits a wide variety of commercial market applications such as retail, offices, boutiques and other public areas.
Equipped with a 2MP full HD sensor-enabling viewing resolution of 1920×1080 at 30 fps, the FD8166A-N can capture high-definition images whether in high contrast or low-light environments by deploying wide dynamic range (WDR) and SNV technology. When combined with the company's Smart Stream II technology, the FD8166A-N reduces both bandwidth and storage consumption by up to 50%, while retaining the same image quality as a full HD camera, according to the company.
Furthermore, armed with 940nm IR illuminators, the FD8166A-N can "see" up to six meters in total darkness. As an all-in-one camera, the FD8166A-N is designed for easy installation and equipped with Power over Ethernet (PoE) functionality, making setup both quick and simple, according the company. The FD8367A-V fixed dome network camera is specifically designed for diverse outdoor applications, with a 2MP sensor enabling a viewing resolution of 1920×1080 at 30 fps.
Dynamic and highly adaptable, the FD8367A-V is an all-in-one camera capable of capturing high quality video at high resolutions of up to 2MP, even in low light environments. The FD8367A-V features the company's Smart Stream II technology, allowing the camera to optimize image quality for desired regions, thus ensuring maximum efficiency of bandwidth usage and savings of up to 50 percent on bandwidth and storage requirements.
In order to adapt to constantly changing outdoor lighting conditions, the FD8367A-V features a removable IR-cut filter as well as IR illuminators effective up to 30M for superior image quality around the clock. For protection against harsh outdoor environments, the camera is encased in a weather-proof IP66-rated housing, making it impervious to rain and dust. The robustness of the FD8367A-V is further strengthened by the adoption of a rugged IK10-rated housing.
The VivoCam web smart managed PoE switch is part of the AW-GEV Web Smart Series that combines web smart managed features with graphic view functions to provide better functionality and usability. The single AW-GEV Web Smart series allows users to find all network devices and deploy a network system automatically.
In addition, embedded surveillance features graphic views, such as topology view/floor view/map view for managing, controlling, and understanding network structure and device status, as well as Google Map integration to view system status for outdoor applications. The device status and traffic monitoring functions also help users clarify and troubleshoot any connection or device issues. The AW-GEV Web Smart series is said to be ideal for delivering management simplicity, a better user experience and lowering total cost of ownership.
"Our choice of Vivotek products have proven to be the right decision with the majority of the projects we do," states Dominic Sanders, Chumash Casino Resort security control supervisor. "Their competitive pricing, solid performance and reliability are three of the reasons we keep using Vivotek."
If you enjoyed this article and want to receive more valuable industry content like this, click here to sign up for our FREE digital newsletters!
Security Is Our Business, Too
For professionals who recommend, buy and install all types of electronic security equipment, a free subscription to Security Sales & Integration is like having a consultant on call. You'll find an ideal balance of technology and business coverage, with installation tips and techniques for products and updates on how to add sales to your bottom line.
A free subscription to the #1 resource for the residential and commercial security industry will prove to be invaluable. Subscribe today!