How to Record More Home Video Surveillance Sales
Security cameras and related devices continue to be hot sellers in the residential market. Experts from around the industry reveal opportunities for integrators, key products to offer, how to tie in RMR and more.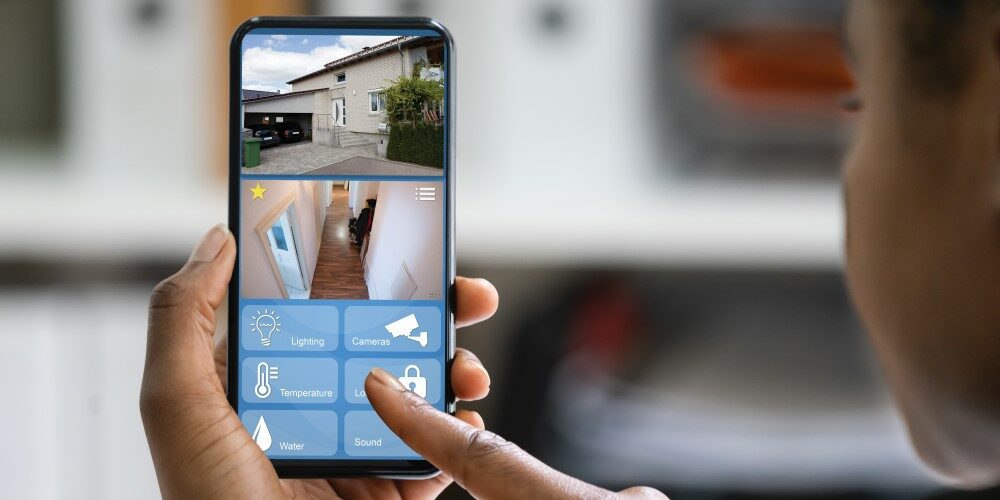 The home security market has historically seen steady growth over the years, but the COVID-19 pandemic propelled that growth to a whole new level. The sudden stay-at-home orders undoubtedly drove demand as countless people began spending much more time in their homes than they ever had before. From general security surveillance to alarm verification, doorbell cameras to nanny and pet cams to perimeter grounds surveillance, requests for residential video surveillance surged exponentially.
"We've seen an increased demand for residential cameras and our full smart home offerings in recent years," says Jim Nye, chief product officer, Vivint Smart Home. "Especially over the past two years, as our homes became more central to our lives and we ordered more packages online, smart home cameras have seen increased adoption."
Clint Choate, senior director of security markets for Snap One, concurs. "There has definitely been an increase in demand for residential video surveillance and security systems. With many people having spent more time at home, there has been an increased focus on improving and protecting their home," he says. "Also, we've noticed as back to the office initiatives are ramping up and with people looking for more opportunities to get out of the house and spend time with friends and family, video surveillance demand has grown as they seek peace of mind while they're away."
Security dealers and systems integrators working the front lines also report that consumer demand has, and continues to be, on the rise.
"Doorbell cameras are a must-have item now, and are being installed on almost 50% of our residential systems," notes Eric Widner, general manager of LOUD Security. "From a sales perspective, I also believe this is the most important camera to install. Owners use their doorbell cameras so regularly, that it is often the camera that helps a homeowner understand the value of video, and often leads to expanding into a more traditional standalone camera, as well."
Ben Berg, director of product management, Alarm.com, echoes this when he points out that "We continue to see demand for residential video solutions, including doorbell cameras, outdoor cameras with professional monitoring and video verification, and indoor cameras."
And, as Nye, points out, "Crime can occur anywhere, and people want their entire property protected. Our customers like to be able to not only secure their property but be able to customize specific areas of their property to protect."
This can include everything from identifying parameters around a pool to preventing potential solicitors, to customized outdoor lighting that can prevent crime and also guide them home at night. "For years now, we've seen an increase in demand for video verification technology. It not only allows users to engage with visitors, but also intelligently detects home delivery packages and actively helps protect them," Nye adds.
Today's Tech-Savvy Consumers
Nye explains that homeowners are definitely more tech savvy than ever before, and they are demanding more from their smart home products, including the ability to monitor their homes from different devices.
"As technology advances, it only makes sense that customers are interested in all the bells and whistles and want to be able to access their camera video feeds in real-time. Similar to wanting all the bells and whistles from a hardware perspective, customers know the technology exists to give them real-time access into their homes, as well as the ability to customize and automate their systems, and want features that make their lives seamless. If a new feature improves convenience and accessibility, the demand will be there."
Widner highlights the fact that, as younger generations purchase their first homes and open their first businesses, they simply expect certain features to be "built-in." Dealers can no longer get away with selling a system that limits the end user, he says.
Choate concurs that today's customers are more demanding, albeit perhaps not savvier. "Visual tools are everywhere and growing in popularity. After two years of COVID, customers expect video to be smart and work all the time. Customers certainly have more of an instinct for the category."
Some selling tips to other dealers and systems integrators that Michael Jagger, president of Provident Security, offers are to have a very clear understanding of what you're selling and why. "It used to be that you could show a camera that sells for $500 and one that sells for $10,000 and a lot of consumers would say they both look great. It's a matter of educating the consumer, based on what the camera can do and what their specific needs are."
Service Is Never Out of Style
According to Taylor Sears, COO at Silent Guard, in a competitive marketplace in which it is becoming increasingly more challenging to differentiate one security company from the next on home video product offerings alone, true service excellence is the key. "Show every customer everything you do and let them decide what they don't want or need," he says.
In terms of combatting DIY options, Sears contends, "The most important value we can offer as a professional install company is customer service. We offer service agreements with a promise that we will answer the phone and show up when they need help. That in and of itself is priceless, considering they don't usually get either from a DIY company."
Not only does a service agreement ensure the system is working properly it also gives you a chance to continue building a relationship with the customer that is not just transactional, he says. "It also gives you a chance to upsell products or service they aren't already taking advantage of."
And, as Berg mentions, RMR is tied to customer engagement — as your customers engage with their systems, they become stickier.
The opportunity for dealers and systems integrators to also supply the network and/or monitor the network for service issues is one that Choate views as their single most significant advantage and one that Google or Ring cannot easily replicate, he believes. "Selling service agreements at multiple levels provides peace of mind to the consumer, which is why they buy professional surveillance systems in the first place. By providing multiple levels, integrators can provide options that fit different needs."
Storage, Cloud & the Network
Storage considerations are tightly coupled with the consumer's desire for security and coverage, Choate contends.
"Cloud-based storage is powerful, offsite and typically based on events. The main benefits of Cloud storage are security and availability of the data. A customer's data is safe in the Cloud and save space is often unlimited. Cloud storage, given that it is based on events, is often reliant on the camera/edge device to determine when an event has happened and the algorithms in cameras are not always perfect. They will occasionally miss events. Local storage when installed properly, can be very secure and allows for larger storage volumes, reducing the reliance on edge devices capturing all events. Local storage devices can also provide the user with enhanced playback experiences such as synchronized, multicamera playback."
Concerning storage, it's important for the end user to understand that Cloud storage is inherently different than traditional hard drive-based storage systems from years past, Widner notes. It's generally more expensive, gives less information and is available for a shorter time than hard drive-based systems, he explains, pointing out that the power of the Cloud allows smaller systems to be installed without the need for costly and intrusive wiring to be retrofitted through the home.
"For network considerations, end users often lack understanding about the difference in upload and download speeds of their home network," he says. "Customers have become so used to getting 300Mbps of download speeds, which allows them to game online and download 4K video, and simply don't realize that the same package might only come with 5-10Mbps of upload speeds. When cameras are placed outside the home, those reduced upload speeds are combined with a further reduction in bandwidth due to the exterior walls, which can severely affect the performance of cameras."
Cloud video is only as good as the network it lives on, Sears adds. "Sometimes that can be totally out of our control, so we prefer, as much as possible, to offer a hybrid approach for onsite recording as well as Cloud storage. This creates redundancy and gives the customer the best overall experience."
Everyone's Asking for Analytics
Customers have come to expect video analytics capabilities from their systems, Berg says. They give customers an understanding of what is happening on and around their property. They want solutions that have the ability to differentiate among people, vehicles and animals so customers can zero in on the most important activity.
"Cameras and technology are a lot smarter now and we are seeing a shift from reactive to proactive solutions," he explains. "If customers are only notified after an event occurs and becomes a problem, then that is a missed opportunity."
Choate has also seen an uptick in customer expectations in recent years. He points out that, in the past, basic motion was essentially ignored as it was too "noisy," but customers now expect the video to tell them something of importance. "Customers have begun to blur the line between traditional security systems and video. We will see these categories continue to merge with the growth of tools like video verification. As video becomes more tightly coupled with alarm systems, analytics will become increasingly important," he predicts.
And, as Sears says, analytics continue to get better and better, which allows customers to not just be constantly aware of what is going on at their property but also react by creating home automation scenes that respond to specific analytics. Widner adds that, while most of us are still just getting into video verification, analytics are finally becoming both useful and affordable.
"As analytics continue to become more powerful, I expect proactive video monitoring to become an even more important segment in high-security areas, which will truly allow for an automated security response." The demand for video surveillance capabilities — on both the commercial and residential sides — only continues to grow.
Yahoo Finance reported at the end of August that the following factors are driving the global wireless video surveillance market: "Increase in need for safety in high-risk areas, incorporation of Internet of Things, and rise in transition from analog surveillance to IP cameras have boosted the growth of the global wireless video surveillance market."
Residential video is indeed seeing an upsurge. Vivint's Nye sums it up well: "We agree that some of those factors are among those contributing to the increase in demand for the residential surveillance market and smart home technology as a whole. However, we're not just seeing a demand for smart home tech in high-risk areas, but in low-risk areas, as well.
No matter how safe a neighborhood is, no area is completely immune to crime and the benefits of a smart home system go way beyond deterring criminals. People want to know what's going on in and around their homes when they're away, and the IoT has made whole-home monitoring incredibly accessible and efficient."
The time has never been more opportune for security dealers and systems integrators to further grow their business and revenues in the expanding residential video surveillance market.
---
Erin Harrington has 20+ years' security industry media experience. Contact her at erinharrington1115@gmail.com.
If you enjoyed this article and want to receive more valuable industry content like this, click here to sign up for our FREE digital newsletters!
Security Is Our Business, Too
For professionals who recommend, buy and install all types of electronic security equipment, a free subscription to Security Sales & Integration is like having a consultant on call. You'll find an ideal balance of technology and business coverage, with installation tips and techniques for products and updates on how to add sales to your bottom line.
A free subscription to the #1 resource for the residential and commercial security industry will prove to be invaluable. Subscribe today!