Marijuana Dispensary Security? Security Grade Protective Services Strikes Big in Niche Market
Security Grade has done approximately 100 cannabis-related security installations. They range from $10,000 to $300,000 depending on the size of the dispensary or cultivation center.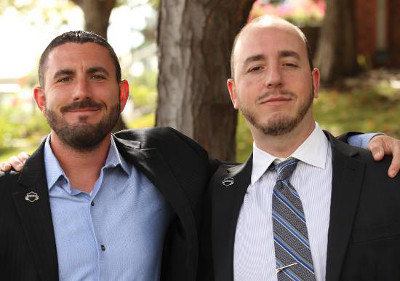 Photos and Videos
View Slideshow
Business is certainly buzzing at Security Grade Protective Services in Denver these days as company principals Derek Porter and David Beckett continue to be high on the future for its niche market focused on securing cannabis dispensaries and cultivation facilities with electronic security. And boy, what a market.
Security Grade Protective Services has performed installations in over 100 dispensaries and cultivation centers. The cannabis industry is unique because many banks refuse to finance these endeavors, forcing the proprietors to deal strictly in cash with customers and vendors.
It means Security Grade is earning solid "green" for protecting the "green" with its fully integrated CCTV video surveillance systems, which include off-site storage backup tied into real-time notification intrusion and access control systems.
The installations themselves range from an average $10,000 for a 16-camera job up to $300,000 larger scale systems in cultivation centers. For remote data recording and backup, the company earns a healthy $35 per camera, leaning heavily on two key partners – IC Realtime for the high-end megapixel cameras and Rapid Response Monitoring as its central station facility. The niche has even led to adding armed and unarmed guard services as well as investigative and background check services to its portfolio, which today is nationwide.
PHOTO GALLERY: View Installation Images Here
From Consultants to Installers
Derek Porter, CEO of Security Grade Protective, and David Beckett, vice president, first started the company in December 2012 purely as a consulting business. The idea was to advise the newly legalized cannabis industry in Colorado on security matters.
"In December of 2012, we got our first cannabis client," recalls Beckett, who started out doing home automation installations for ADT. "It was for a simple risk and vulnerability assessment for a client in Boulder, Colo. It took just a few days, and I was very much initially alien to the whole cannabis industry. Once we started doing a lot more homework and research, we realized the potential there and the immense need for security. Through time, we started offering more services within that niche and it has really helped to catapult the business."
I was very much initially alien to the whole cannabis industry. Once we started doing a lot more homework and research, we realized the potential there and the immense need for security. – David Beckett
To date, Security Grade Protective has done about 100 cannabis-related installations, with about half in dispensaries and half in cultivation centers.
"There are definitely more dispensaries than cultivation centers out there," says Beckett, noting that some states require five shops for every one cultivation center. In Colorado, where recreational marijuana is legal, Beckett says there are more licensed dispensaries than there are Starbucks.
"So you kind of get an idea of the mass amount of possible stores," he notes.
In dispensaries, the typical installation is between 16 and 32 cameras — depending on how many rooms — integrated with access control and intrusion with a four-hour battery backup. Security Grade Protective gets about $10,000 on average for those systems. These facilities tend to be about 1,300 square feet.
WATCH: Top 7 Surveillance Videos of the Week: World's Worst Arsonist Sets Himself on Fire
There are multiple areas that need to be monitored, including the front counter, the doors, the cut-up areas where the pot is prepared and packaged and the safe. Remember that many banks will not extend credit to cannabis industry so it is a cash business.
"Every facility has a safe. Normally there are two safes – one full of product and one full of cash. Cut-up areas have a higher camera count. But you're normally looking at least at two to three cameras per room. So depending on the size of the rooms and location it starts to get higher than that," says Beckett. Typically facilities have offsite video backup of the DVR to protect against a criminal stealing the onsite DVR.
"You have to pick the right provider," he adds. "IC Realtime is one of the great partners that we worked with."
If you enjoyed this article and want to receive more valuable industry content like this, click here to sign up for our FREE digital newsletters!
Security Is Our Business, Too
For professionals who recommend, buy and install all types of electronic security equipment, a free subscription to Security Sales & Integration is like having a consultant on call. You'll find an ideal balance of technology and business coverage, with installation tips and techniques for products and updates on how to add sales to your bottom line.
A free subscription to the #1 resource for the residential and commercial security industry will prove to be invaluable. Subscribe today!