Top 9 Surveillance Videos of the Week: Trump-Masked Robbers Explode ATM
Other top surveillance videos include a failed robbery by Optimus Prime, babies being used for theft and much more.
Photos and Videos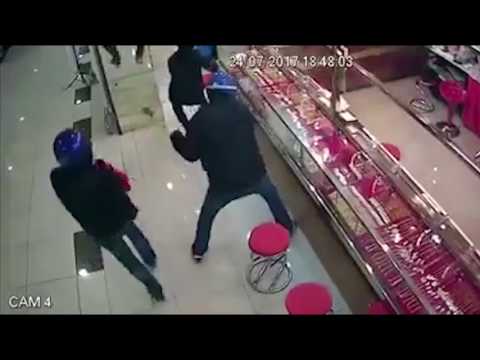 View Slideshow
In this week's Top Surveillance Videos…
What do Donald Trump, Optimus Prime and a ghost have in common? They were all arrested for attempted robbery this past week.
Alright, so it wasn't THE Donald Trump that was caught blowing up cash machines in Italy, but two brothers in Donald Trump masks.
Police say the masked suspects were blowing up cash machines outside the city of Turin before painting their getaway car from white to black — a move they think was borrowed from the 1997 Bruce Willis movie 'The Jackal.'
Meanwhile, in Fresno, Calif., a man in an Optimus Prime mask holding a toy gun attempted to rob a Starbucks. The suspect eventually pulled out a knife, but that's when a customer picked up a chair and smashed it over the suspect's head.
The two men wrestle to the ground before the suspect fled, eventually being apprehended by police.
Not to be outdone by Donald Trump and Optimus Prime, a man in China attempted to rob a residential building while dressed as a ghost.
Make sure to check out all these videos and more in this week's Top Surveillance Videos!
Security Is Our Business, Too
For professionals who recommend, buy and install all types of electronic security equipment, a free subscription to Security Sales & Integration is like having a consultant on call. You'll find an ideal balance of technology and business coverage, with installation tips and techniques for products and updates on how to add sales to your bottom line.
A free subscription to the #1 resource for the residential and commercial security industry will prove to be invaluable. Subscribe today!