Top 9 Surveillance Videos of the Week: Handcuffed Woman Steals Police Car
Other top surveillance videos of the week include a doorbell-licker, a brazen robbery, possibly the world's dumbest thief and much more.
Photos and Videos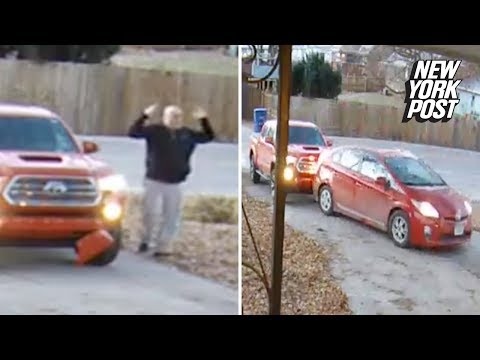 View Slideshow
In this week's Top Surveillance Videos…
It's not easy being a police officer. Not only is it dangerous, it can also be very unpredictable. You need to remain on your toes at all times.
Police officers in Oklahoma received a big surprise after pulling over a woman suspected of stealing a car. Because stealing one car wasn't enough, she would end up stealing the police officer's cruiser after being placed in the passenger seat.
Body cam footage shows the woman shimmy over to the driver's side before speeding off. A wild chase ensues with speeds reaching 90mph.
The chase comes to an end after the woman ditches the car at an apartment complex and takes off. The police officers would eventually catch her and arrest her again.
Also this week…
Criminals aren't always the smartest people out there. Earlier this week, we shared the dumbest criminals caught on camera in 2018. Here's a guy that's a shoo-in for the next edition.
Surveillance footage shows a masked bandit go up to a bike chained to the front of a police station. He tries to cut the lock off the bike, but it isn't long before a police officer comes out to arrest him.
Make sure to check out the rest of this week's top surveillance videos, which include a collapse in a warehouse, a neighbor chasing down a package thief and much more.
Security Is Our Business, Too
For professionals who recommend, buy and install all types of electronic security equipment, a free subscription to Security Sales & Integration is like having a consultant on call. You'll find an ideal balance of technology and business coverage, with installation tips and techniques for products and updates on how to add sales to your bottom line.
A free subscription to the #1 resource for the residential and commercial security industry will prove to be invaluable. Subscribe today!