Why Unified Video and Access Control Is the Future of Commercial Security
Two of the most important investments in physical security for any organization are access control and video security. Learn how integrating these tools impacts ROI, security posturing, and security response for your organization.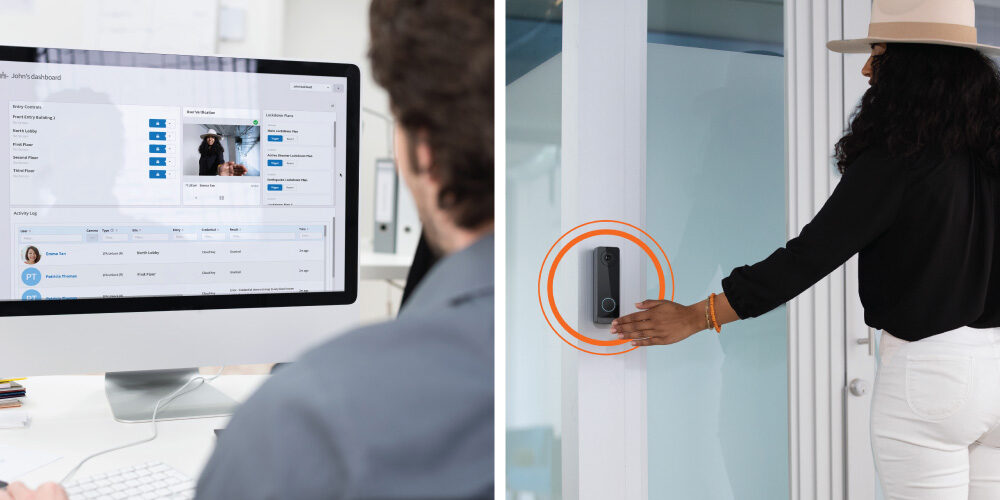 If you're not taking advantage of IoT integrations for your business security, you may be more vulnerable than you think. One of the issues with outdated security systems, such as access control, is you're only getting half the data. When somebody scans their key card or fob at the door, you see the credential information pop up in the activity log, but how can you check who that person really is, before it's too late?
A unified access control and video camera system solves this issue, among other important security benefits. By adding video capabilities to access control door readers, and integrating into the larger security ecosystem, businesses have access to all their data and controls in one place. Today's security technologies are more powerful than ever thanks to developments in cloud-based solutions, which makes for smarter, more streamlined security operations across every industry and setting.
Actually See Who's At the Door
Most access control systems lack the ability to visually verify who's at the door. Every reader, especially for exterior entries and high-security spaces, should have video capabilities. Commercial security camera systems are still important, but they often don't give you the best view: how many security videos are too far away to accurately identify somebody, only showing part of a face, or the top of someone's head? Because of where they are mounted, door readers with built-in cameras give a clearer ID, right where the access event occurs. As a new standard, every building should have door readers with video capabilities on the most important entries.
The Power of Cloud-Based Integrations
Access control and video surveillance on their own are important, but together offer an even greater capacity to improve security. With more companies utilizing smart video security systems, their teams are seeing improved KPIs, too. Leveraging automated alerting and decentralizing security monitoring helps fill in the gaps when you can't have human eyes glued to every screen 24/7, and helps security teams focus on the areas that need the most attention. Modern video security and surveillance software are able to effectively integrate hardware and software features, such as infrared sensors, spatial mapping, and smart detection capabilities, to make remote system management more efficient and more accurate.
For proactive security, connected systems put all data streams in one convenient place, which allows for quicker incident analysis and response. And why stop at just video and access control? Cloud-based systems with an open API  are often interoperable with additional building platforms, such as visitor management, HVAC, tenant platforms, and identity services. With all data consolidated across the organization, there's more opportunity to spot trends, identify vulnerabilities, and inform key decisions with greater clarity.
Use Cases for Unified Video Security
Schools and campuses
Security is a top priority for any educational institution. When every minute counts in an emergency, a unified school video and access control system makes a big difference. In the event of violence or a school shooting, a cloud-based access control system allows administrators to activate a school lockdown remotely. When fully integrated with video security, the system can send a direct feed to emergency responders once the lockdown is triggered. This gives authorities real-time video of what's happening across the school or campus for better response, and saves time when it matters most.
On a day-to-day basis, cloud-based video security systems like Cisco Meraki come equipped with motion detection and heat mapping to help identify potential incidents sooner. Plus, a remotely accessible system means admins can easily verify and unlock the door for faculty, maintenance, and deliveries from anywhere on campus. Automated alerts from the access control system, such as a door forced open, are delivered with a video snapshot of the event as well.
Commercial real estate offices
The most common security incidents at office buildings include tailgating, unauthorized entry, and theft. For a single office, additional security management is usually only needed after-hours or when the office is left unattended. However, for large multi-tenant buildings and enterprise organizations with multiple sites, a unified access control and security camera system provides teams a clearer picture of what's happening across the entire organization. With video of every access event, buildings can extend their security operations beyond the lobby door. Controlled access to turnstiles, parking garages, and elevators can all be verified by video surveillance in real time.
Human error is inevitable, and it's easy to miss something when there are hundreds of cameras to monitor all at once. Ava Aware's video systems help property managers and security teams know which areas need the most focus by doing some of the legwork. Machine learning gives the system the ability to send automated alerts to access activity, motion detection, and unusual behavior detection that's customized to each space or zone. By making cameras smarter, it's easier for teams to spot tailgators, even when the access control system records one authorized entry, or respond to suspicious activity in the parking garage over the weekend.
Government facilities
Security is serious business for any government building. Protecting people, documents, and data are essential, with strict regulations and compliances, including NDAA, FAR, TAA, and FIPS 201-2, required for security systems installed in government facilities. Rolling out unified access control and video systems allows federal and state-run organizations to take advantage of the latest technological developments, while still remaining compliant and secure. Due to the strict regulatory requirements, most access control and video security systems for government applications are managed on-premise, rather than in the cloud. However, some unified on-premise systems now offer browser-based applications for greater flexibility in managing access control and video, adding remote capabilities and centralizing controls for all sites.
The key benefits of unified security systems for government buildings are the ability to streamline auditing and improve emergency response. Investing in systems like Avigilon with forensic search and analytics tools allows for quicker response to security incidents, and makes it easier to identify vulnerabilities in security processes and platforms. With advanced features for emergency mustering, these unified systems can ensure everyone in the building is accounted for in the event of a lockdown or evacuation as well.
Making the Most of Your Technology
The right systems and tools play a vital role in building a truly unified security solution. Two of the most important investments in physical security for any organization are access control and video systems. To get the most value and ROI from these systems, interoperable cloud-based solutions are your best bet. Not only does the cloud offer greater flexibility and adaptability, it's often easier to centralize security data and controls into a single, unified dashboard with web-based software and apps. When it comes to evaluating the best options, the smart money is on fully integrated platforms that are transforming the industry with future-proof commercial security solutions.
> Get Your Free Business Security Camera System Guide <

If you enjoyed this article and want to receive more valuable industry content like this, click here to sign up for our FREE digital newsletters!
Security Is Our Business, Too
For professionals who recommend, buy and install all types of electronic security equipment, a free subscription to Security Sales & Integration is like having a consultant on call. You'll find an ideal balance of technology and business coverage, with installation tips and techniques for products and updates on how to add sales to your bottom line.
A free subscription to the #1 resource for the residential and commercial security industry will prove to be invaluable. Subscribe today!