Cisco Meraki Introduces MV12 Cloud-Managed Security Cameras
The launch of the MV12 series marks the second lineup of Cisco Meraki video surveillance cameras. Next-gen architecture eliminates need for NVR, servers, VMS and manual configuration.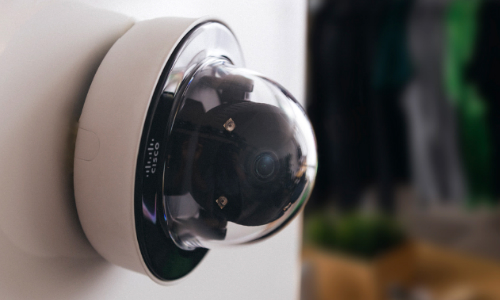 SAN FRANCISCO — Cisco Meraki has lifted the curtain on a second generation of security cameras from its MV Series.
When first brought to market more than a year ago, the MV lineup was billed as offering advanced architecture that placed video storage and processing onboard each camera. Set to be released Feb. 27, the new MV12 family of mini-dome cameras continues the Cisco Meraki all-in-one solution with a beefier processor and additional capabilities, such as computer vision and machine learning.
There are three SKUs in the new offering, each with a fixed lens in narrow or wide field of view options, plus up to 256GB of integrated solid-state storage. Among other feature sets: 1080p resolution with HDR, a microphone and 802.11ac wireless capability (scheduled for release in the fall).
Single Pane of Glass
When Cisco consummated a $1.2 billon all-cash deal for Meraki in 2012, it brought in house a specialist in Cloud-based, managed networking solutions for connectivity, data security, mobile device management and communications. The division continues to sell its own switches, cybersecurity appliances, wireless access points and telephones.
A central component supporting these solutions is a dashboard that provides a single pane of glass to configure and control the functionality and operation of all Meraki devices, including its IP security cameras.
Because the dashboard is Cloud-based, there are no software packages or hardware to install on customer sites, Cisco Meraki Product Manager George Bentinck explained to SSI.
"There are no servers. There are no NVRs or VMS. There is no SAN or NAS," he said. "And we don't store video in the Cloud, which is one of the assumptions people have when they hear we are a Cloud division of Cisco."
The company targets the small- to medium-sized business (SMB) market with limited IT personnel, as well as K-12, higher education, healthcare, enterprise and other niches. Because only device management data is exchanged between an end customer's network and the Meraki Cloud platform, the solution is compliant with security initiatives such as PCI and HIPAA.
Focus on Solving Problems
Prior to launching the MV Series of cameras, Cisco Meraki set out to meet with end customers to learn about their pain points and other factors related to video surveillance purchasing decisions. The expense and management of on-premise infrastructure, especially in distributed environments such as retail, kept coming up in voice of customer conversations, Bentinck said.
"There were a load of problems that we wanted to go and solve. The way we went and did it is with this new architecture. The video is stored on the camera. All the processing is done on the camera as well," Bentinck said. "That meant we had to leverage the latest technology delivered by the mobile phone industry … incredibly powerful processors, very high density and miniaturized storage components."
The MV12 cameras have been aligned with more than security in mind, such as business intelligence. The lineup implements machine learning-based computer vision, which provides the capability to detect people, along with other object categories, and become more accurate over time.
The same standard license introduced with the MV cameras gives users access to every facet of the dashboard, Bentinck said. This includes the analytics feature set, along with the ability to configure, manage and monitor a global deployment of cameras from anywhere.
"Say you are a security guard or someone who is onsite. You load your web browser, go to the Meraki dashboard and the cameras will stream video to you directly. You can also get video remotely because we detect that you can't talk to the camera and we create an HTTPS link through our Cloud from your device to the camera," Bentinck explained. "It is easy to start looking at cameras anywhere using only your web browser; no need for a VPN, no need for any other remote access technology."
Recurring Revenue Application
Bentinck described a hypothetical SMB deployment of five cameras that generates, say, $35 in recurring monthly revenue (RMR) with a minimum contract term of two years. The cameras are purchased by the dealer for a one-off fee. A license is purchased for a period of time between one and 10 years. Included is 24/7 telephone support and next business day replacement from Meraki should a device fail.
"What we see from the customers in that space is it's quite easy to grow. It is very easy to log into the web page. There is no software. You can do it from your phone. They like looking at what's going on in their business," he said. "There is no barrier to growing because you don't reach that number of channel limits on an NVR. So, the customer asks for another camera and maybe that's $30 a month for the next two years."
The interface offers offline device alerting, built-in remote troubleshooting tools and link layer discovery protocol (LLDP) insights. All this allows installing security contractors to understand the state of the devices they have under management. A portal also allows resellers to manage all of their customers from one interface.
"They can just log in, see all of their customers and they can see and remotely manage each camera. It becomes a simple and effective way of building that service model," Bentinck said.
If you enjoyed this article and want to receive more valuable industry content like this, click here to sign up for our FREE digital newsletters!
Security Is Our Business, Too
For professionals who recommend, buy and install all types of electronic security equipment, a free subscription to Security Sales & Integration is like having a consultant on call. You'll find an ideal balance of technology and business coverage, with installation tips and techniques for products and updates on how to add sales to your bottom line.
A free subscription to the #1 resource for the residential and commercial security industry will prove to be invaluable. Subscribe today!