All-In-One Speaker Systems for Flexible Ceiling Installation
Optimize business efficiency, improve customer experience, and increase security and safety with these multipurpose speakers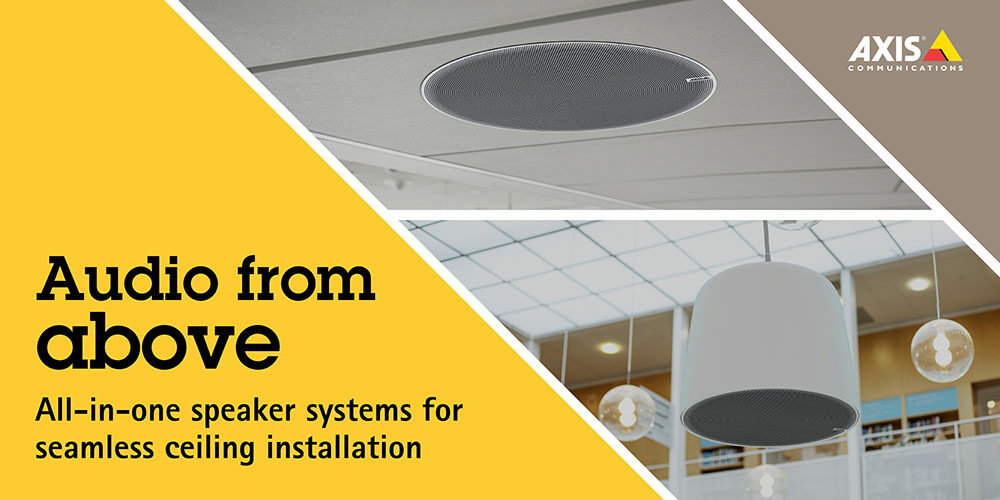 Axis Communications' PoE powered network speakers  do more than  a traditional speaker by incorporating audio management intelligence in each device.
Our new, AXIS C12 Ceiling Speakers and AXIS C15 Pendant Speakers are easy-to-integrate, all-in-one speaker systems.  AXIS C12 Ceiling Speakers offer a sleek and discreet form factor for recessed interior installations, while AXIS C15 Speakers are designed to hang elegantly from high, open ceilings.
These multipurpose speakers increase security and safety by delivering live or pre-recorded voice messages, music, and/or safety instructions in a variety of applications. In addition to providing clear audio via built in DSP, users can take advantage of built-in audio management software for intuitive audio scheduling, content/zone management, and prioritization between content sources to fit the needs of their particular environment.
Plus, these speakers can become part of a complete system seamlessly integrating with video management software (VMS), VoIP telephony, analytics, PIR sensors,  strobe lights and more.
AXIS C12 & C15 Speaker Series' come packed with a variety of additional features including:
PoE powered reduces equipment requirements and installation cost
Built-in audio management software for easy system configuration
Two-way audio communication via built-in or separate microphones
Clearly visible LEDs for visualizing status information programmable based on events
Superior memory for recorded voice messages (SD card included)
Add into existing IT infrastructure to reduce installation costs
Network flexibility, scalability, and reliability
Remote health testing and maintenance
Interested in learning how network audio can add to your business? Visit www.axis.com/products/network-audio to learn more about Axis Communications' network audio portfolio.
Security Is Our Business, Too
For professionals who recommend, buy and install all types of electronic security equipment, a free subscription to Security Sales & Integration is like having a consultant on call. You'll find an ideal balance of technology and business coverage, with installation tips and techniques for products and updates on how to add sales to your bottom line.
A free subscription to the #1 resource for the residential and commercial security industry will prove to be invaluable. Subscribe today!