Robust School Security Solution Wins Bates Integrated Installation of the Year Award
Bates Security's leading-edge solution for a Kentucky high school allowed the dealer to win the 2018 SSI Integrated Installation of the Year (Single Site) Award.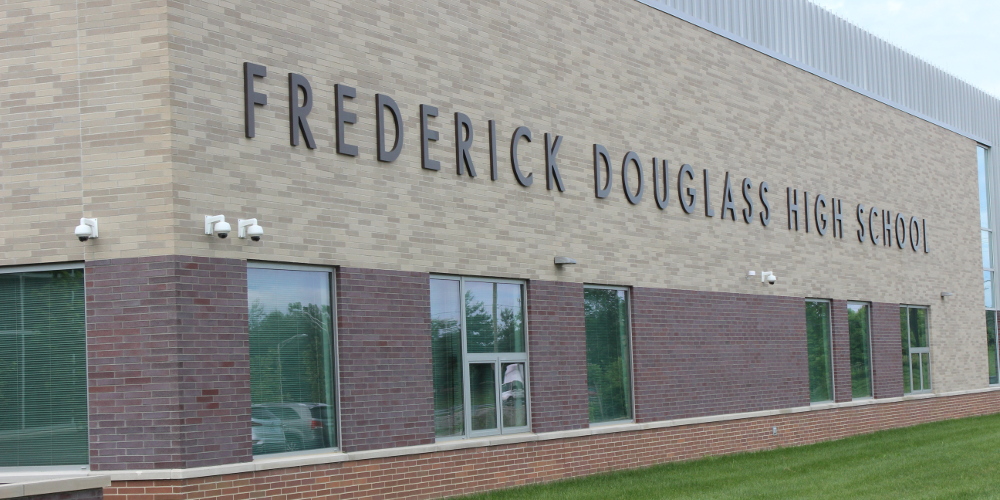 Photos and Videos
View Slideshow
With the alarming rise in active shooter and other violent acts the past few years reaching crisis-level proportions, taking measures to better ensure the safety of children and young adults in America's schools has become a national discussion.
One school district that has taken a particularly proactive and progressive approach is the Fayette County Public Schools (FCPS) system in Lexington, Ky.
There, the newly constructed Frederick Douglass High School is serving as a potential model for educational institutions nationwide to emulate.
"With this educational facility being a new state-of-the art building, we were looking for a system that would help us monitor activity during the day while also allowing us to protect the building and equipment during off hours," says Wayne Brumfield, who serves as the district's electronics fore-man. "Part of this needed to be a system that was robust enough to handle several cameras while also allowing for quick and easy review of saved video footage."
Bates Security, a highly regarded locally based company, was signed on to design and install a comprehensive solution that was to include an advanced 192-camera video surveillance system, access control with intercom and ID badging, and intrusion detection.
On top of that, and perhaps the most innovative aspects of the project, in partnership with Sonitrol of Southwest Ohio, monitoring of the system would include both verified video and verified audio detection, as well as the ongoing health of the system itself.
"Rather than using a traditional alarm system, we used verified audio detection that operates in conjunction and as a complement to the verified video system," says Bates Security Marketing Director Crystal Newton. "When an audio detection alarm is received by the central station, the operator also receives video footage of every camera connected to that alarm point. The operator can use this unique technology to dispatch law enforcement with predetermined information."
Crushing the criteria of innovation; systems design; integration of at least three electronic systems; seamlessness of installation; uniqueness of application; ease of operation; and end-user satisfaction, the project recently earned Bates Security SSI's 2018 Integrated Installation of the Year (Single Site) Award.
District's Dealer of Choice
Having worked with the school district for some 20 years and providing services to more than 70 of its facilities, Bates Security was well aware for years about the imminent Frederick Douglass High School opportunity.
Nevertheless, the nature of the project still required the dealer to submit a bid, which was part of the electrical contractor's submission. In short, FCPS stakeholders sought a state-of-the-art security solution to keep nearly 2,000 students, staff and educators safe across the 350,000-square-foot campus.
"The end user knew what they wanted, which was verified integrated security with low false alarms, high reliability, a proven track record and quality in their partner," says Bates Security Sales Consultant Scott Green. "They wanted to be able to integrate the remote video and access control with the other schools in the district so law enforcement and safety facilitators could access everything with ease. Audio and video verification was very important to them."
As part of the design process, the end user selected which doors they wanted to be able to control access to and where they wanted to place cameras to access critical viewpoints.
With funding provided through the Kentucky Department of Education, the contract was finalized in August 2015. It would be another 24 months before the complex installation was complete.
In addition to the systems components, the project would involve the pulling of approximately 59,000 feet of cabling — or about 16 miles' worth.
Engineering Ingenuity
The installation itself began in August 2016 and would require 980 hours of billable time. The labor-intensive undertaking necessitated the near-flawless coordination with a multitude of other contractors and FCPS personnel.
Along with the Bates Security/Sonitrol team, the architects, engineers, building maintenance, school officials and law enforcement all played roles in determining the needs of the school and designing the system to fit those needs.
The massive wiring portion was handled by electricians, with Bates dealing with all the other installation and trim-out duties. The end user's IT staff set up the network to allow the surveillance cameras to be viewed from remote software throughout the district.
"Scheduling was a bit tough since we had to get the general contractor's timelines covered, even though we had no direct control over the electricians pulling the wire," says Bates Security Project Manager Sean Moberly. "IT was an issue because we didn't want to be in their way while they were trying to get the entire new school up and running. However, we also had limited time to complete certain phases of the installation."
Those were among the challenging situations and circumstances where Bates' long relationship with the district and its people bore fruit. Here, the IT folks were responsive to assist and meet the security provider's needs without the fuss that might have otherwise been encountered.
"The school had no cell service inside the building, which made it difficult for all trades to conduct their business," adds Moberly. "Since I had a good relationship with the IT department, they gave me access for their temporary WiFi in the building to use for making calls. I shared that information with the GC and the electrical contractor so they could handle their business as well, which was a benefit to everyone."
Speaking of which, also helping the process go smoothly was the fact that Moberly established a strong rapport with the GC and EC from the get-go.
"We kept in constant contact and for the most part. We had a good handle on the timeline for individual projects and their completion dates," he says. "Having a good foundation with the electrical company allowed me to identify deficiencies in the wiring and simply to give them a punch list. They were great about handling that by the next day."
Keep reading to learn about the solution's unique audio detection approach and more…
If you enjoyed this article and want to receive more valuable industry content like this, click here to sign up for our FREE digital newsletters!
Security Is Our Business, Too
For professionals who recommend, buy and install all types of electronic security equipment, a free subscription to Security Sales & Integration is like having a consultant on call. You'll find an ideal balance of technology and business coverage, with installation tips and techniques for products and updates on how to add sales to your bottom line.
A free subscription to the #1 resource for the residential and commercial security industry will prove to be invaluable. Subscribe today!