ADT Unveils DIY Smart Home Security Brand, Products at CES 2020
ADT says it will rebrand its LifeShield DIY solutions under the new name Blue by ADT. The company also unveiled new cameras, as well as new products for Command and Control.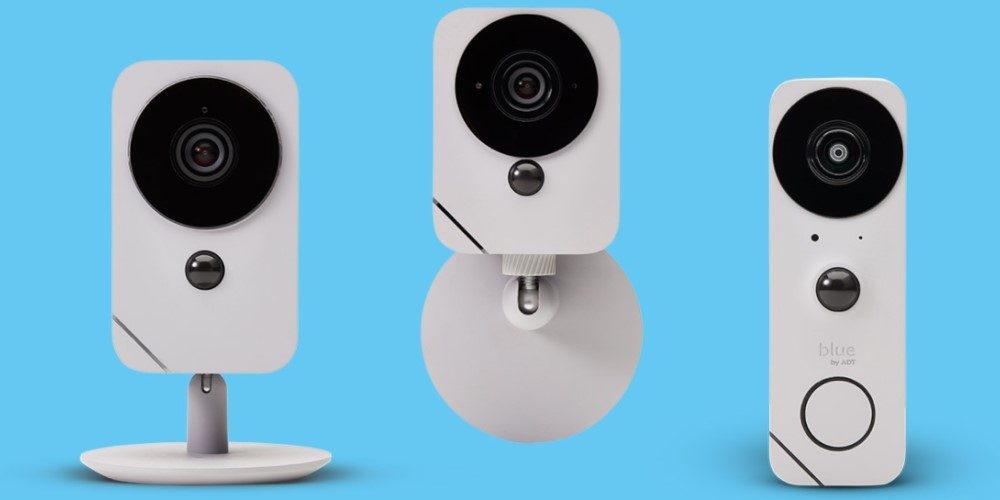 LAS VEGAS — Security and smart home powerhouse ADT (NYSE: ADT) is rebranding its LifeShield DIY solutions under the new name Blue by ADT. The company will kick off the new brand with three new cameras — an indoor camera, outdoor camera and doorbell smart camera — released at CES 2020. The new line of cameras can be used as standalone devices or integrated with the Blue by ADT security system to be released this spring.
"We have spent the past year expanding the LifeShield platform and hardware to develop these standalone products," says Doug Bellenger, head of product, DIY, at ADT, speaking in an exclusive interview with SSI sister publication CE Pro. "The LifeShield brand name will be transitioned to Blue by ADT, and we are taking it to the next level."
He says existing LifeShield customers will be able to continue to use their LifeShield products, "but the LifeShield name will go away and the website will be reskinned as Blue by ADT."
But the introduction of the ADT name into the DIY space does not mean ADT is abandoning professional installation at all. John Owens, president of DIY at ADT, tells CE Pro, "The DIY market is poised for incredible growth, but it is still small compared to the professional installation market. DIY is a choice… a customer is making the choice to install it on his or her own."
To assist DIY buyers, ADT has a "white glove service over the phone to help customers who might get confused by the DIY solution. We are fortunate to have very likable, smart agents on the phone to put clients at ease," says Owens.
There is also a process in place to refer Blue by ADT clients to a professional installer if necessary.
"This gives the customer choices. We see this as an expansion of the market, not the DIY marketing robbing the professional install market," says Bellenger.
Blue by ADT Cameras Unveiled
The Blue by ADT products themselves have a consumer-friendly industrial design.
"A lot of thought went into the design and style of these products," says Bellenger, noting the products are particularly well-suited for both Millennials and apartment dwellers. Owens calls the new products and platform innovative, easy to use and flexible.
The $199 Blue by ADT Indoor Camera enables users to view live and recorded 1080p HD video from anywhere through the free Blue by ADT mobile app. With the Blue by ADT app or upcoming integrated Alexa voice controls, users can set recording rules as well as manage other Alexa-connected smart home products (lights, locks, thermostats and more).
The Indoor Camera has two-way talk capabilities that enable Alexa functionality, plus the smart camera will help detect a home's existing smoke/carbon monoxide siren and notify of an issue. The camera includes support for local SD card storage up to 128GB and a limited battery backup in the event of a short power outage. DECT Ultra Low Energy (DECT ULE) integration will pair with Blue by ADT sensors and keypad, coming this spring, enabling the device to function as a security hub.
The $199 Blue by ADT Outdoor Camera is a 1080p HD resolution, IP-65 weather-resistant, wireless home security camera that includes night vision capabilities viewable through the Blue by ADT mobile app. The outdoor camera includes support for local SD card storage up to 128GB and is powered by a rechargeable battery.
A $49 Blue by ADT Extender + Chime uses low-power WiFi to extend the battery life of the outdoor camera while improving the range of all cameras. It also allows users to play their choice of preset chimes when someone rings the doorbell camera.
The $199 Blue by ADT Doorbell Camera enables homeowners to talk with visitors and watch a live 1080p HD resolution video feed via the Blue by ADT mobile app. The hardwired, weather-resistant doorbell camera features a 180° field of view with motion detection that alerts users when someone is at the door through both push notifications and a voice announcement from an Alexa-enabled device.
Other features of all three Blue by ADT smart cameras include:
Facial recognition – receive alerts and set up Applets through IFTTT when a camera detects a familiar face
Smart alerts with animated previews – receive notifications with previews of what a camera detects plus have the option to quickly view the full video
Interoperability – compatible with other devices through Amazon Alexa, and IFTTT with future integrations through Google Assistant and Apple HomeKit
Custom motion-activated detection zones – adjust motion zones to reduce unnecessary alerts
Two-way talk with noise cancellation – enables homeowners to clearly hear what is important and address those on the other side of the camera
Cloud storage – ADT offers up to 24 hours of free video storage or a 60-day video storage plan starting at $2.99 per camera, and $12.99 for unlimited cameras at a single location
Compatible with existing LifeShield systems and upcoming Blue by ADT Security Systems
The three Blue by ADT smart cameras and a WiFi Extender + Chime will be available for pre-order on January 6 and will begin shipping before the end of January.
ADT Unveils Mobile Safety Solution, New ADT Command and Control Features
Safe by ADT is a new, data-driven mobile safety solution providing partners with a platform to extend the safety and security of ADT's professional monitoring services within their own mobile app experience. A first-look at a new pilot program rolling out to 10 U.S. cities in January with rideshare company Lyft will be on display in the ADT booth at CES. ADT first revealed the partnership with Lyft last October.
The ADT-powered safety feature within the Lyft app discreetly connects Lyft users who feel unsafe — by voice or SMS chat — with a security professional at one of ADT's owned and operated monitoring centers. After contacting the user, or if there is no response, the ADT security professional will alert authorities as needed so they can arrive at the user's location, equipped with detailed incident information.
ADT is also introducing new products and enhancements to its ADT Command and Control professionally installed security and smart home system that are said to give customers more ways to integrate smart home security functionality into their homes and beyond.
New for ADT Command and Control in 2020:
Connected Car Integration: In January, ADT will offer a new DIY installable device that integrates with ADT Control, allowing customers to track their vehicles. In addition, customers can create home automations that respond to GPS positioning of their vehicle so their smart home can prepare for their arrival or departure based on their location. E.g. turn on or off lights, open the garage door, unlock locks, adjust the temperature.
Streaming Video Recorder: In Spring 2020, ADT will introduce a new 720p streaming video recorder to keep customers' security video footage accessible and private in their home. It allows for continuous recording of up to eight devices with up to 1TB of storage.
Pro Series Cameras: Launching in March 2020, ADT will roll out new Pro Series indoor, outdoor and mini dome cameras with 1080p HD video capabilities.
Enhanced Analytics: In the first half of 2020, ADT Command and Control will incorporate new, enhanced analytics to improve video detection and filtering of subjects. In addition to noting the difference between people, vehicles, and pets, the system can also detect if a visitor is loitering too long.
If you enjoyed this article and want to receive more valuable industry content like this, click here to sign up for our FREE digital newsletters!
Security Is Our Business, Too
For professionals who recommend, buy and install all types of electronic security equipment, a free subscription to Security Sales & Integration is like having a consultant on call. You'll find an ideal balance of technology and business coverage, with installation tips and techniques for products and updates on how to add sales to your bottom line.
A free subscription to the #1 resource for the residential and commercial security industry will prove to be invaluable. Subscribe today!